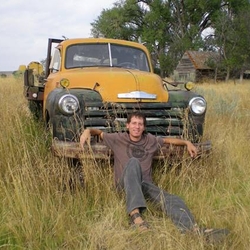 Brian D'Ambrosio is a writer/editor living in Missoula, Montana. D'Ambrosio is the author of more than 300 articles and five books related to Montana history, people, and travel.
*****************
Mia Borders was born and raised with music in her soul.
Music is one of the components of her body, similar to her heart, brain, and vital organs.  It is a life force cultivated in the flair of New Orleans. It is a force sharpened by a creative family, which includes a father in the arts, an artsy mother, and a musical grandfather.
"New Orleans lends itself to great music and great sound," says Borders. "And it's a family thing, really. I grew up in a family that kept the arts in their daily lives."  
Music is still as necessary to Borders as food or water. It's also necessary for her to stay true to a harmonious lineage that has produced some of the biggest names in the blues and jazz worlds. The synergy of the city benefits her. 
"We really support one another in New Orleans," says Borders. "There is really no competition at all. I want other New Orleans musicians to succeed and vice versa."
Borders has harnessed the attention of local and national audiences; her sassy mix of funk and soul, and her snazzy songwriting, have distanced her. Her movements onstage are the movements of life, a sway and sound highlighting the free rein of her creativity.
The April 2010 release of her second full-length album, "Magnolia Blue," earned her a nomination for Best Emerging Artist at the Big Easy Music Awards, as well as a nationally broadcast performance at the 2010 New Orleans Jazz Fest.
Since then she has logged some serious miles and performed at places such as the Mount Helena Music Fest, San Jose Jazz Fest, Taos Mountain Music Fest, Voodoo Fest, Bonnaroo, and the John F. Kennedy Center for the Performing Arts.  
In September 2010, she opened for Corinne Bailey Rae at the House of Blues, in New Orleans, and exited the stage to a respectful ovation.
Her first album surfaced in 2007, and the bright "Wherever There Is," a colorful collection of original material, emerged to sweet applause in April 2012. Her eighth recording, "Quarter-Life Crisis," debuted recently.
Her philosophy in life is simple: people are born to succeed, not fail. They are born to follow their instincts and heed the tug of their own hearts. And they are born to break through barriers and bust free from notions covered in dust.
She concedes that playing the blues game in a male-dominated genre can be arduous.
"It's kind of a boys club," says Borders. "It's a little tough to get into the boys club. But you just need to do what you do."
While Borders says she is a bit of a tomboy and "not much of a girly girl," her sultry sound and luscious vocals no doubt accentuate her femininity.
"I can play it up and play it down when I need to," says Borders.
Borders and her melodies are hard-charging, steeped in the past, yet familiar, contemporary, even comfortable. She uses the thrill of live performances as opportunities to connect with new people and re-energize her own commitment to her calling.
"Obviously, the live performance is so different," says Borders. "The energy from the band is different, it's all different. You take it up a notch. When the crowd is good and songs are smooth, it's a good night for everybody. I hope to have a good night for everybody."
Borders is still adjusting to life on the road, a steady stream of honkytonks, festivals, and bars. She stopped drinking alcohol a few months ago, has kicked her cigarette habit, and is focused on finding a few good ways to make her life healthier.
"I drink a lot of tea now," says Borders, 38. "I sleep when I can. At this point, I'm still young, so I've got that going for me."
The product of a local musical heritage as rich as any in the nation, Borders rams onward, living her dream, writing compositions, sharing slick riffs, and simply living the aspirations of a girl who first played the guitar at age 10. She rams onward on a journey which began in earnest at age 18, when she started playing professionally after forming her own band.     
"I was performing for my family every since I could stand," says Borders. "And I get to do it now for everyone. And I love it."
Mia Borders brings her soulful songs to Miles City, Montana, on July 12, at the Range Rider's Museum. Show starts at 8 p.m. Tickets are $15 in advance. For more information, visit www.confluencemt.com. 
-