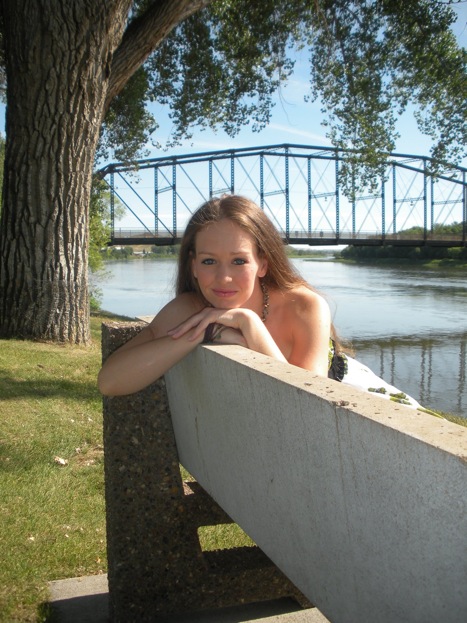 Lacey Middlestead is a Montana native and freelance writer currently living in Helena, Mont. She loves meeting new people and helping share their stories. When she's not busy writing articles for newspapers like the Independent Record and Helena Vigilante, she can usually be found indulging in her second greatest passion–playing in the Montana wilderness. She loves skiing and snowmobiling in the winter and four wheeling, hiking, boating, and riding dirt bikes in the summer.
Nothing rattles you like the high-pitched whine of a chainsaw gnawing its way through a moonless night. Follow that with several shrill shrieks. Oh and add those sounds to an area right down the road from your house. If it wasn't for the fact that Halloween is only a few days away, I would be extremely worried. Thankfully, I know that the horror movie sounds down the street are just emanating from one of the haunted houses in the Helena area.
The perhaps too close to home haunted house I just described is known as the Spring Meadow Resources Haunted Barn. Although I haven't paid my annual visit to it yet, I have fond, hilarious and haunting memories of it from years past.
The first year I managed to convince several friends to accompany me to it. They split us into small groups of two or three when we arrived and assigned us a suspicious looking hooded figure to navigate us through the lurkings ahead. First, we wound our way along a narrow path through a graveyard with freshly dug graves. I found out the hard way that not all of the dearly departed were "resting" in peace quite yet. Once through the graveyard, we made our way into a dilapidated barn. We were met by strobe lights, cages rattling with creatures I closed my eyes too quickly to truly see, and a masked man wielding a running chainsaw (chain removed of course!). I think what scared me the most was daring to look back one point and seeing a freakish clown treading closely behind me toting a four foot long wrench.
That haunted house left my heart bouncing with palpitations….that was until a brief announcement was made after exiting the barn. My friend Tara, who was pregnant at the time, had gone through the barn in a group ahead of us and apparently had already honed in on her momma grizzly instincts. She took it a little too personally when people jumped out and tried to scare her. She threw a few protective punches and kicks which prompted the later announcement requesting that guests please not assault the actors. My group burst out laughing because we knew right away who must have provoked that announcement. But needless to say, I want Tara by my side if I ever wind up in a horror movie.
While I haven't made it to the haunted barn this year yet, I did pay a visit to Helena's newest attraction called The Cellar Dwellers. This haunted house is located downtown on Fuller Avenue and is akin to a circus freak show but with a terrifying twist. I arrived with a group of five other friends one Saturday evening and after purchasing our tickets, we waited out on the sidewalk anxiously for our turn.
Upon finally entering, we were brought into a small room where we met Zechariah and Zeb, a husband/wife duo who explained to us that they have a dangerous passion for collecting strange and unstable creatures from all over the world. In the middle of this speech, my friend Sarah and I turned around to see one of their creatures crouched in a corner. It was wearing a long hood and kept stretching out its long, clawed fingers. It reminded me of that creature from M. Night Shyamalan's The Village film. As the show continued, all hell eventually broke lose when that creepy critter behind us broke out of its cage and went running amuck. We were then forced to follow Zechariah as he tried to lead us to safety. He wound us through a maze of different cages filled with the other creatures him and Zeb had caught on their travels. Between the blood-curdling screeches and disturbingly realistic makeup, it was hard not to get wrapped up in the story line. Eventually, we made it out safe and sound. While the boys behind us laughed off the experience, Sarah and I walked hand-in-hand back to our vehicles. We decided to reward ourselves for surviving by paying a visit to Frozen Moose for some delectable frozen yogurt.
If you get bored with tricks and treats this Halloween and are in the Helena area, I highly suggest paying one of these haunted houses.