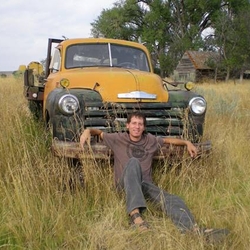 Brian D'Ambrosio is a writer/editor living in Missoula, Montana. D'Ambrosio is the author of more than 300 articles and five books related to Montana history, people, and travel.
*****************
Jeffrey Foucault's roots form his musical identity. They hold sway over the 39-year-old musician's life, and they impact the style and mood of his harmony.
His songs are his search for answers, solutions, and attempt at rectifying his conscience.
Foucault grew up in Whitewater, Wisconsin, something that influences his work through language, imagery, and sense of space.
"The place you're raised stamps out the template for your perceptions, and ties them to language," he said. "When I think of a tree, I don't think of anything but a Burr Oak like the one in my yard growing up, the ones that the farmers leave standing in the field to bring the deer in."
Foucault's music wades through old-style country, bluegrass, and blues, on a course linking him with the southern Iowa crop-and-soil folksiness of Greg Brown. Add lyrical content inspired by Bob Dylan's intellectualism, and you'll hear the sweet clarity of intense words and frank melodies. These are the mechanics of a folksinger born and bred in a small college town in the center of America's heartland.
Foucault released his first album, Miles From The Lightning, in 2001, a collection of narrative ballads, love songs, and allegories, told in plain verse. Many albums later, the fiber of his lyrics and verve are still rooted in the collective psyche of rural Americana. "Cross of Flowers," a cut off the widely acclaimed 2004 Stripping Cane, Foucault sings:
"There's a cross of flowers at the roadside
Where some fool bought it two years back
There's an orchard gone to hell
Beside a burned out one room shack
There's a thousand sparrows falling
In a thousand shades of black
I'm coming home"
He finds the drama of inspiration in rural places where fields and pasture merge together.
"The Midwestern landscape is stark and open, with a plainness that adds up to deep beauty in accumulated detail. But you have to take time to know it, and to look for it."
It's taken Foucault time to get here. At 17, he started playing his father's beat-up mail order guitar, belting out John Prine songs.  At 18, he discovered Texas songwriters Townes Van Zandt and Guy Clark.
Upon completing high school in 1991, he enrolled at the University of Wisconsin, in Madison, but, after two years, realized he didn't know how to "do anything useful." He quit school, moved home, worked as a farmhand and house carpenter, and began writing songs.
"Nice thing about being a farmhand is when it rains they send you home, so I had some time to write and play." After two years, he ended up going back to the same college to complete his degree. "Carrying drywall up a ladder in the rain has a clarifying effect on the uses of education."
Eventually, he earned a history degree, all while dividing his time between "the local tavern and whatever book I could lay my hands on."
After college, he moved to Fort Atkinson, Wisc., 10 miles from his hometown.
"The Café Carpe was there, and the folks on the circuit I wanted to travel with came through town to play," he recalls of the move. "It is a sweet little bar, a dingy bohemian oasis in a fairly staid small town, and it became the hub of my universe, which it was, and is for a lot of people. I always wished I'd written a book about those characters."
Now more than 10 years later, Foucault returns frequently to Fort Atkinson and Café Carpe. The reflective innocence of those early days jogs his most vivid memories, he says.
"I remember walking down the centerline of Main Street at 3 in the morning with my guitar in its case, crossing the river from the bar back to my little upstairs flat. No traffic, no noise, streetlights flashing yellow, and I'm coming down after a show. A feeling of real happiness, and the sense I'd have to leave sometime…I was a bachelor, and I lived on coffee, beer, sandwiches, and cigarettes."
He wrote songs and letters on an old typewriter, substitute taught school at the local high schools, and read a lot.
You can feel this time period in Foucault's music, its attention focused on the feelings inside – inside himself, inside all. Similar to a drive along Wisconsin's rural roads, Foucault takes listeners on an introspective journey through the dusty paths of lingering emotion, halfway between sentiment and physical sensation.
And although his lyrics and outlook are inspired by his home state, the musician is now more rambling troubadour than anything.
"Once you leave home and find yourself really gone, you realize the reason they say you can't go home again is not that home changes, but that you no longer exist. It's someone else coming back.
Since his first album, has built upon his ability to relate his state of comfort or discomfort through music, using a cohesive undercurrent that's both positive and creative.
Mastering his own records, he's only involved in the music industry to the extent he sees necessary.  "I pay attention to the wider industry the way I might look at a wreck on the highway, not because I want to, but because it's hard to look away."
Missoula-based Brian D'Ambrosio works as a writer and marketing and media consultant. Musician Jeffrey Foucault will play at Bozeman's Peach Street Studios on Sept. 25 and Missoula's Crystal Theatre on Sept 26. 
-