Thu, August 16th
Fri, August 17th
Sat, August 18th
Sun, August 19th
Gates open at 10:00 am Thurs. August 16th, and close at noon Sun. August 19th
Lions Beartooth Mountain Youth Camp | Red Lodge, MT
SOUTH CENTRAL MT
Beartooth Rendezvous BMW Motorcycle Rally
"The Best Little Rally in the West"
August 16-19, 2018
Lions Beartooth Mountain Youth Camp (10 miles south of Red Lodge) 
TBA
20th Annual Beartooth Rendezvous BMW Motorcycle Rally held at the Lions Camp south of Red Lodge off U.S. Highway 212 (the Beartooth Highway)

The Beartooth Beemers Welcome All Motorcyclists. Join us in riding "the last best place."
** Register early as cabins tend to go fast. register by 7/20 and it is $80, after 7/20 it is $100.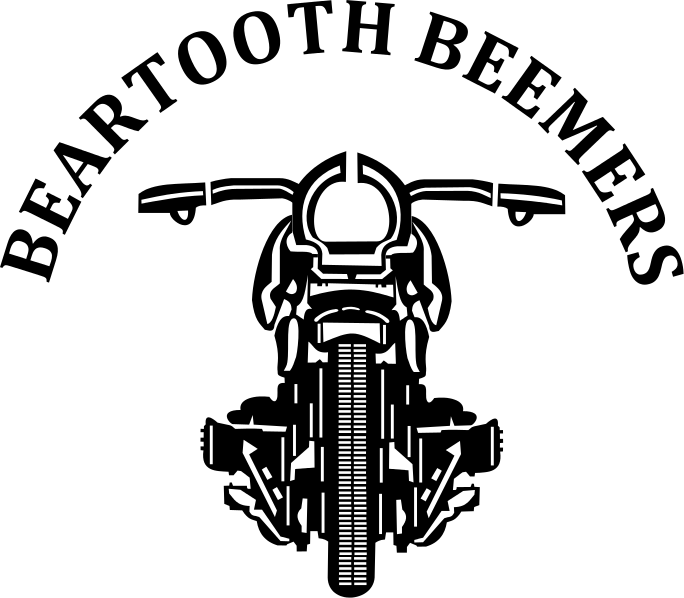 beartooth beemers
"the best little rally in the west"
---
Rendezvous information
The Beartooth Beemers Welcome All Motorcyclists. Join us in riding "the last best place."
Opening time:
Gates open at 10:00 am Thurs. August 16th, and close at noon Sun. August 19th. No early entry. Four wheeled vehicles not allowed on site except for staff and vendors with prior approval.
Location

:

Lions Beartooth Mountain Youth Camp 10 miles south of Red Lodge, Montana. (Turn west on "Lake Fork Road". We will have a roundel at the intersection and orange warning signs for Lake Fork Road on the roadside 1/4 mile north and south of the intersection.)

 
Accommodations

:

Ample space for tent camping; 13 cabins with 8 bunks in each; hot showers and toilets in bath houses.  See Lions Camp link on links page for a map of the camp

 
Meals:
Thursday, Friday, and Saturday dinners provided with registration.  Our dinners are of the meat and potatoe variety.  We do have salads and vegetables and home made dessert with our dinners. Our location does not make us able to cater to dietary restrictions.  If you require special meals you are responsible for your own food.
Friday, Saturday, Sunday breakfasts available for purchase on site.
Thursday, Friday, Saturday Lunches available for purchase on site.
THE BREAKFAST AND LUNCH MONIES SERVE AS  A FUNDRAISER FOR THE LIONS CLUB IN SUPPORT OF THEIR YOUTH CAMP ACTIVITIES
Events:
We do not hold events.
What we do have is great door prizes, and on Friday – we have a great band.
Registration:  Register by July 20th and you will be put in a special prize drawing.
$80.00 postmarked Feb. 1st through July 20th.  Must be received by 7/28
$100.00 postmarked July 21st up to and including registration at the gate at the Rendezvous.
Individual Bunks are $30 for all three nights. Rental of entire cabin (8 bunks) is $240 for Thursday, Friday, and Saturday nights. Bedding is not provided.
No refunds will be given for cancellations received after July 1st.
Souvenirs:
Decals included with registration.
T-shirts and sweat shirts available for purchase. ORDER A T-SHIRT ONLINE
Contact Info:
website: www.beartoothbeemers.org
contact phone: (406) 696-2114
e-mail: [email protected]
---
The 20th annual beartooth rendezvous will be august 16 – 19, 2018.