Black Timber Furniture as we know it today began in 2010 when Todd Fullerton, at that time a recent graduate of MSU and retired Army Veteran, came to Bozeman to teach ROTC at MSU. Todd says, "When my degree in Construction Engineering showed little application around Bozeman and knew I did not want to move my family, I looked at my existing job in furniture manufacturing. When the opportunity arose to purchase BTF, I went for it." 
Fortunately for Todd, the team was comprised of a great group of guys—some vets like him—who were well experienced in the art of furniture making. Todd relates, "I didn't have to start at square one, but as a small business owner I waited on customers, drew the CAD drawings for their designs, filled their requests for custom finishes, ordered the lumber, slabs, and materials, kept the books, and scheduled deliveries. Often, I was on hand for the installation of a murphy bed or built-in cabinet."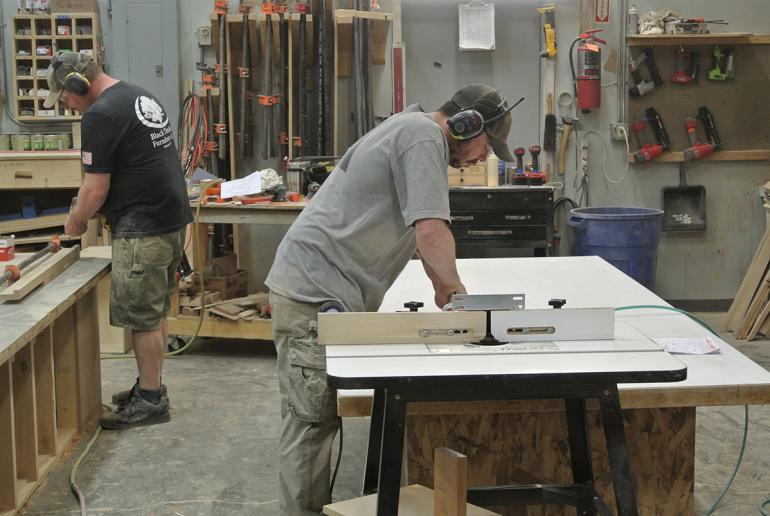 Today, Black Timber continues with a similar business model. Many of the same crew continue the BTF tradition of fine craftsmanship at the shop located in Belgrade. Each one proficient in several required skills, they move around within the production points as needed in the making of a broad variety of cabinetry, tables, beds and chests to mention our basics, and sometimes leaving to deliver and install on site.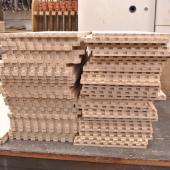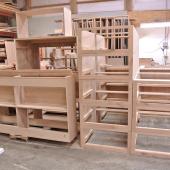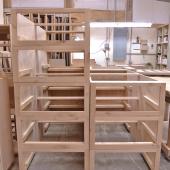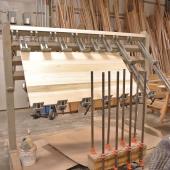 The BTF showroom in Four Corners features samples of these items and more. It is filled with dining, living room, occasional, bedroom, office, Morris seating along with one-of-a-kind specialty items. Assisting customers is Kris, an experienced designer with background in all areas of design and furniture, who manufactured furniture in Michigan and showed in High Point, North Carolina as well as in designer showrooms throughout the US. Kaley manages the showroom, assists customers throughout their decision process, posts social media and generally keeps it all organized. Recently, an additional CAD designer was added to keep up with demand.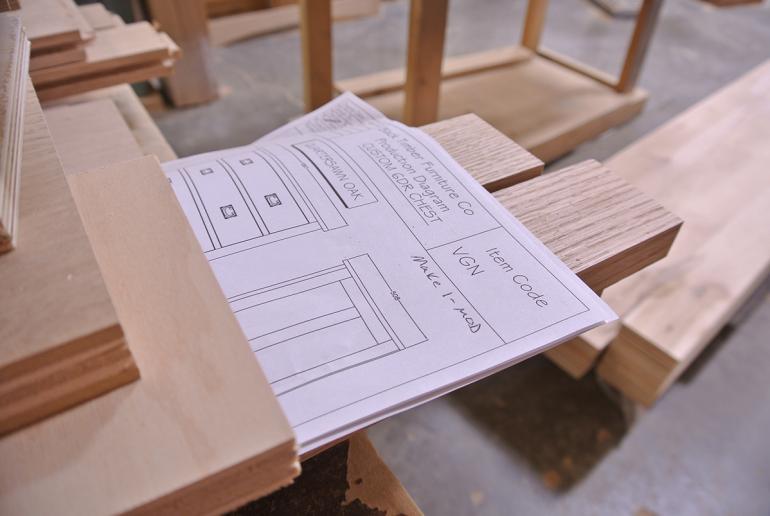 The BTF philosophy is to specialize in offering a broad selection of furniture types and styles that fulfill customer's needs and are adaptable or inspire further design from a "special idea." At Black Timber Furniture, we make what we design, and we build to order. Well known for superior hand-made craftsman furniture in the Morris Seating, Bridger Mission and Gallatin Classic collections, BTF frequently receives calls from past clients ready to add another piece to their existing collection accumulated over the years. Recently, new iterations of the classic quarter sawn oak and alder pieces take on a new look in sanded and polished Reclaimed lumber. Also offered is white oak which is suitable for indoor and outdoor use.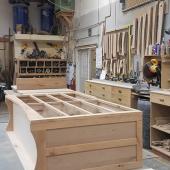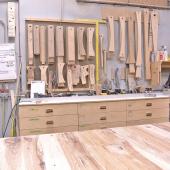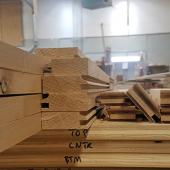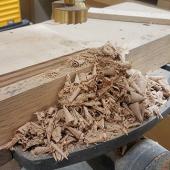 Our team takes pride in what we do and how we do it. Custom selections from our mainstays are made by the same process as custom. First, the type of furniture like a dining table is determined by style: Farmhouse, Rancher, Craftsman, Modern, Live-Edge and more, and collaboration continues over the type of wood for hardness, durability, appearance, care, and overall appearance to suit the client. We offer different levels of distressing. For example, Wasatch has three sanding finishes from rustic to refined texture. Finally, stain and glazes are reviewed along with final coat.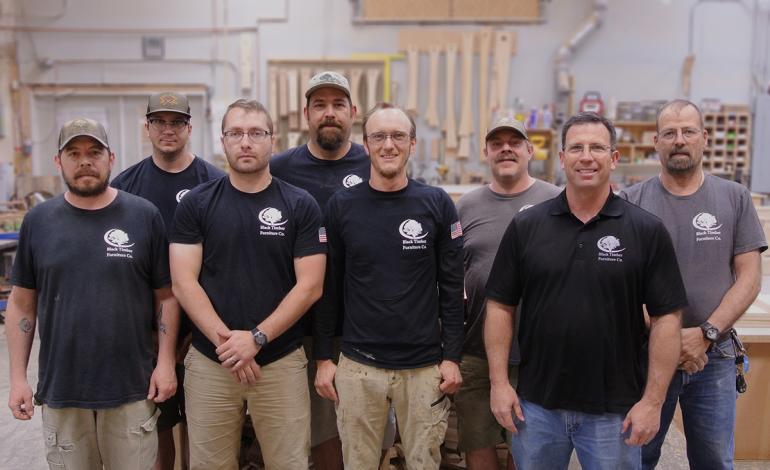 Because any size table from 36" x 36" with leaves to 156" x 48" is available to be made, clients often walk through the showroom door announcing they have arrived to purchase their dining table. With a wide selection of chairs to try out they decide on exactly what they want for family gatherings and friendly fun.
Black Timber Furniture's ability to design and build furniture gives a special opportunity to customers who wish to have something unique to pass down to the family. After customization options are sketched from the design process, final decisions are made, and merchandise is ordered, our clients look forward to receiving a CAD drawing to scale and detail of what their furniture item looks like. Making the item follows soon after final approval and hardware decisions. "The process is as simple or detailed as required to accomplish our client's wishes" Todd adds. "It is very exciting when we work together in finishing and furnishing an entire home. The quality of our furniture and wide variety of styles and custom possibilities makes a home very personal, whether modern or traditional."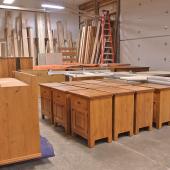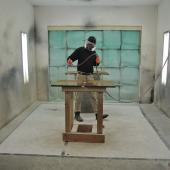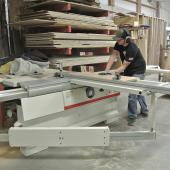 As a whole home finishing solution, BTF furnishes stairway railings, paneling, stair treads, vanities, countertops, barn doors, built-in cabinetry, and whatever the client can imagine. BTF provides many live edge countertops, barn doors, and trim. An extensive recent renovation featured custom hickory bookcases, a bar cabinet, an entry seated coat rack, stair treads, and a stair railing that provided architectural detail and charm to an existing home desperately in need of character. 
"We enjoy the challenge of new project brought to us by customers inspired from a visit to our showroom or by visiting our website," says Todd. "At Black Timber Furniture, we feel that furniture is the key to pulling a home together, so we focus on the specific needs and wishes from out customers. We specialize in Mission, farmhouse, traditional rustic and contemporary, however as the area expands in modern style homes, we meet these requirements with our modern designs. A new contemporary line will be introduced late this summer. Our clientele appreciates our sincere collaborative effort to guide them to the best results, and our knowledge and expertise move the process into a shared vision that results in the final approval for production," Todd explains. "Our core business derives from our furniture collections that stand the test of time. Many selections are available within each collection to personalize it. At BTF, when it comes to customization, we feel that if you can—you should make it your own!"