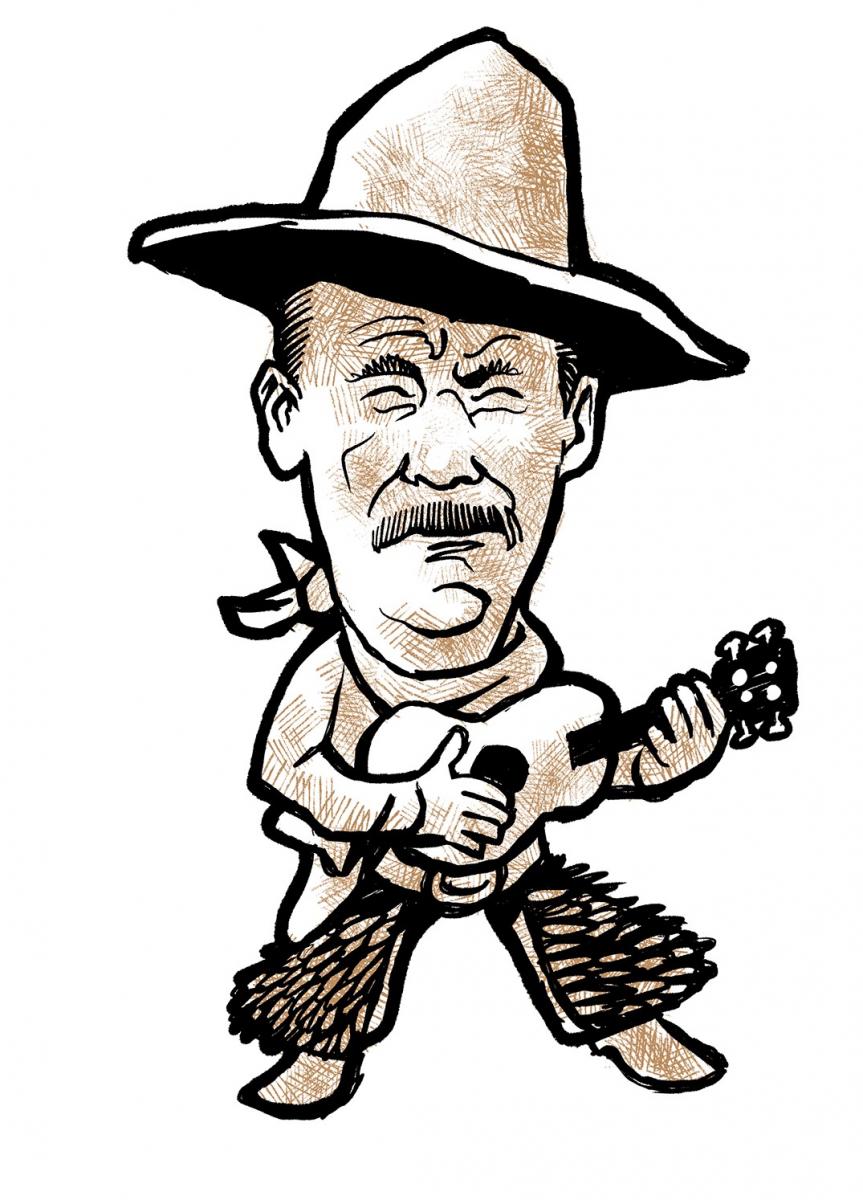 Cowboy Poet D.J. O'Malley, 1867-1943
Sometimes wholly spontaneous, sometimes sung with original lines fused to existing tunes, D.J. O'Malley's songs of light-hearted leisure were something his rough-hewn cowpoke cohorts came to admire and his rhymes provided a much-appreciated entertainment after the hard day's drudgery on the range was complete. 

D.J. O'Malley was a legend. Indeed, he was the last survivor of the more than 400 cowboys who attended the first-ever roundup at Miles City, in 1881. In the early 1880s, O'Malley, a boy of fourteen, had already become "a full-fledged cowboy," as he described himself. Much later, in 1939, he was the guest of honor at the first annual Reunion of the Range Riders Association, made up of the range riders who rode the trails in those early days, from 1881 to 1890. 
O'Malley rode nineteen years as a cowboy, joining the N Bar N outfit as a horse wrangler and working for many years as a cowpuncher at large known as "a rep." And on top of this, he had an uncommon penchant for poetry. 

Several country-cowboy music encyclopedias credit O'Malley with a few different compositions that have seemingly endured the test of time. At least four of O'Malley's poems are said to be well circulated "wherever there is interest in western range songs," says one source. These are listed as "Sweet By and By Revised," "A Cowboy's Death," "After the Roundup," and the "D 2 Horse Wrangler." 

When he passed in 1943 D.J. O'Malley's body was taken from Wisconsin to Miles City for burial. Not only was he directly linked to so many of the historic characters of what is often categorized as the Old West, O'Malley left his own distinctive footprint upon Montana's pioneer era.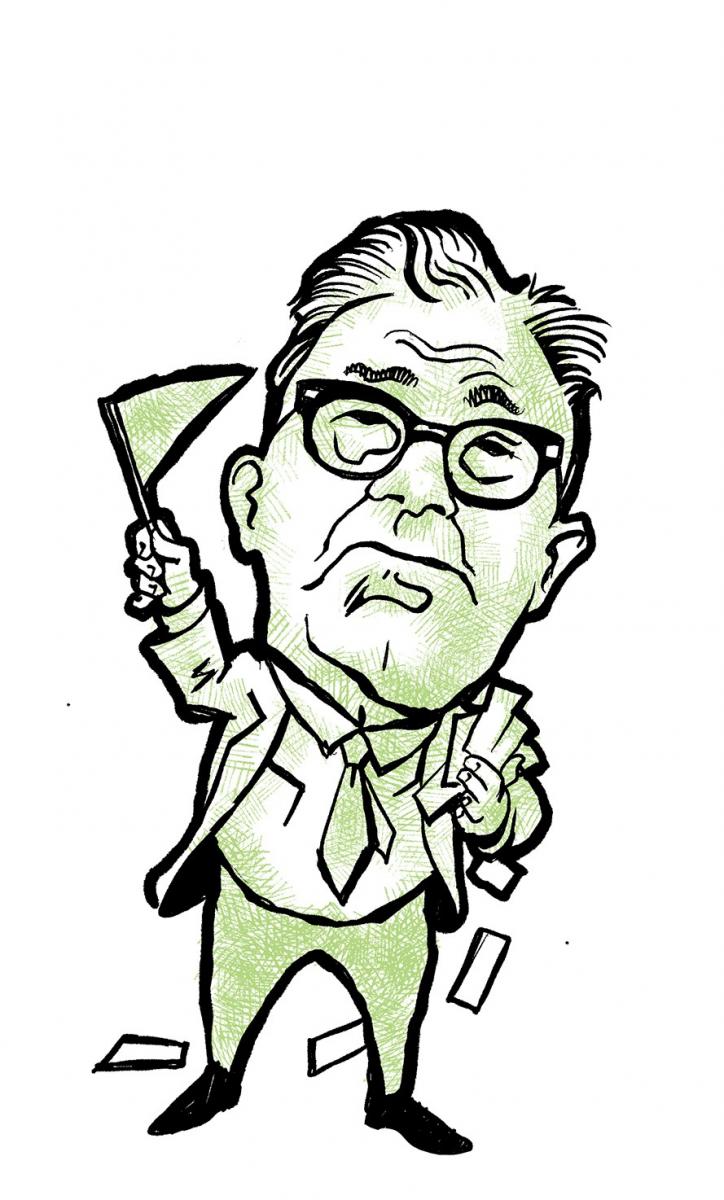 Perennial Losing Candidate for Public Office: Merrill K. Riddick, 1895-1988
 
He theorized and proposed a new science as a solution to problems of pollution control and water reuse. Thrilled by aviation as a young boy, he performed aeronautical stunts at circuses with Charles A. Lindbergh. Despite the certainty of losing, he ran three utterly out of the ordinary presidential campaigns from the seats of a string of Greyhound buses. 

Merrill Riddick, a Philipsburg prospector, aviator, and at last, politician, was a print from which there was no other negative.  

His candidacies for political seats now little more than a formality, he switched parties. His career as a Republican was similarly ill-fated. In a field of four Republicans vying for the U.S. Senate in 1972, he came in fourth, receiving around 1,500 votes. 

Undeterred by the loss, or perhaps perversely motivated by it, he then "raised the ante" and started his own tongue-knotting presidential ticket: the Puritan Ethic and Epic, Magnetohydrodynamics, and Prohibition Party. Magnetohydrodynamics, according to Britannica, is "the description of the behavior of a plasma," or, in more general terms, "any electrically conducting fluid in the presence of electric and magnetic fields."

The Prohibition component of the title was a double entendre: Riddick saw political fundraising as congenitally dishonest and unfair and he campaigned on the pledge to bar not just alcohol, which, in his estimate, was an incorrigibly sordid problem, but illegal campaign contributions as a means of exposing bribery in government. He would, however, innocuously accept donations of a single dollar or less. 

He first ran for the White House in 1976, paying for mailers with military pension checks. Using his post office box in Philipsburg as the correspondence address, Riddick described himself in one handbill as "a widower-pensioner, 3 children, 10 grand children, veteran of WW1 and WW2 and half a century of reserve service—not addicted to dope or alcohol." 

Days after Richard Nixon was elected president of the United States in 1976, Riddick affirmed his intention to run once again in 1980. He also ran for president in 1984. All three times he nominally campaigned across the country on the Greyhound buses where he also lived and slept. Two-month unrestricted bus passes, he said, were economically expedient. Instead of posting up in a hotel, "for less than $12 a day," the Social Security recipient told the media, he could live on the bus. 

The Riddick Field Airport in Philipsburg was named after him in 1976. He died in 1988.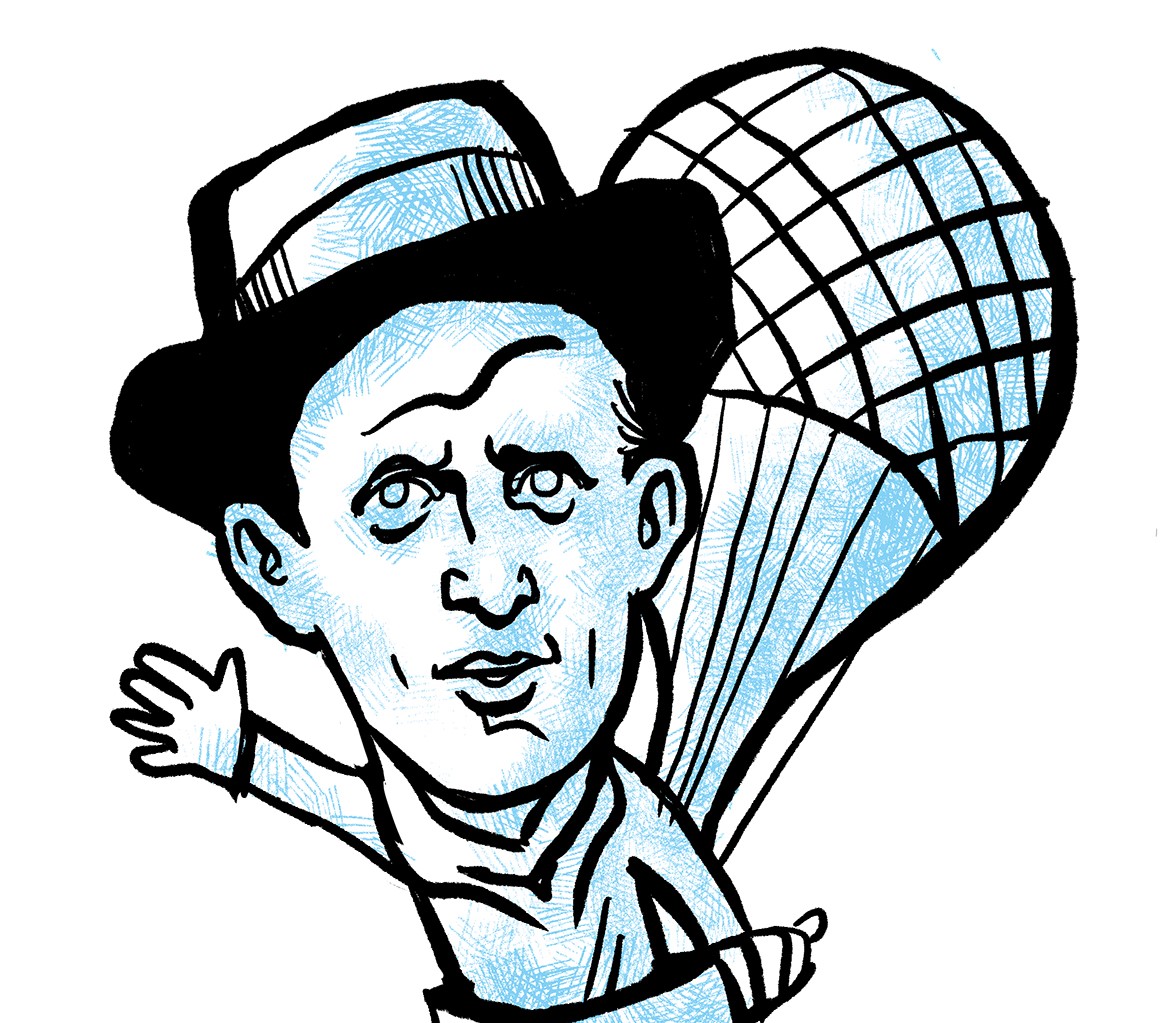 Dirigible Balloonist George Lowry, 1886-1965
 
First and foremost, he was a showman. From the exhibition jumps at the Helena Fair and at the Spokane Fair in 1911, to the inflatable dirigible balloon he sailed over Butte in 1915, George Lowry was a versatile and audacious performer. 

At a time when flight was still in its embryonic stages, he had the gumption to cross two of Montana's highest passes without the luxury of powered, motored support—the Wright Brothers invented the first successful powered airplane in 1903—descending the Continental Divide by parachute several miles east of Butte and carried by the wind across the Bozeman corridor, landing east. 

He once parachuted with a team of monkeys and another time he released white leghorn chickens from high in the air of a dirigible balloon, with tags for various prizes attached to their claws. Afterwards, Lowry said that he enjoyed both the balloon ride and the jumping, and that the chickens and the monkeys seemed to enjoy their adventure, too. 

George Lowry was born on January 11, 1886 at Homestake, Montana, his first years spent in the Katy O'Brien log boarding house. His parents then shifted to Butte. According to Lowry's own account, he became transfixed with a Chinese paper balloon he was given as a kid, and this object sparked an unyielding interest in aeronautics. 

Lowry owned at least three large balloons during the time between 1908 and 1917 that he toured the country making exhibition flights. He performed at a number of engagements, sometimes returning to the same town or place, in Montana cities and elsewhere. And on top of this, he followed an annual fair circuit in the Midwest which, according to Lowry's later account, included "the cities of Minot, North Dakota; Davenport, Iowa; Rock Island and Chicago, Illinois."

Lowry made his final balloon ascension in Deer Lodge in 1926, before apparently retiring at the urging of his wife. He worked as an electrician at the Montana Power Company. Lowry died in Butte in January of 1965 at the age of seventy-nine.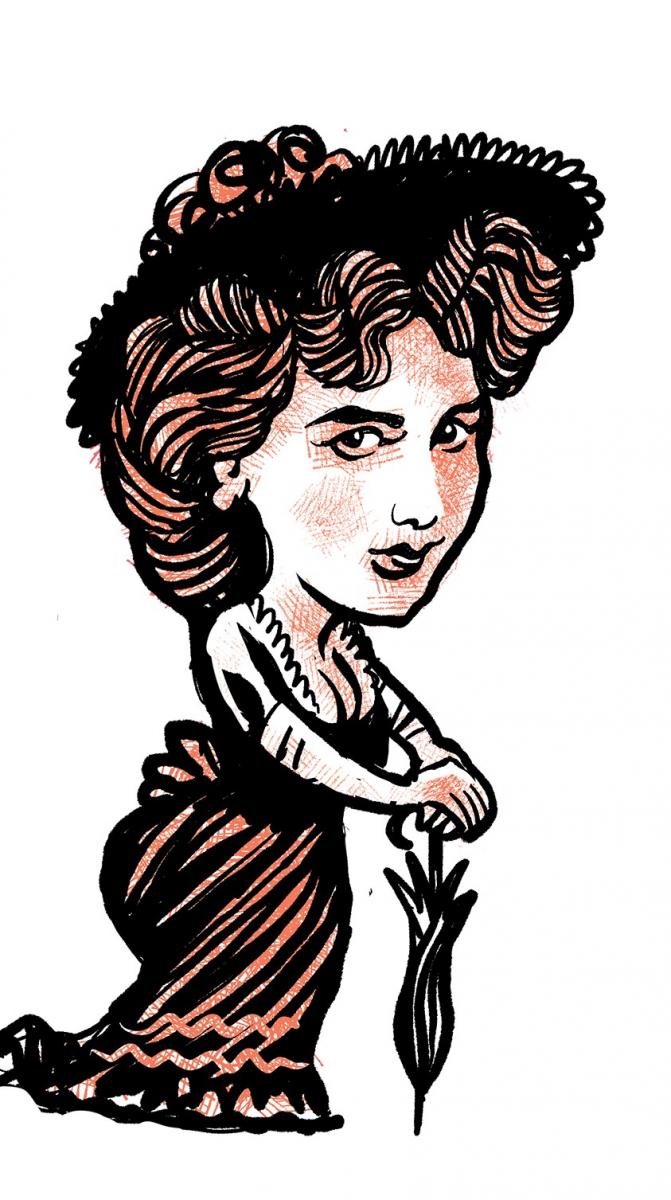 Gender Bender of Silent Films, Julian Eltinge, 1881-1941
 
"Women went into ecstasy about him," the comedian W.C. Fields once remarked about Julian Eltinge. "Men went into the smoking room." 

He was the buzz of 1900s Broadway and a gender bender of silent films. Long-forgotten actor and female impersonator Julian Eltinge was especially popular in Butte, where he accepted his first theater position as an usher at the old John Maguire Opera House at Butte. 

During a two-day engagement in Butte at the height of his popularity in the mid-1910s, Eltinge noted that he was first smitten by the showbiz glitz while he and his friends hung around the Caplice Hall (a dance hall and performance theater in Butte). 

A native of Newtonville, Massachusetts, Eltinge was born William "Bill" Julian Dalton on May 14, 1881, the only child of Michael and Julia (Baker) Dalton. 

When the Daltons left Butte, they headed for Boston, where they finally settled. According to some stories, a Boston dance teacher named Mrs. Wyman encouraged Eltinge to work toward becoming a female impersonator after she caught him mimicking the female students and making silly faces behind their backs. Other accounts depict him as playing his first female role even earlier, at the age of ten with the Boston Cadets' Revue.

Either way, allure was something that wouldn't be denied Eltinge, even if he had to don a wig and makeup and a padded bra for it to be treasured. By 1904, "Julian Eltinge"—he lifted the stage name from a classmate in Butte—had made his first Broadway stage appearance as a female impersonator, and only two years later, Eltinge was delighting international audiences at London's Palace Theatre. Soon after, he gave a royal command performance at Windsor Castle for King Edward VII.

Purportedly once the highest paid actor in the world, it's hard to overstate Eltinge's popularity at the pinnacle of his appeal. Theatres and children were named after him; tabloids hounded him for quotes or insightful passages; autograph seekers coveted ink from the notoriously reticent drag queen. 

Eltinge continued to perform on stage and in films throughout the 1920s and early 1930s. Yet, by this time the novelty had dimmed and the spotlight had set on another acts. In this denouement, his audiences grew smaller, and his popularity dissipated. According to contemporary news sources, the soft-spoken ascetic spent much of his final years at his California ranch, where his mother, Julia, resided. In 1940, he made his last film appearance. He died in New York City on March 7, 1941.
 
---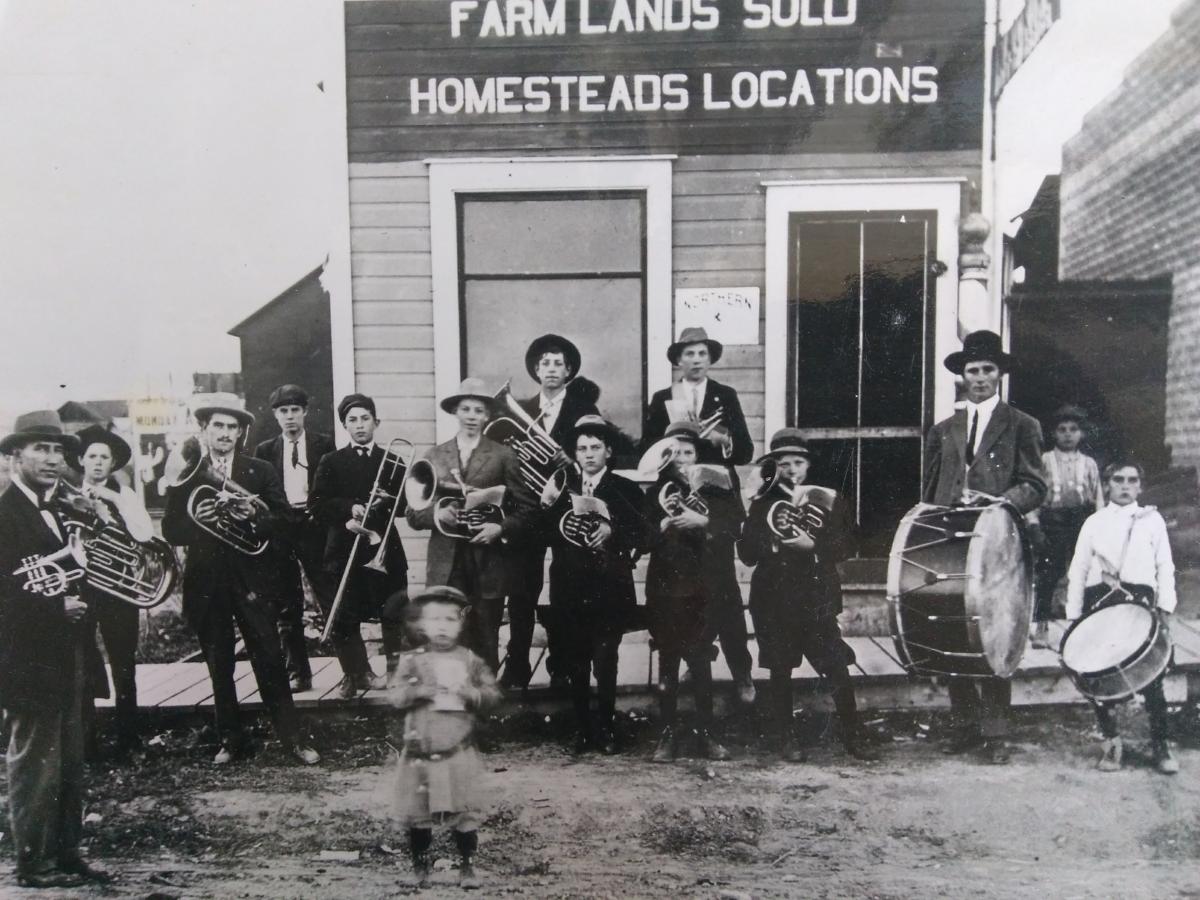 Bonus Eccentrics:  The Terry Montana Cowboy Band and the President, 1927
 
Terry and Prairie County stake claim to one piece of Montana's most idiosyncratic history – a band of musicians who invited themselves to a president's birthday party, and made his friendship in the process.   

The most famous event surrounding the Terry Cowboy Band was their trip to the Black Hills of South Dakota to play at the summer white house of the 30th  President of the U.S. Calvin Coolidge on July 4, 1927, a celebration of the President's 55th birthday. (Coolidge, a Republican, served as President from 1923-1929, and was first thrust into the position after President Warren G. Harding died unexpectedly while in office.)

According to the journals of band member Billy Grandfield, the Terry Band had just returned from Glendive where they had played at the celebration of the town and the opening of the branch line of the Northern Pacific Railroad to Circle-Brockway. During their stay in Glendive, band members were treated as guests of the officials of the NPRR in their private cars. Someone asked the question, "Where do we play next?"

One of the members, "in an off-hand manner," according to Grandfield, responded, "For President Coolidge's birthday!" Another voice chimed in, "Why not?" Another member of the band, W.R. Flachsenhar, a State Representative, parroted the question, "Why not?" Inspired, Flachsenhar wrote to Congressman Lovitt, and both men eventually corresponded directly with the President's secretary on the matter. Soon, a wire arrived with the President's invitation for the band to appear at the summer White House, which was about 35 miles from Rapid City, on July 4th at 1:30 p.m. According to Grandfield, "we held a practice meeting on that night and was ready to go next day making the start and on the way." 

As a present for Coolidge, they chose a pair of chaps made by Al Furstnow's Saddlery, in Miles City. The original invoice shows the purchase price of "1 pr. Coolidge chaps" at $36.00, minus a "special reduction" of $8.50, for the billable total of $27.50. 

Seventy-seven people packed in 22 vehicles and caravanned to the Black Hills, including a designated official car, a truck for instruments, and a chuck wagon. First stop, an evening of music in Fallon. The route then traversed through Mildred, Ismay, Baker, Camp Crook, South Dakota, and Buffalo, South Dakota.

The band marched past hundreds of people that lined the road on both sides until they came to the entrance to the White House lawn, when the sentry on duty stepped aside and stood at attention while they passed. They followed Colonel Edmund W. Starling up the driveway and onto the lawn where they formed a circle in concert formation. In a few moments the President and Mrs. Coolidge appeared and the crowd and the band joined in a loud cheer. "We played a piece or two and the President came down on the lawn from the House," journaled Grandfield. 

Newspaper clippings, photos and posters of the performances of the Terry Montana Cowboy Band may be found at the Prairie County Museum, in Terry. According to papers at the museum, the last documented event was a concert combining the Terry and Glendive bands in 1947 and the Terry Montana Cowboy Band officially ended in 1953. The chaps are now located in the Coolidge Room of the Forbes Library in Northampton, Massachusetts. Al Furstnow's Saddlery, in Miles City, operated in business from 1894 until 1982.