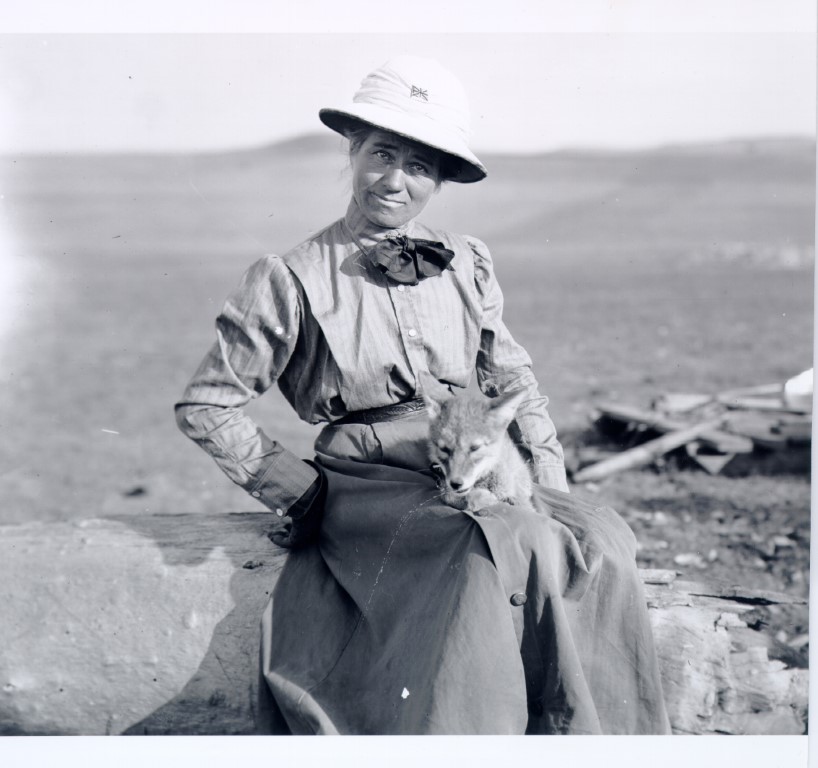 If there is one thing that is most irresistible about the life of Evelyn Cameron, it is her inverted riches-to-rags narrative.
An escapee from English aristocracy, she deserted a splendid Victorian upbringing and a palatial home in Lenox, England, to homestead in an isolated two-room log cabin in eastern Montana. Cameron possessed an incredible drive to be in the wilderness, unhampered by Victorian codes of dress or customs. 
Ultimately, Cameron embodied the mythic West: that it was possible for strong inhabitants to work out their own salvation, for the most part by adhering to her convictions. She lived large, and if the West was about anything, it was about large. 
In this remarkable new land, she recorded thousands of photographs with a simple commercial camera. Today, more than 90 years after her death, her role looms large in the development of art in Montana.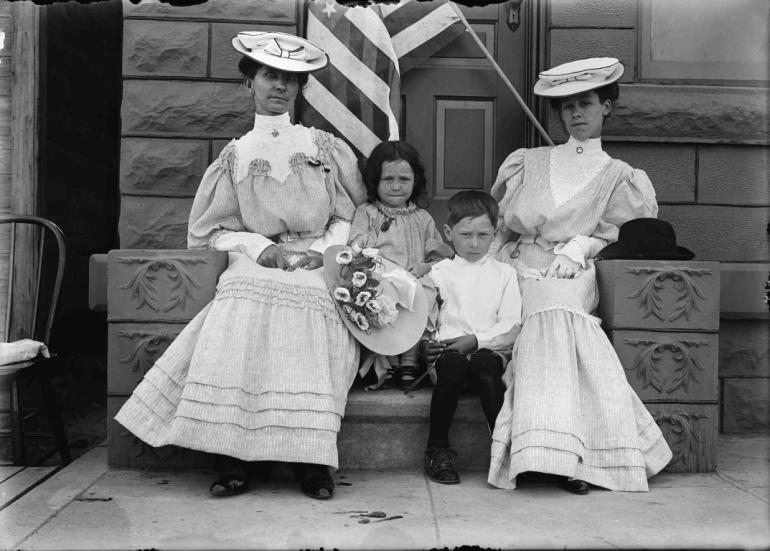 Intellectual Curiosity 
Evelyn was born near London, England, on August 26, 1868, "in a plush house, with generous grounds and 15 servants," according to one of her biographers. 
Young Evelyn disdained the standard activities expected of an Englishwoman at the time, like participating in noon teas, conversational pleasantries, and fox hunts. Instead, she embraced her intellectual curiosities and pursued the pleasures of education, learning and physical exertion. She dismayed her family at age 21 by marrying a 34-year-old Scotsman named Ewen Cameron.
Traveling was part of her cultural polish, and both Ewen and Evelyn shared a passion for it. 
As newlyweds, in 1889, they rejected their insular English gentility to claw out a minuscule place in an unfathomably vast universe.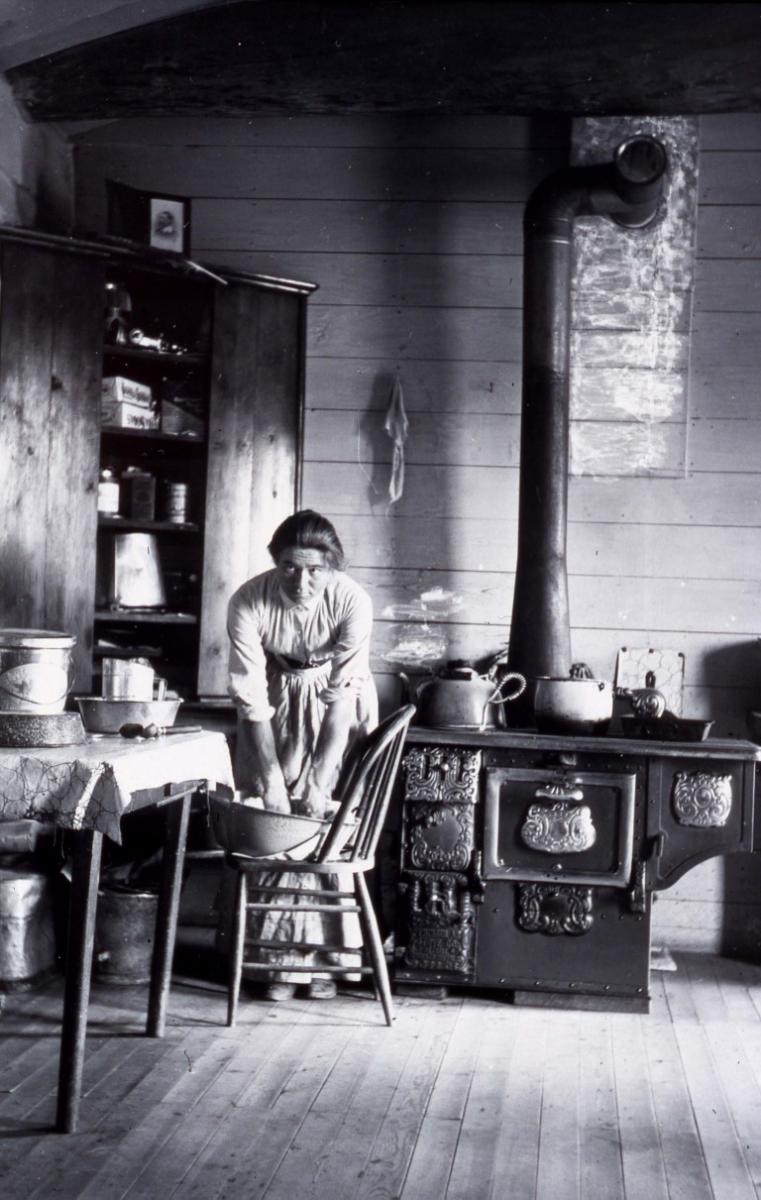 After traveling approximately 1,800 miles of mystery and, at times, misery, the couple arrived in eastern Montana, along with a cook and even one of Custer's former scouts as a paid guide. They settled around Miles City and Terry, though only briefly. 

In 1890, they returned to the U.S., and this time Montana would become their permanent home. Only 14 years removed from the Battle of the Little Big Horn, Montana's non-native population was estimated at 143,000, with the lion's share of the residents in cities such as Helena and Butte. 
They hoped to raise polo ponies from Arabian stallions for the European market, but that type of effort could not yield a profit. They initially lived off the largesse of Evelyn's trust fund, yet that reserve soon dwindled. It was a hard time for the British expats, requiring their strictest adaptability. The women typically found in the mythic Western are often subservient damsels; not Evelyn. Wildly resourceful, Evelyn began by planting a large garden and selling vegetables. She constructed her own fence posts and reduced the slack in her own barbed wire; she made bread about once a week, on average, seven loaves each time. Still, hard work does not always translate into real income. After her business plan to take in wealthy boarders failed, and Ewen foundered at his attempts to raise cattle, Evelyn kicked her industriousness into overdrive—and the creative saga starts there. 
In about 1894, Evelyn taught herself the brass tacks of photography while using a dry-plate glass negative Kodak. Despite the availability of cheaper, quicker methods, "Evelyn preferred the more laborious method that used five-by-seven plates," wrote one of her biographers. She used financial frustration as an inspiration for art, eventually starting a business that raised the family wages and enabled the couple to rent or own property. 
She charged "$2 for a family portrait" and traveled the wide, strong landscape soliciting business. By 1902, she had a photographic "calling card" and repeat customers, and by the end of the summer of that year "she'd made $94.40 selling photographs," according to one source. She developed them on five-by-seven-inch glass-plate negatives and print­ed them in a makeshift darkroom. By the summer of 1904, she was staying up into the early morning hours to complete her orders. 
Evelyn's hundreds of letters and handwritten journals, starting in 1893 and kept for approximately 40 years, give us an insight into the rustic side of life in those days, the pitched battle of civilization against wilderness. The diaries lend credence to the legend of the West as a place where ordinary men and women overcame great difficulties and rose to meet the challenges of a giant, empty, unforgiving environment.
Evelyn Enshrined the West 
It would be her black-and-white images, however, that would forever enshrine the remarkably unconventional, stubborn and tenacious environment of early Western life. As defiantly independent as her chosen homeland, Evelyn depicted the transformation of Montana—granted statehood on November 8, 1889—and the development of its prairies and the cultivation and expansion of its land.
The harsh realities of Montana were no fiction. From 1894 to 1928, Evelyn braved both the extreme cold and heat, and the pesky presence of rattlers, to photograph its evolving nature.
From horse and cattle drives, sheep herding and the wool trade, and the expansion of the railroad, the nature of occupational life informed her work. In this, she became acquainted with many wagon-masters, cattlemen, teamsters, wolf hunters, sheepherders, skinners and trappers, and learned a great deal about the business of handling cattle and mules in the process. 
As homesteaders and pioneers flooded the prairies, Cameron's camera was there to greet them, too. Evelyn was known to embark on many wild and exciting treks to find a suitable photo. Indeed, Evelyn often bounced on horseback for "fifty miles or more" and "frequently climbed precipitous mountains on foot" with her heavy camera equipment strapped to her back to capture magnificent vistas, geographical spaces, and rich archeological ruins. She preserved the geology of the surrounding bad lands, its birds of prey, its pests and critters, and its offbeat menagerie of domestic pets, such as eagles, wolverines, kestrels, coyotes, wolves, and dogs.
Evelyn had a strong eye for period and place, for the communal, ritual, and collaborative ties that, somehow, improbably, helped to form a shared idea of kinship. She relished photographing homesteaders in their social settings; there is something sensitive and yet authoritative in these intimate works.
Out of images of weathered faces posed in front of paltry shacks, the documentation of simple moments of celebration in Western lives, from weddings and reunions to Fourth of July festivals, Cameron achieved high art. She captured mothers holding their prized hens, children dressed in their Sunday clothes, inaugurations, parties of Italian railroad workers and their families, gatherings at river ferries, the first brandings of young cattle, even chuck wagons packed high with furniture and supplies. Evelyn seemed to be everywhere at once, traveling over the area and preserving these, the trademarks of her work. Cameron's photographs attest to the strength of frontier women; they rope and ride, tend to animals and gardens, bake and fry for families, sheep-shearers and farm crews, and harvest in the wheat fields.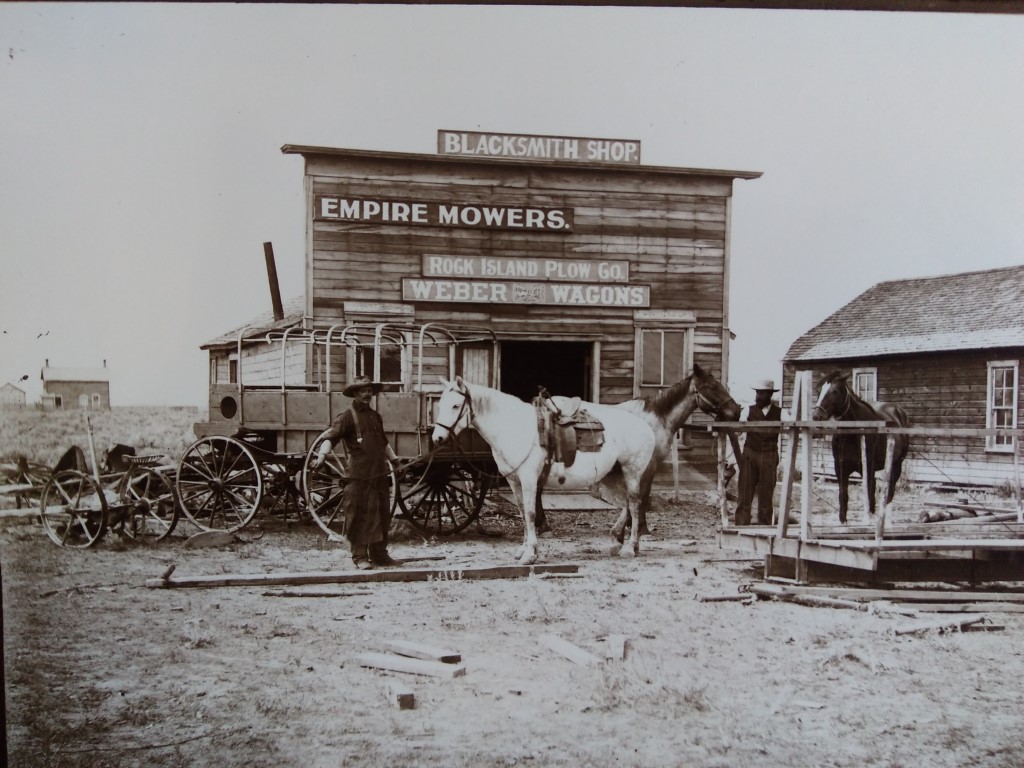 As Donna Lucey, a biographer of Cameron, summarized: "Evelyn was fascinated by what she referred to as the 'New World type,' the colorful frontier characters who were drawn to the remote areas, and by the how-to of life in the West—how to 'thrash' a field of wheat; how to shear a sheep; how to drive a herd of cattle across the Yellowstone River. She did on-the-scene documentary photography of them all."

Evelyn lived deeply yet modestly. From 1893 to 1900, Evelyn and Ewen rented a three-room log cabin with a stone foundation, six miles south of Terry. While her diary emphasized that the money she had earned from her photography had kept the family solvent, she also stressed that she owned the burden of the gardening, cooking, and washing responsibilities. And on top of this, she wrote and illustrated magazine articles about the demanding effects of life on Montana ranch women. 
Death and Discovery

After Ewen died in 1915, Evelyn remained, alone, at her ranch, writing a friend that she was "as busy as a one-armed man with hives." On November 13, 1916, she bought another 40 acres in the Terry area at $3.55 an acre; $142 total. On April 9, 1918, she became a naturalized citizen of the United States and voted in that November's election. She was 60 when she died on December 26, 1928, after an appendectomy. She had had a successful operation for appendicitis and was considered on the road to recovery when a sudden heart attack caused her death. 
The church was filled to overflowing, all the local pioneers and ranchers present.

In 1978, Time-Life Books editor Donna Lucey learned about the collection of historic photos stored in the basement of 90-year-old Janet Williams in Terry; Janet inherited a fortune of plates and pictures and bound diaries that had been in the cellar of Cameron's long-abandoned cabin since her death. In 1991, Photographing Montana 1894-1928: The Life and Work of Evelyn Cameron was published by Lucey. 

The Prairie County Museum, in Terry, which operates the adjacent Evelyn Cameron Gallery, houses more than 900 of her much-loved photographs.