MASTER OF MIXES
Montana Club Bartender Julian Alexander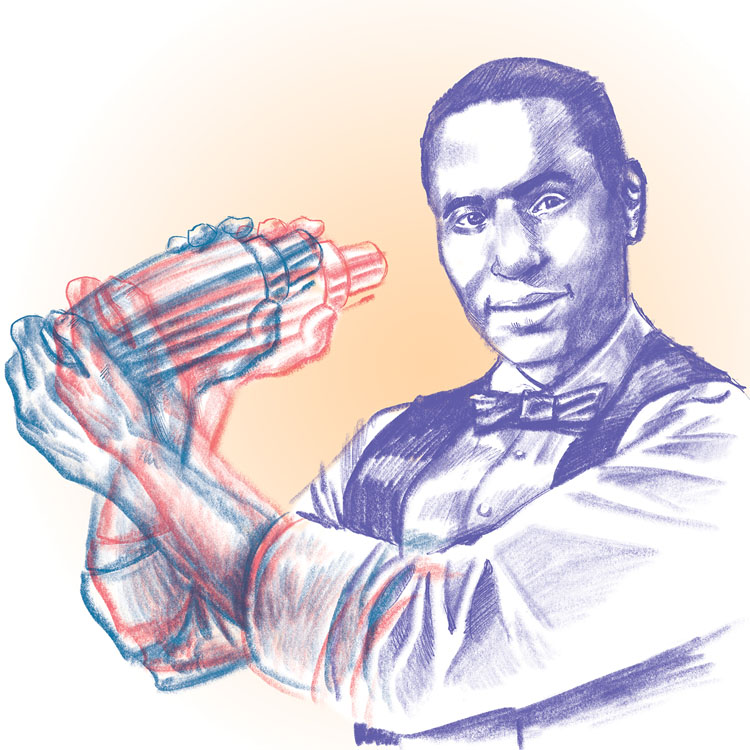 He was quick with a quip or to lend a sympathetic ear. He was fast to light a cigar or laugh at a wisecrack. But most significantly, he could whip up an unforgettable absinthe cocktail or old fashion gin or whiskey cocktail with unnatural ease.
He was the "Master of Mixes," a much admired bartender at the Montana Club who served thousands of drinks to hundreds of local members as well as a smattering of true notables throughout his 60-year tenure. 
Julian Anderson asserted that he was born in Germany, where his parents moved "with wealthy Virginia plantation owners who were fleeing the Civil War." Although there is no record of his birth in Hamburg, Germany, several accounts and secondhand sources also avow his birth date as either September 23, 1859 or September 23, 1860.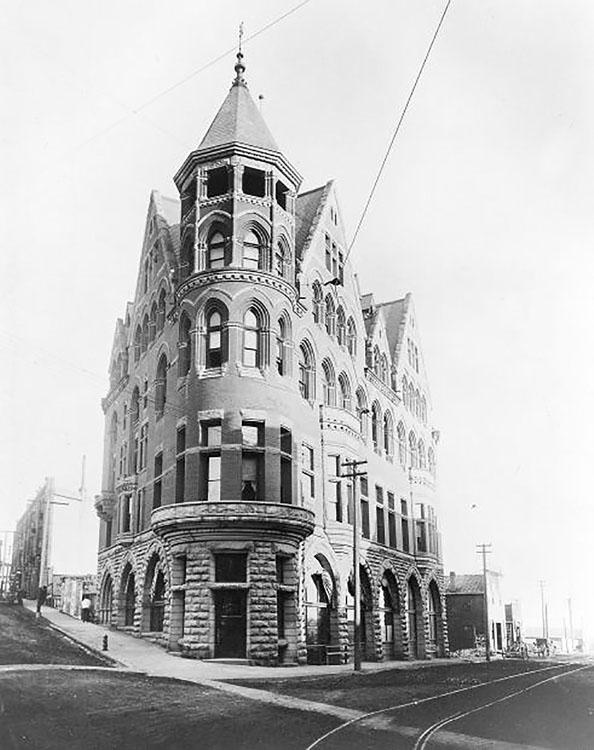 "I observe September 23rd as my birthday, because my mother told me I was born at 'fodder-pulling time," Anderson said once. 
At the age of six or seven, his family returned to the United States and Virginia, then later moved to Washington DC and on to Denver, Colorado. His time out West seems to have been a formative period in young Julian's life, for it is where he claimed to have first tasted independence, and it's also where he learned how to work as a baker and confectioner (in Laramie, Wyoming). 
He came to Helena in approximately 1887. (Some accounts claim he arrived in Helena while "still in his teens in 1887," but this would invalidate his birthdate as taking place at the time of the Civil War.) Presumably, it was a much older Anderson who would've come to Helena, working first for James Sullivan, and then for the Merchant's Hotel, (later the Monticello, no longer extant) as a porter. When the hotel went bankrupt, W.A. Brown, the receiver, took over, making Anderson manager.
The following summer he became night clerk at the Broadwater Hotel. 
In June 1893, Anderson went to the newly minted Montana Club as bartender for what he recalls as being "a very exclusive club of men." Anderson apparently found his forte for he stayed on until 1953, when he retired as one of the "Queen City of the Rockies'" most recognizable characters. 
At that time, the Montana Club soared above the cityscape; before long blocks of five-story buildings pushed up in the fledgling capital (statehood was granted a few years earlier in 1889). Initial members included selected (all-male) individuals in mining, farming, timber, law, banking, transportation, and wholesale goods. According to club reports, "Fifty constituents became nearly 300 members within six years." 
An arson fire decimated the Montana Club in April 1913. The blaze, unintentionally set by Anderson's 14-year-old son, Harry, started on the sixth floor but extended swiftly.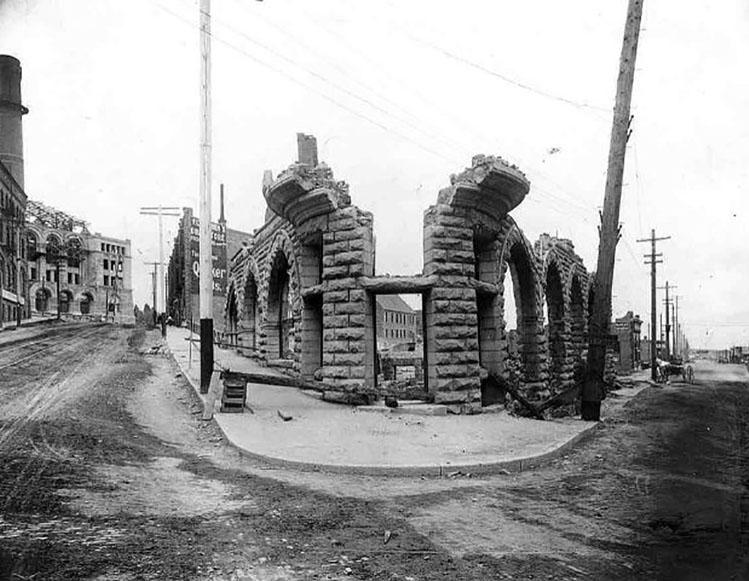 Insurance didn't even cover the full $150,000 damage; however, club members quickly gathered enough money to build a new clubhouse shortly after the fire. Minnesota-born architect Cass Gilbert, who became known as "father of the skyscraper" and also designed the Minnesota, Arkansas and West Virginia Capitols, went to work on the restructured design. Despite the fact that his own son caused the incident, Anderson smilingly persevered, continuing to shake well, strain, drop the cherries in, and serve. 
In 1918, Helena was purportedly home to "at least 65 saloons," according to one newspaper account. One of the city's fanciest drinking establishments, the Rathskeller, or basement beer hall, offered an elevated level of coziness, which included expensive reproduction leather, lavish coats of arms symbols and floor-to-ceiling paneling fashioned from Washington fir. 
Prohibition in Montana went into effect at the end of 1918, which was two years before national prohibition, and during this period Montana Club members kept their own cabinets of clandestine liquor down in the cellar bar. Anderson held the key to their stashes and would fix drinks for patrons using their personal reserves. (The Twenty-first Amendment to the U.S. Constitution, ratified on December 5, 1933, repealed the Eighteenth Amendment and ended national Prohibition.)
During his tenure, Anderson garnered local fame as the master of mixes. Even though he was an adept drink technician—concocting everything from champagne punch bowls for a party of fifty, to unique Montana Club martini cocktails—he often said that he "never" took a drink himself. 
"The proudest moment in my life was the time I served Teddy Roosevelt," Anderson told a local newspaper in 1950. "He was President then (serving between 1901 and 1909) and about the biggest man in the world. Everyone respected him and his word was generally law, but he was kind and pleasant to me." He even said that he heard Teddy say "dee-lighted" in person. 
President Roosevelt was but one of the many prominent figures served by Anderson at the Club. Humorist Mark Twain, actor Otis Skinner, artist Charlie Russell, and politician William Jennings Bryan were also served with one of Anderson's recipes. Other notables were foreign princes and domestic copper kings, including Prince Albert of Belgium, Prince Olaf of Norway, W.A. Clark, F. Augustus Hinze, and Marcus Daly. 
Anderson's residence on 613 E. Broadway served as a constant hub for the city's small African-American community for decades. First platted in 1887, Anderson purchased the property in 1913, though census records reveal that he had lived there even earlier.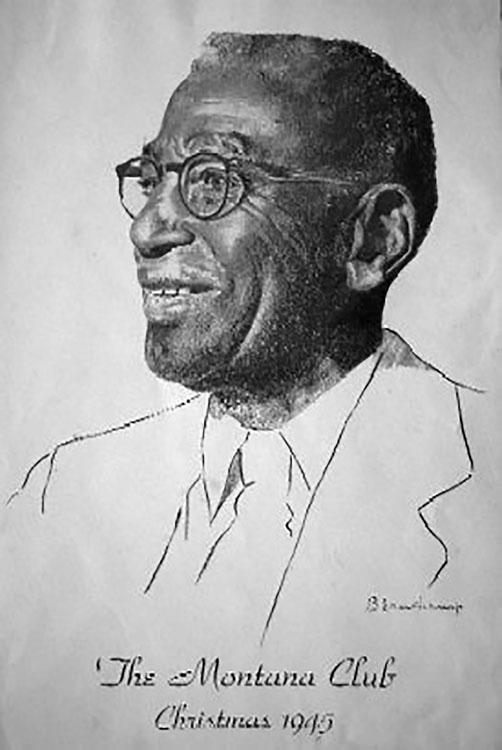 City directories list the Anderson family at 613 E. Broadway by 1910, and that year census takers cataloged the household. At the time it included Julian, age listed as 44 (which would again mean Julian was born after the Civil War and not in 1859 or 1860 as he later claimed), and working as a "steward" at the Montana Club, and his 41-year-old wife Margaret, whom he'd married in Helena in 1888. It also included their seven children, all of whom were born in Montana, ranging in ages from 21 to one-year-old.
Sometime thereafter Julian and Margaret divorced, and in 1915, Julian remarried Tennessee-born Ella Newton Davis, 25. By 1930, inhabitants included son Julian Anderson Jr. and his Missouri-born wife Mattie, 45, who worked as a "chamber maid" at a "club house," as well as daughter Elenorah and her husband of three years, Add Edison Banks, a native Alabaman who worked as "a porter at a hotel."
Throughout all this change, Anderson continued to shake and stir, even authoring a recipe guide of his most popular mixes. In 1938, members celebrated Julian's 45th anniversary with the club, signing a tribute to him that announced: "To Julian Anderson who never forgets us, is always constant, pleasant and competent." 
By 1940, Anderson was a widower and he was taking in African-American lodgers who made their living working in the local service industry. 
On June 20, 1953, Anderson was honored for 60 years of service at the Montana Club at a board of governors' dinner and later feted at a reception by hundreds of club members. Around that time, the bartender who had become one of Helena's most familiar institutions, retired from service. 
Newspapers reported that he celebrated his 99th birthday at a family dinner party at home and enjoyed his favorite cake—pound cake, without icing—with nine red and green candles on each side. He said that at one time he chewed tobacco but never smoked or imbibed in alcoholic beverages. He attributed his longevity to clean living and plenty of work. Each year he cultivated a vegetable garden at his home. 
Julian Anderson died in 1962 at the purported though unverifiable age of 102. 
A Julian Anderson recipe for a martini cocktail:
(Use a mixing glass)
½ glass of shaved ice
2 dashes of orange bitters
1 jigger Old Tom Gin
¼ jigger Italian Vermouth
Stir with a spoon, strain it into a cocktail glass, squeeze a piece of lemon peel over the top and serve.