Montana's Indian Reservations tantalize history and culture lovers alike. Traveling around the state to visit them is like tracing a constellation of stars: you can start at the Flathead, go north to the Blackfeet, then east to Rocky Boy's, Fort Belknap and Fort Peck, and then southwest for the Northern Cheyenne and Crow.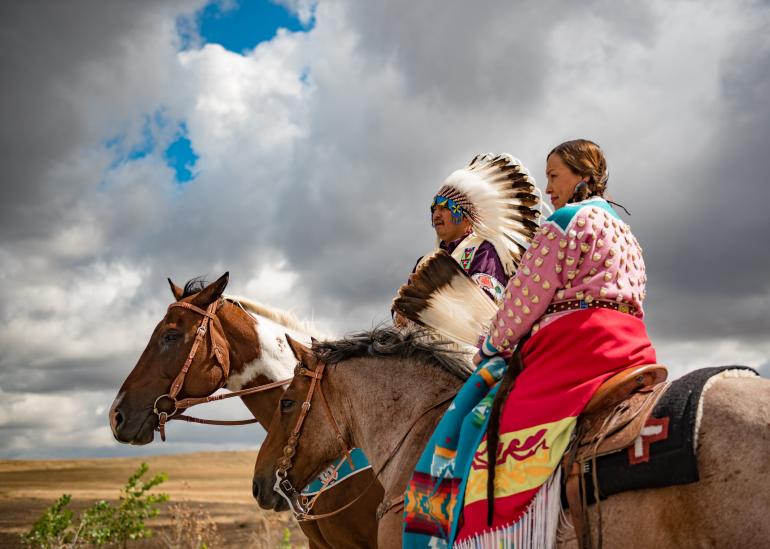 And, look, an eighth point of light near Great Falls. That's the Little Shell Tribe of the Chippewa—one of the state's dozen officially recognized tribal nations even though federal designation is still pending for the Little Shell. To receive that status, a tribe must have "existed at first contact with Europeans, or evolved as a successor." The US recognizes 571 tribes. This designation reaffirms "sovereign nation" status with their own tribal governments. 
According to Montana Indians: Their History and Location, 6.5% of Montana's population—some 78,000 people – have a tribal heritage. Many follow tribal news online and live in urban areas, such as Missoula, Helena, Great Falls and Billings. "Lots of tribes have Facebook pages and digital platforms," says Mike Jetty, an Indian Education Specialist with the Office of Public Instruction (OPI). "Want to learn Blackfeet? There's an app. That's exciting."
Seven tribal colleges—a U.S. record—also shine in Montana Indian Country. Each reservation has a two-year college (open to all), thanks in large part to tribal leaders. "Education matters greatly to American Indian people," says Dr. Kate Shanley, a professor of Native American Studies at the University of Montana—home to America's first building dedicated to Native Americans. 
"The Payne Family Native American Center is a tremendous achievement," she says, "but the next step for the building is to develop strong funding for the work that will increasingly power American Indian scholars and future leaders." Take the Center's Land and Culture Institute, for example. Named after the Blackfeet woman who helped win the Indian Trust Settlement, Elouise Cobell, the Institute provides needed learning and tools, such as GIS drought mapping, for "future of Native American communities."
Distinct as they all are, Montana tribes share many cultural traits, including a strong love of family and songs, storytelling, sacred rituals, artwork, and games. 
They also share a history of conflict. Before the European push for beaver pelts, gold and farmland, Northwest tribes were more apt to gather for gaming competitions than warfare, which needed tribal consensus (including from women). Many tribes were also famous for "counting coup," touching the enemy, but not harming, in battle. When horses, guns and more competition for resources (buffalo) arrived, encounters became more deadly. US government military battles, such as the Little Big Horn or Big Hole, are easy to find on a Montana map; other tribally significant events, like the Marias Massacre, are not. 
To learn more about Big Sky tribes, visit their homelands (ask about tribal permits). Online resources include www.tribalnations.mt.gov/ and www.montanatribes.org/. Also visit the OPI, which helps implement the landmark "Indian Education for All" legislation, at www.opi.mt.gov/Educators/Teaching-Learning/Indian-Education
Confederated Salish & Kootenai Tribes | Flathead Reservation
Established 1855 • Headquarters: Pablo
406.675.2700 • www.cskt.org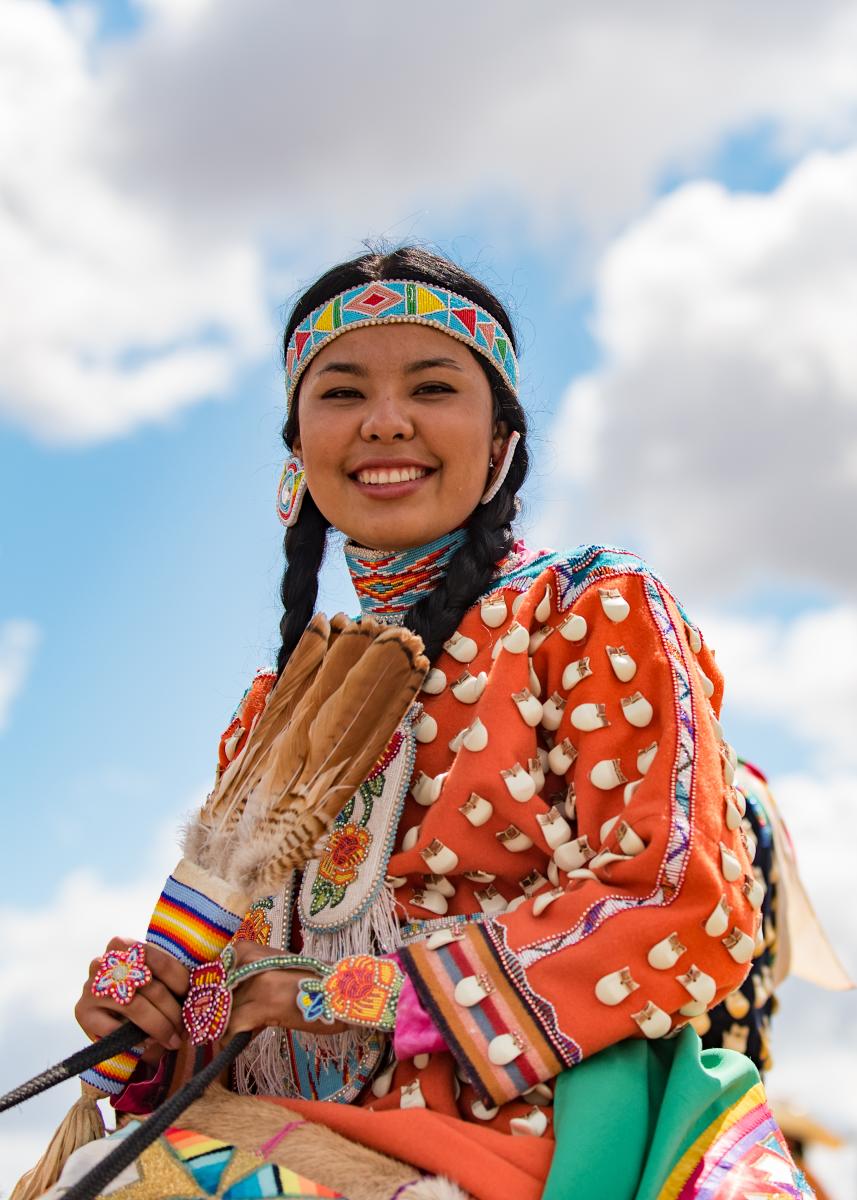 Primary Tribes: Bitterroot Salish, Upper Pend d' Oreille and Kootenai 
Names: Confederated Salish means Salish and Pend d'Oreille; call themselves Sqelio or "The People." Qaeispe is proper name for Pend d'Oreille. Kootenai aboriginal name Kutanaxa means "licks the blood" from a hunting custom. Flathead band is called Ksanka; means "standing arrow" from a hunting technique. 
Interesting: 
More than 40 tribal nations represented 
Kootenai language is unlike any other in the world 
First to incorporate under the Indian Reorganization Act 
First to designate tribal wilderness lands 
Member D'Arcy McNickle wrote Wind from an Enemy Sky
Salish Kootenai College •  www.skc.edu
Blackfeet Tribe | Blackfeet Indian Reservation 
Established 1855. • Headquarters: Browning
406.338.7521 • www.blackfeetnation.com
Name: Translation of word Siksika, means "black foot" from tribe's blackened moccasins. 
 Interesting: 
Reservation includes headwaters to Hudson Bay, Gulf of Mexico and Pacific Ocean 
Lewis & Clark expedition killed a Blackfeet youth for trip's only recorded Indian death 
Blackfeet wildland firefighters are some of the best in the world 
Killing Custer and Fools Crow author James Welch was Blackfeet 
 Blackfeet Community College •  www.bfcc.org
Chippewa-Cree Indians | Rocky Boy's Reservation 
Established 1916. • Headquarters: Rocky Boy
406.395.5707 •  www.tribalnations.mt.gov/chippewacree
Name: Chippewa word; Stone Child most accurate translation, not Rocky Boy. 
 Interesting: 
Montana's smallest reservation; established by Executive Order, not treaty 
Crees represent one of the largest Native American groups in North America 
Tribes operate a casino with nearby airline and Amtrak service
Stone Child College •  www.stonechild.edu
Fort Belknap Indian Community | Fort Belknap Reservation 
Established 1888. • Headquarters: Fort Belknap
406.353.2205 • www.ftbelknap.org
Primary Tribes: Assiniboine and Gros Ventre 
Names: Assiniboine means "Stone Water People." Gros Ventre (pronounced Gro Vant—big belly in French) call themselves Aaniiih; means "White Clay People." 
 Interesting: 
The Gros Ventre hosted German Prince Maximilian in 1826 
In 1884, gold discovered in Little Rocky Mountains 
Fort Belknap named after a Secretary of War 
 Aaniiih Nakoda College •  www.ancollege.edu
Assiniboine and Sioux Tribes | Fort Peck Indian Reservation
Established 1888. • Headquarters: Poplar
406.768.2300 • www.fortpecktribes.org
Name: Assiniboine call themselves Nakoda, means "Generous Ones." Sioux are Dakota or Lakota; means "The Allies." 
 Interesting: 
Montana's second largest reservation with more than 1000 other tribal members 
Assiniboine and Sioux fought in 1876 Battle of the Little Big Horn 
Oil was discovered on the homeland in the 1950s 
Fort Peck Community College •  www.fpcc.edu
Northern Cheyenne Tribe | Northern Cheyenne Indian Reservation
Established 1884. • Headquarters: Lame Deer
406.477.6284 • www.cheyennenation.com
Name: Call themselves Tsitsistas; means "The People." 
 Interesting: 
Two Cheyenne tribes in 1851. Today, Southern tribe has trust lands, but no reservation 
Both Northern & Southern tribes joined the Sioux for Little Big Horn battle 
Ben Nighthorse Campbell, former US Senator from Colorado, is Northern Cheyenne 
Chief Dull Knife College •  www.cdkc.edu/
Crow Tribe | Crow Indian Reservation
Established 1851. • Headquarters: Crow Agency
406.638.3708 • www.crow-nsn.gov
Name: Call themselves Apsáalooke," which means "Children of the Large-Beaked Bird." 
Interesting: 
Montana's biggest reservation 
Before small pox in the mid-1800s, tribe was more than 8000 strong 
Like the Blackfeet, Crow women could ride in battle, if rarely 
Most members speak Crow as a first language; college does business in Crow 
Member Robert (Bill) Yellowtail headed the US Environmental Protection Agency 
Little Big Horn College •  www.lbhc.edu/
Little Shell Tribe
Chippewa Indians • Tribal headquarters: Great Falls
406.315.2400 • www.montanalittleshelltribe.org
Name: Call themselves Métifs, means "middle people or mixed blood." 
Interesting: 
Born of tribal women and Irish, Scotch and French immigrants 
Thousands of Métifs lived near trading posts in the US and Canada 
Tried to gain tribal recognition in Canada in 1855 
In 1904, began locating and enrolling members 
Montana gave tribe recognition in the 1980s 
Bureau of Indian Affairs gave preliminary recognition in 2000