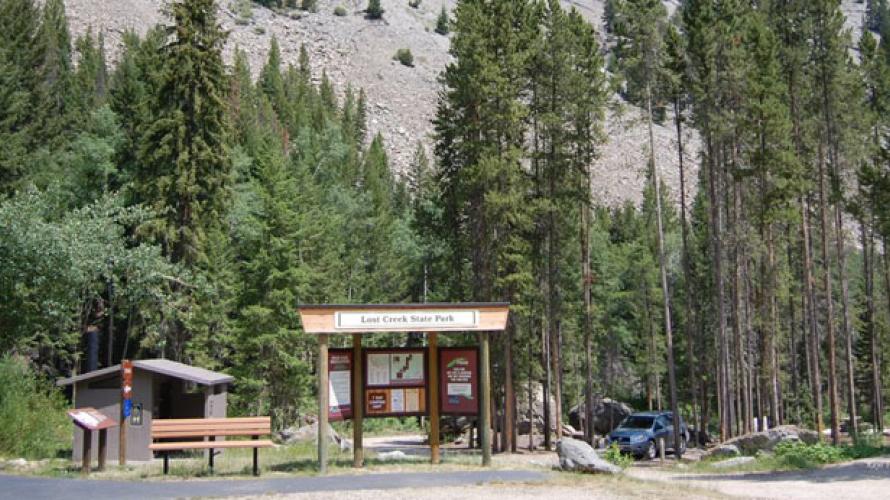 Lost Creek State Park
   ~Montana State Parks Foundation & Prairie Populist
Lost Creek State Park is a public recreation area and campground located six miles north of Anaconda, Montana, featuring limestone cliffs and multi-colored rock formations that rise 1,200 feet (370 m) above its canyon floor.

The 502 acre state park features a short walking trail to Lost Creek Falls, which plunges 50 feet. The park is open year-round for hiking, bicycling, fishing, and wildlife viewing with mountain goats and bighorn sheep commonly seen. The park is open seasonally for camping. 
This place is a hidden gem… a lot of people don't realize it's here,' said Katie Harding of Butte.

A diamond in the rough of industrial copper country, Lost Creek State Park is a different vista than what is typically associated with the historic mining and smelted landscape around Anaconda.  It is not by any means lost, but to many, it has yet to be found.  A lot of people have no clue that this secluded, paradise of public land hides in one of the many draws of the Pintlers

Wildlife, especially mountain goats, golden eagles, and bighorn sheep are frequently seen on the cliffs above the park.  Pika are often seen and heard in the rocks and talus of the upper portion of the canyon. 

If you prefer a longer hike, US Forest Service trails just north of the falls parking area lead for miles into the Beaverhead-Deerlodge National Forest.

One such trail winds for several miles along Lost Creek through forests and meadows with great views of the surrounding mountains.
Located in the Flint Creek Mountain Range, Lost Creek State Park is a must for Montanans and visitors alike.

Did you know?

With the significant growth of Aspen throughout the park, the colors are brilliant come fall – so be sure to get this on your list!

Grey limestone cliffs rise high above the canyon along with towering 1,200 foot pink and white granite formations. 
You can also: 

✅ Keep your eye out for wildlife which includes mountain goats, golden eagles, bighorn sheep, pika, and elk!

✅ Fish for native trout in the tumbling creek.

✅ Go mountain biking along a Forest Service trail.

✅ Winter? No problem, you can go cross-country skiing or snowshoeing.

✅ Plus so much more!

Let's get outside!