Charles Marion Russell (1864-1926) is a name that is renowned worldwide. His art and life have provided the subject material for a long list of books, articles, documentaries, and discussions.
 
While Russell's prominence and reputation are rewards well-deserved, a number of other brilliant Montana artists haven't received nearly as much exposure or examination, including, perhaps most notably, Olaf Seltzer, Bill Stockton and John Louis Clarke.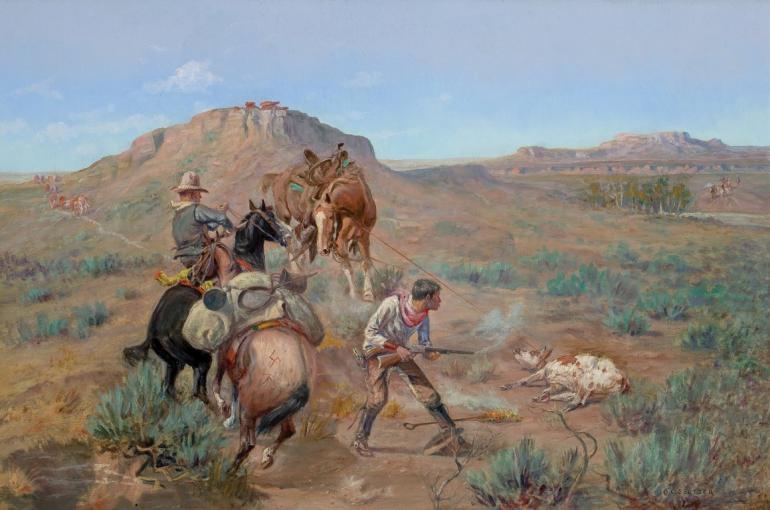 Olaf Seltzer (1877-1957)
Indeed, one of the Big Sky's most dazzling talents was a contemporary and friend of Russell's, and he even lived in Great Falls.
  
While Olaf Carl Seltzer's paintings were generally overlooked, he could perhaps even be considered the foremost product of the Russell school.
President Franklin D. Roosevelt possessed a canvas by Seltzer. Lauritz Melchior, the great Danish-American opera singer, and publisher George Palmer Putnam and his most famous wife, Amelia Earhart, also owned his originals. The dynamic aviatrix asked him to execute designs for envelopes to be carried on her flight across the Pacific. These she sent to Roosevelt and the Postmaster General and other celebrities.
 
Seltzer was born in Copenhagen, Denmark, in 1877, with artistically-inclined lineage. His father, Carl Seltzer, worked in cut glass. Olaf's abilities as an artist were noticed while he was still a child and he was allowed to study in the Art Institute in Copenhagen. While Olaf was still in his early teens, his father died. He, his mother and her sister left Denmark to join the sister's husband, in Great Falls, Montana. He went to work on a railroad, and then landed a job at a silver smelter and later for a few livestock operations in Great Falls.
  
All the while Seltzer was painting in his free time, and in 1926 he left railroad work to engage exclusively in art, though the World War II war economy brought him back to machinist trade.
  
Seltzer and Charles Russell met on the latter's thirty-third birthday, March 19, 1897, and, according to Seltzer's later account, "instantly liked one another." Seltzer was twenty years old at the time. On many occasions, they rode the range in sync, painted simultaneously and exchanged thoughts and advice on art.
  
In 1926-27, Olaf went to New York, after a stay of about a year there, he returned to Great Falls. Similar to Russell, who hailed from Missouri, the West served as Olaf's refuge and, although he made a number of trips to the East, Montana was his sacred place of inspiration.
 
Among themes favored by Olaf were homestead events, Native American and cowboy life. While Seltzer's Indian paintings brought him posthumous fame, he in fact painted and sketched a wide variety of subjects, from oils to portraits of his favorite cat and scenic views painted on a buffalo collarbone. He would often use a magnifying glass in painting, or if he could not find a brush fine enough to suit him, he would pull half the hairs out of one that he had.
 
Bill James, editor of the Sunday magazine supplement to the Great Falls Tribune, Montana Parade, sang the praises of Olaf in glowing, retrospective terms in July of 1954.
"Great Falls, intensely grateful for the world-wide attention it has received for being the home of the late famous cowboy artist, Charles M. Russell, is basking in the glory of another great western artist who was a close friend to Russell – O.C. Seltzer."
 
During the time of James' interview, Olaf was seventy-seven years of age. The artist estimated that he had completed about 2,500 paintings and sketches and he believed them to be "in every state in the Union as well as several provinces in Canada."
 
The final years of Olaf's life – he died in December, 1957, in Great Falls – were spent in a wheelchair.
 
To honor Seltzer, perhaps it is fitting to conclude with this excerpt from the 1941 edition of Encyclopedia of Northwest Biography:
"As a portrayer of the western scene, Olaf Carl Seltzer belongs in the great tradition of Remington and Russell, a tradition which retains all its vitality and force in the canvases which have brought him an international reputation as an artist. He was…an intimate friend of Charles Russell for many years, but has brought to his career original and arresting gifts which make his work entirely his own."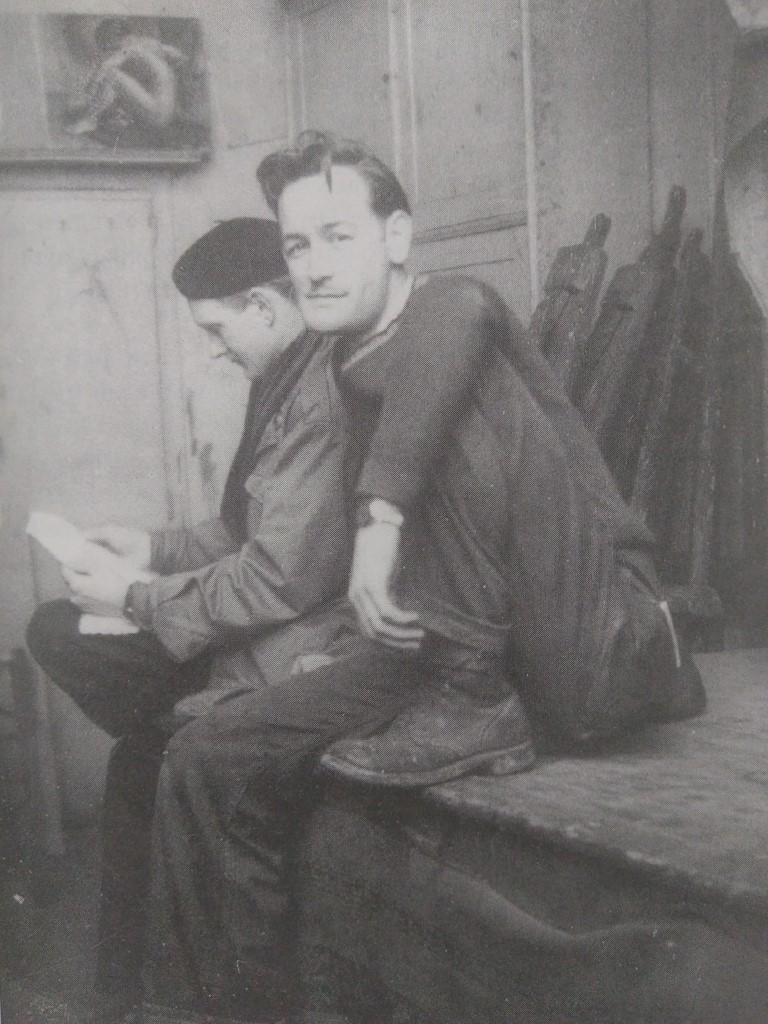 Bill Stockton (1921-2002)
(Images courtesy of Gilles Stockton and the Yellowstone Art Museum)
"People think I am crazy," said Bill Stockton on the subject of the most common judgment of him. A sign painter and commercial artist- illustrator who developed creative standards that would be "beyond the pulling taste," Stockton always stayed true to his greatest and considered by some craziest personal loves: ranching and abstract art.
  
Son of Fergus County homesteaders, Bill was born in 1921 and raised in Winnett and Grass Range; the Grass Range High School graduate left Central Montana to join the armed forces and later become a commercial artist, studying at the Minneapolis School of Art and then at the Ecole de la Grande Chaumiere in Paris.
 
At a time when he was reaping the fulfillment of a viable career, he said that he had "a change of heart," and he and his wife (whom he met in France) removed to a ranch a few miles west of Grass Range. 
In the midst of the wrinkled hills of the Grass Range country, Stockton built "a modern home," a structure that was "itself a work of modern art," according to one account. He spent most of his summer months ranching to support himself and his family of four while the winter was reserved for his other profession as an artist. "That's why you see so much white in my paintings," he told a newspaper in July 1958.
 
From the stony, edgy silence of the plains, he dedicated himself to the avant-garde movement of painting, an abstract expressionism born out of eminent Pablo Picasso's Cubism.
He restricted his skill to a tiny space, a small room so filled to capacity with paints, easels, drawings and sketches that it was once written that no two persons could comfortably coexist in the studio at the same time.  
He once said that his goal as an artist was "to organize nature" and transcribe it into "the abstract, into pure geometrical form." Deviating from Picasso's Cubism, which was enamored of the creation and use of a third-dimension illusion, Stockton ignored that dimension and transferred its multifaceted designs into only two dimensions. A typical Montana scene painted by Stockton would have sacrificed details and nuances for an emphasis on typical marks of the isolated country. He had "no heart or desire," said Stockton, to produce the conventionally familiar type of painting which the average viewer would understand, which he called "potboilers," though he sometimes grudgingly produced them to produce sales. Indeed, Stockton excelled in the abstract blending of supreme colors and harmonious forms.
 
"Most people think of an artist as a craftsman who can imitate something to their taste…But this is not the purpose of an artist…an artist takes the ordinary and makes something interesting out of it…He can't cling to the subject. Nature is disorganized order…It is the task of the painter to organize it just like the musician organizes noise to compose a melody and the writer organizes disorganized life to create literature."
He told one art publication in 1958 that he hoped for recognition beyond "the relatively small groups of experts" who admired his art but he believed that his chances were slight.
 
"A recent poll in New York revealed that of 100 fine artists, only seven or eight were able to make a living with their work," Stockton said. "Fifty of the artists had a monthly income of less than $200."Stockton's quirky juggling of occupations and unique skill set reinforced the view that he was a man of distinction. Medium-hopping at his leisure, his art spanned a range from abstract-expressionist paintings and metal sculptures to light fixtures and furniture.
 
His paintings were accepted for entry in various national exhibitions and he was represented in, according to one estimate, about 200 private collections in New York, Tulsa, Billings, Bozeman, San Francisco and even in France.
 
One Montana newspaper editor heralded Stockton as "perhaps the finest artist Montana has produced since Charlie Russell," and portrayed the shrewd individualist equally as committed to sheep ranching, which, he proudly on one occasion pointed out, produced food and clothing for people.
 
"I really have more respect for a good sheepherder than an artist," said Stockton in 1973. "The sheepherder functions in society. I produce food and clothing for 90 people here."
 
He died at his Grass Range home in 2002.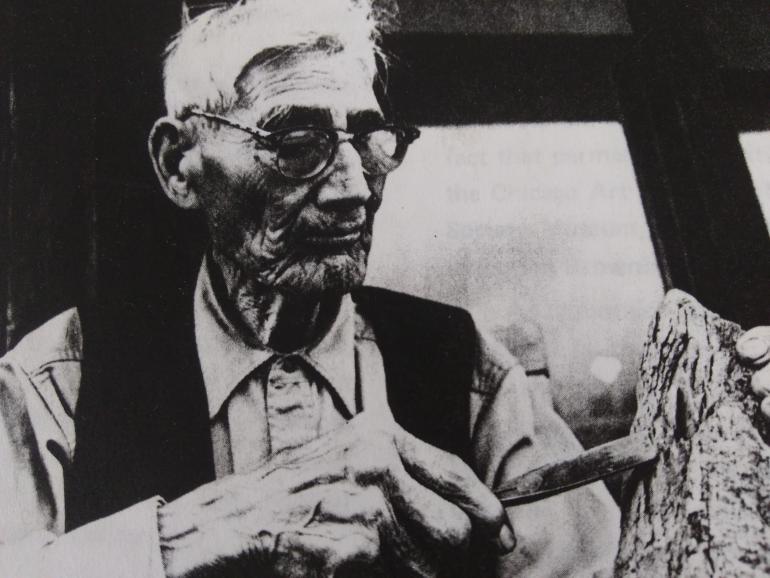 John Louis Clarke (1881-1970)
(Images courtesy of Dana Turvey and The Clarke Gallery) 
A carver of craggy animals, his stony, weather-beaten face practically seemed engraved, too. His lined hands, flowing with fluency, were hearty and coarse like oak or boulder, and no less substantial.
He had been robbed of the ability to speak or hear, yet his was a life without margins. By way of nimble fingers and fixed eyes, he felt the urge of the senses, scrounging ordinary wood that he hewed and chipped deeply, lovingly, with the characteristics of his own spirit and that of his subject matters.
Indeed, John Louis Clarke's physical deficiencies did not handicap his eloquence in sculpting or painting. Perhaps, conversely, something about that silence bestowed him with an indomitable outlet for his interior emotions, a conduit which speech might not have ever been able to adequately or wholly express.
The son of Horace and Margaret Clarke, John Clarke was born near Highwood, about 25 miles east of Great Falls, in 1881. When John was 2, he was afflicted with deafness, most likely the result of a near fatal bout of scarlet fever.  Despite this trauma, or because of it, Clarke developed strong artistic proclivities, fashioning clay animals that he would present as gifts to his relatives.
 
The Clarke family eventually moved to the community of Midvale, most likely in 1913, which later became East Glacier, "where they had a land grant north of the Great Northern Railway tracks and where the Glacier Park Hotel now stands," according to one account of the area's history.
Clarke's studio in East Glacier was a scene from the animal kingdom, from bears to horses, to buffalo and mountain goats. Soft, spongy cottonwood, though difficult to carve, was his favored medium of wood; its suppleness allowed Clarke to rough the fibers into realistically shaggy animal fur. He commonly used heavy bark, cedar, walnut and maple, too. Not limited to carving, Clarke also addressed the world in crayon and painted in oil.
Clarke worked through the long winters under the sway of the park's soothing, yet severe, beauty. Living simply with few possessions, he kept his body healthy. Under the golden thaw of sunshine, he would exhibit his art outside, in full display of the tourists who often lined the perimeter of the small studio. With dark eyes peering through his glasses, he would chisel for them a reproduction of his favorite puppy, from the trunk of a tree that he had chopped down on the mountainside.
Clarke was considered a great sculptor because of his aforementioned keen perception of wildlife, long hours of observation of the animals in their true habitat, superior anatomical precision, and meticulous practice in depicting them in their natural poses. "His figures are correct to the finest detail and his work, like that of western artists, is a definite contribution to posterity," trumpeted the Great Falls Tribune in 1932.
Indeed, President Warren G. Harding owned an eagle holding an American flag carved by Clarke, which was displayed in the White House. Business magnate John D. Rockefeller purchased four of his carvings in 1924 alone. A visit from Charles M. Russell to Clarke's studio was an annual summer occurrence for many years, until ill health made it impossible for the prestigious landscape and bronze artist to visit. According to a newsletter published by the Montana School for the Deaf and the Blind in 1927, Russell's arrival "gave the deaf-mute new vision, for there was always friendly, helpful criticisms," while courage was "born anew" in Clarke's heart "for Russell never overlooked good points nor forgot to mention them."
In 1940, Clarke was commissioned to deliver two relief panels in wood for the entrance to the Museum of the Plains Indians and Crafts Center in Browning. It's difficult to say how many pieces he completed in his lifetime and how many of them have endured. It has been written that Clarke's works number in the thousands, but no official tally or log has even been conducted.
Working up until his death, Clarke's final months were punctuated by moments of extreme physical discomfort: almost blind, his eyes were so clouded with cataracts that he was unable to discern much beyond indistinct silhouettes. His final known production — a carving of a large grizzly springing itself out of a bear trap — was carried out with the primal touch of awareness and harmony.
  
Pronounced dead at 4:30 a.m. on November 20, 1970, in Cut Bank Memorial Hospital at age 89, John Louis Clarke was laid to rest in East Glacier Cemetery, in his beloved Glacier National Park.
While his studio was demolished years ago, his work lived on at the John L. Clarke Western Art Gallery & Memorial Museum, established in 1977 in East Glacier, where his art continues to articulate the essence of his voice.