The Singular Beauty of Native American Ledger Art
Crow and Gros Ventre Art @ The Bair Museum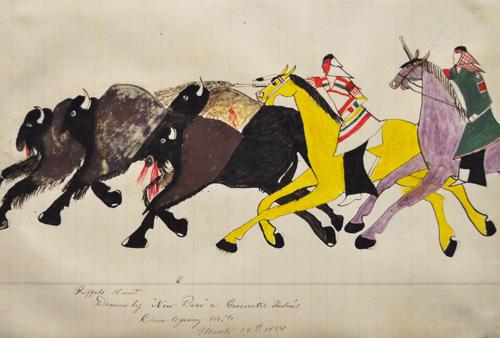 Figurative art among the Plains Indians of North America historically chronicled the heroic deeds of warriors and chiefs. It was an art form practiced by the male leaders of the tribes. They painted on rocks, buffalo robes, and tipi covers using charcoal, naturally derived colors and hand-made tools. In the second half of the 19th century the Crows surrendered 38 million acres of their hunting grounds at the Treaty of Fort Laramie in 1868 and agreed to occupy a reservation in south-central Montana. Traditional native figurative art transitioned by the imposed changes to Native American life-ways, events and culture. Many Indian men turned to art as a means to chronicle this complicated and complex time in their tribes' histories. The pictorial art of the last nomadic warriors of the western plains is known as Ledger Art. Indian Agents and other government employees on the reservations supplied the tribal members with leftover or unused office papers that were often blank sheets torn from account or ledger books. They also made available colored pencils, commercial inks and pigments, pens, pencils and crayons.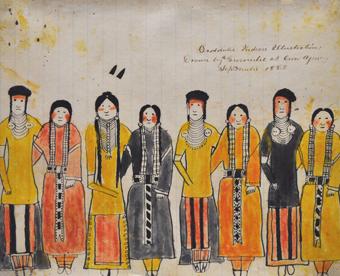 Major Charles H. Barstow was the chief clerk for the Bureau of Indian Affairs at Crow Agency, Montana from 1879 to 1897.  He took an interest in encouraging the Indians on the reservation to draw about their histories, experiences and traditions, and through either purchase or trade he acquired a large collection of ledger drawings that date from 1880 through 1891. He collected predominantly Crow (Apsaalooke) drawings, but he also acquired several Gros Ventre (People of the White Clay) Indian works.  Barstow's collection is known to have been extensive, but by 1930 it consisted of 66 drawings when it was re-discovered in a trunk in Roundup, Montana.  The drawings are now in the collection of the Montana State University Billings Library.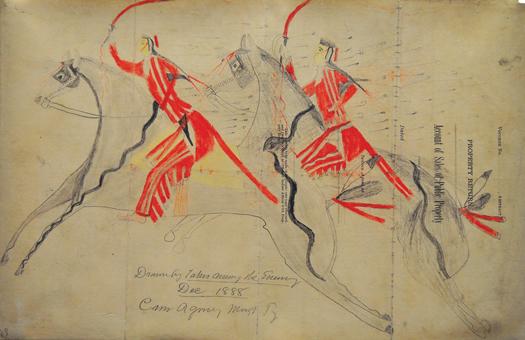 The Charles M. Bair Family Museum in Martinsdale is presenting an exhibition of 20 of the Barstow Collection drawings from May 13 through August 11, 2013.  The drawings embody a wealth of personal, historical and sociological information. They are autobiographical and tribal stories told in both sophisticated and unsophisticated linear styles, but all are compelling individual responses and perspectives. Many of the images depict traditional events such as courtship rituals, dances, and council meetings, while others depict buffalo hunts and battles fought and won.
The Bair Museum is open from Memorial Day through Labor Day, seven days a week, from 10 a.m. to 5 p.m.
2 Artist Unknown, Gros Ventre (Hidatsa), Drawing of Gros Ventre Men and Women at a Dance, 1883, commercial pigments and ink on ruled paper.
3 New Bear, Gros Ventre (Hidatsa), Drawing of a Buffalo Hunt, 1884, commercial pigments and ink on ruled paper.
4 Takes Away the Enemy, Crow, 1888, Takes Away the Enemy was also known as Wraps Up His Tail and Sword Bearer. He was the leader of the Crow Rebellion of 1887 and this image is thought to depict that battle.  Pencil, colored pencil and commercial pigment on paper (a government property form).
5 New Bear, Gros Ventre, War Record Drawing, 1884, commercial pigments and ink on paper.