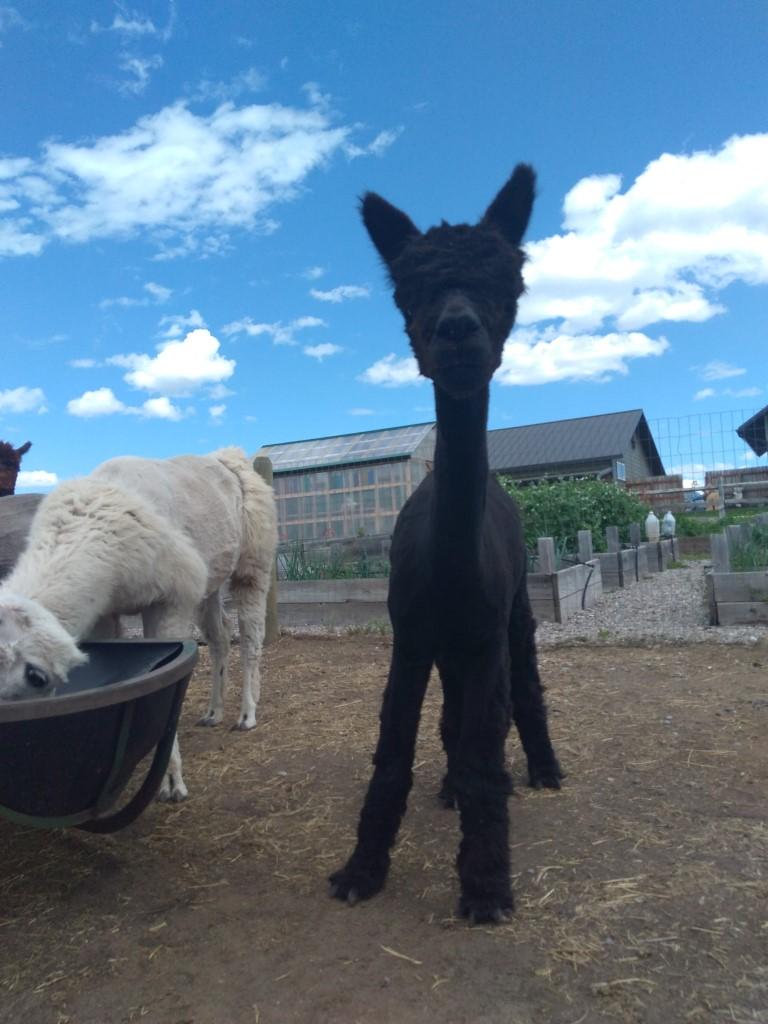 Atop the Continental Divide, fiber artist Betty Kujawa works with select, raw yields of fleece. Here, on eight hilly acres and three high pastures, she tends to the dozen quirky animals that form Snowdrift Alpacas.

North of the Walkerville section of Butte, the business name connotes the massive white fields that cloak the property for as much as seven months out of the year. It's a magical, almost esoteric, land gathering, resembling the wobbly terraces and gallivanting grasses at the high altitudes of Peru. Only a few miles from the haphazard detritus of the Mining City, it's a noticeably cooler, cleaner, quieter, and greener micro-culture here.

"The altitude, the climate, the grass, it makes for a natural home for alpacas here where we are," says Betty Kujawa.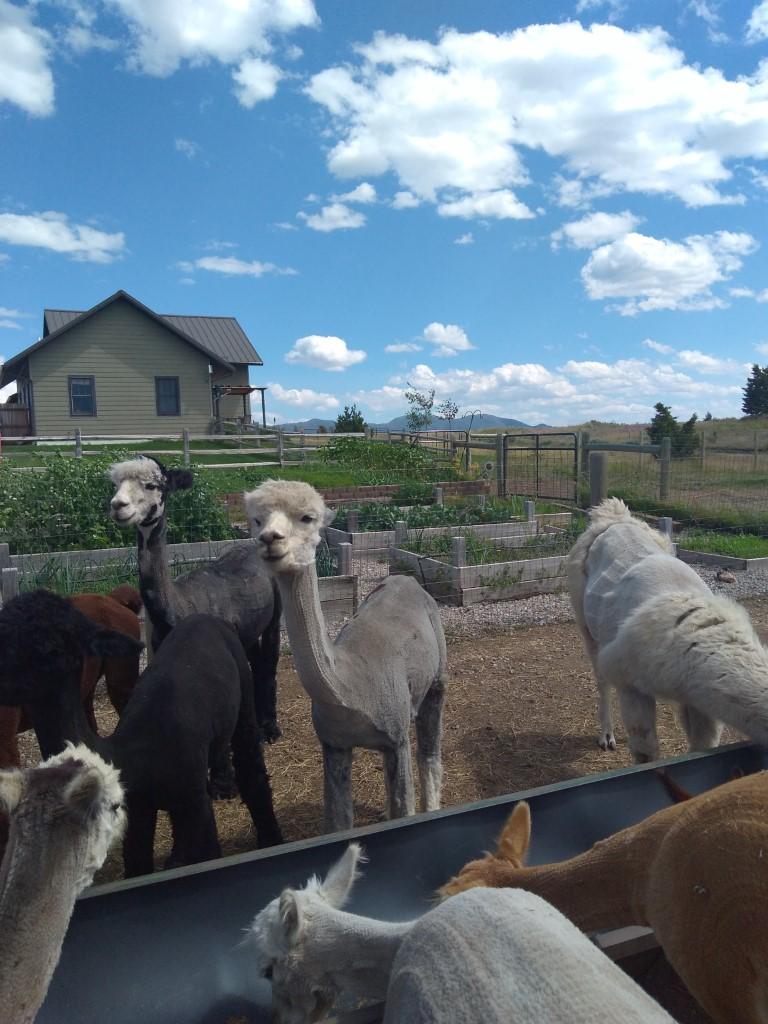 ​​​​​​Common to Montana
Alpacas are no strangers to Montana; in fact, folks in agricultural environs no longer even classify them as exotic. Long since domesticated elsewhere, over the past twenty years, they've become an increasingly more common brand of livestock in the state. Herd animals through and through, alpacas are outgoing and require the companionship of the party. Friendly and droll to a fault, they are elongated, with bushy bangs and an unkempt hairdo eccentric to the eye. Alpacas are missing their top teeth, and only have a bottom set – a feature that endows them with a lovably pathetic guise. Yet, they are quite intelligent – after all, alpacas poop communally to avoid contamination – and a great deal curious about humans, their surroundings, and other animals.
"Curiosity could often be their downfall," notes Kujawa. "Alpacas are predator prone." Alpacas do come with risks, most prominently, the emission of spit. Splatter flies when an alpaca feels distressed or threatened or senses competition for food. At times, they will shoot out saliva at each other as a warning, or to communicate displeasure, or, occasionally, to establish dominance.
Good, uncouth, inane, they are all of these things, and loads more. But whatever you think about them, just don't confuse them with their genetic cousin, the larger, sturdier llama.
While alpacas and llamas are, somehow, descendants of the same camel lineage, the two animals have completely different bone structures and even separate personality traits. See, for starters, llamas are characterized by their banana-shaped ears and a
forehead without bangs.
"Alpacas aren't llamas," says Kujawa. "That's probably the biggest mistake that people make is confusing the two animals. Llamas are taller than alpacas, and their ears come in. Alpacas' ears stick straight up, and they have their own sets of what look to be bangs. Llamas are much bigger, roughly 300 to 400 pounds, where alpacas generally get up to between 150 and 175 pounds. The bone structure of the alpaca is not designed to carry a lot of weight, and is not as sturdy as what a llama's would be."
Kujawa's connection to fiber, well, stretches back to her childhood in Kansas, where her father spent many years as a member of the US Army. She grew up in a pair of military towns, Fort Riley and Junction City, later attended college at Pittsburg State College, in Pittsburg, Kansas. In the Sunflower State, she was raised among hogs and cattle, and brought up by a mother who looked at quilting and sewing as antidotes to both daily monotony and the frequent dull weather.
"Winters in Kansas, the electricity would go out and school would be canceled and nobody could get out. So, we'd all put out big quilts and camp out in the living room. I remember these miscellaneous yarns that my mom had hanging around the house, and we learned the different crocheting stitches. I thought it was cool, and I wanted to make my own yarn."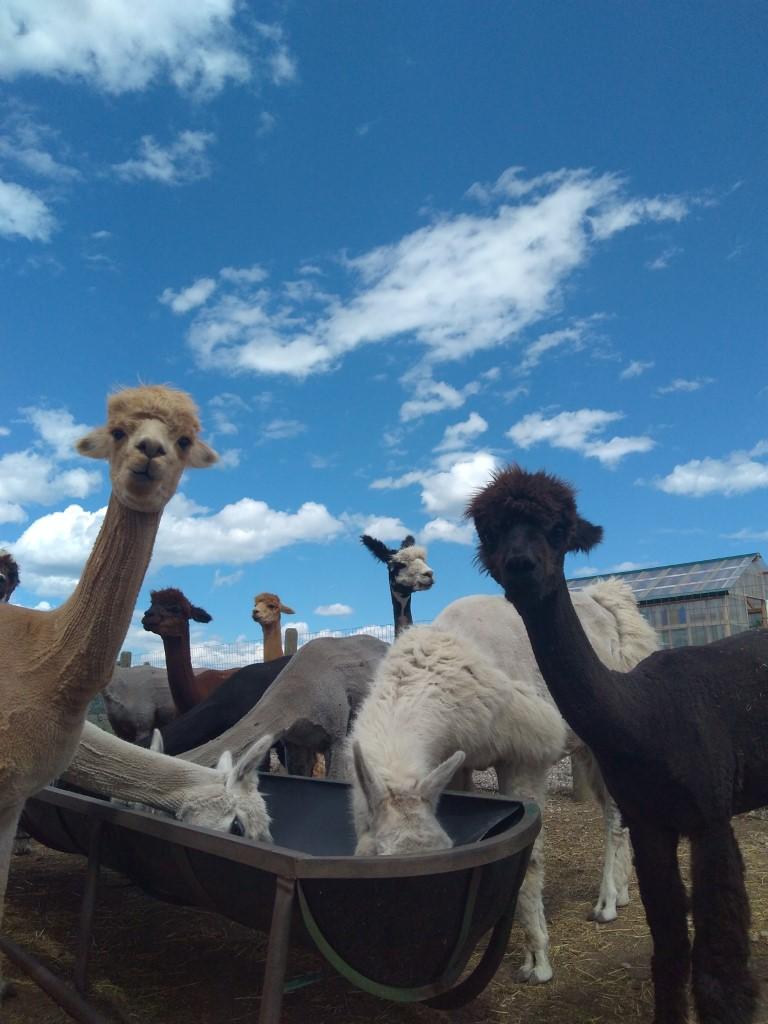 Alpacas Suited for Montana
Betty Kujawa moved to Montana in 1999, settling in Butte. After she enrolled in an alpaca spinning class about ten years ago while on vacation in the Olympic Peninsula of Washington she learned to spin yarn. Everything about alpaca fleece – its strength, its warmth per weight, its squashy and fine feel – sent her heart spiraling. In due course, the entrepreneur in Kujawa had visions of soft, hypoallergenic, and eco-friendly fleece whirling in her head. In this affinity and awe, she is not alone.
"Alpaca ranching is growing in Montana for whatever the reason. Specifically, here, the land we have is a higher altitude, at about 6,400-feet. While the decomposed granite is not the best natural grass, it seems like alpacas are ancestrally pre-disposed to this kind of climate, one very much like the high plains of South America. Compared to sheep or some other fiber animals, alpacas seem best suited for our area."
About eight years ago, Betty and her husband Michael began raising alpacas and started producing their fiber. While most alpaca ranchers raise their livestock for fiber, a select minority raise the animal to harvest their meat. While less meaty in comparison to other livestock, the meat harvesting portion of the industry in Montana is, in Kujawa's words, "negligible."
Alpacas in the US encounter a strange mixture of mythology and misunderstanding. Some of them have been bred as show animals, which has led to a surplus of babies available for adoption or sale, an overflow of casualties who haven't met the industry exhibit or breeding standards. (Alpacas are reputed to be an exceptionally hard animal to breed.)
"There are some people who want to have a cute baby alpaca on a leash living in a house, like a goat. They will buy one or two to see how cute they are. That's not necessarily a good thing. They are a herd and livestock animal. Yes, they are cute, and everyone wants to make them a pet. It's not appropriate for that."
Alpacas can be found throughout the world serving many purposes. They are a common food source and cooking staple in such South American locales as Peru, Bolivia and Chile, countries that also employ them in similar ways that North Americans do with their horses, activities like trail riding or packing trips.
While some alpacas are very good pack animals, and their meat might even taste decent, to people such as Kujawa, it's what is on the outside that counts most. Naturally water-repellent and fire-resistant, alpaca fleece has sometimes been referred to as the 'Fiber of the Gods.'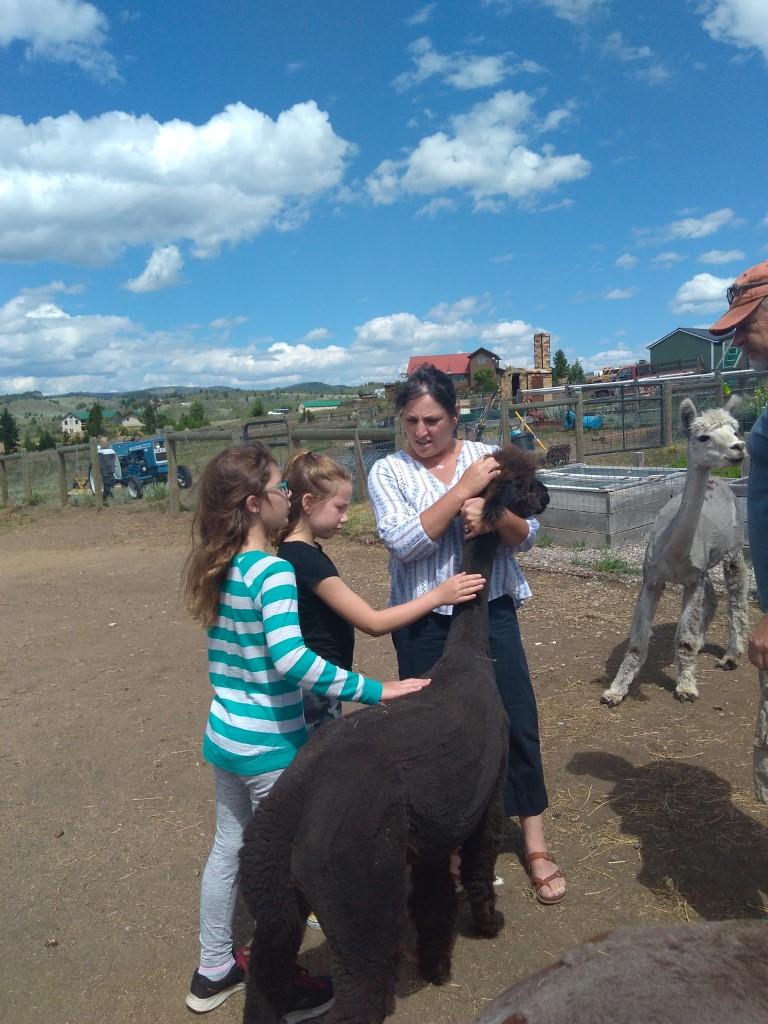 Fiber of the Gods
Kujawa explains that a lesson in alpaca fiber is a lesson is stubbornness, sacrifice, and subtlety. Alpaca fiber doesn't have memory, meaning that it is especially difficult to introduce any kind of twist to their fiber. It takes a lot of alpaca yarn to even provide enough material to accent a small hat or scarf. Costs associated with raising alpaca are greater than the expenses associated with something like the sheep industry. As herbivores, alpacas only consume vegetation, their pipeline a three-chambered stomach that digests the roughage resourcefully. 
"Alpaca come with a higher cost than other livestock animals," says Kujawa. "The quality of the fiber is linked to the protein in the animals' diets. If an alpaca has been grazing on poor quality grass, its fiber won't be as long or fine as it could be if its diet was of a higher grade."
While alpacas generally achieve a life span between 20 to 25 years, the high quality of the fiber life of a typical animal is significantly less than that, approximately 10 years, on average, says Kujawa.
There are 22 natural colors of alpaca classified in the US. And within that number there exists more than 300 shades, from out-and-out white to pure blacks to silvery grays.
Good Company
The waiting is the hardest part: an alpaca produces only enough fiber for a single annual shearing. And once the animal is shorn, the fiber must be carefully processed to remove the rough, hard debris and then spread out and sifted to select the fiber with the softest feel. Fiber is then sent through a tumbler to do away with dust and hay and other unneeded items.
The finished product is one of the plushest and most comfortable fibers in the world. Think of your favorite pillow or a spongy cloud from a children's book or cotton candy faint against your cheek. It is tougher than mohair, suppler than cotton, smoother than silk, and warmer than goose down.
The versatility and sustainability of alpaca has convinced Kujawa that she has made a good job-related choice. Deeper still, the alpaca is good company. Treat one correctly, and provide it with the vital necessities, and it'll respond in kind. Indeed, Kujawa's role as a fiber artist is one part expenditure, two parts educational.
"I want people to learn about all of the possibilities that alpacas have to offer. There are many people who rescue them, or who want two or three of them as either pets or producers. They need to know what the animals are offering. Right now, I know where I want to go as a fiber arts farm, and that's  promoting the educational aspects of this great animal, and letting people know what they can give us."