Who knew that moose were capable of diving? Perhaps it shouldn't be surprising, but this moose almost seems like he's searching for something along the floor of this lake at Glacier National Park in Montana.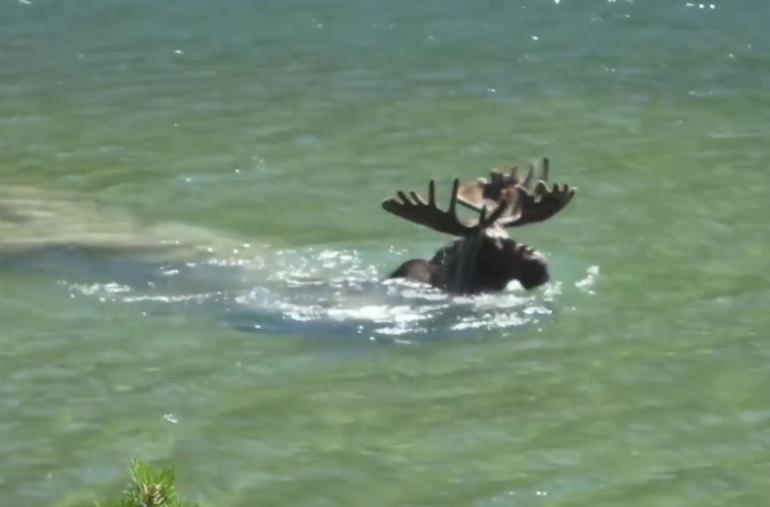 Maybe someday, if enough moose start diving, evolution will favor turning their racks into snorkles. Nature has done stranger things! But this moose is clearly walking along the bottom of the lake. Can you guess what he's really up to?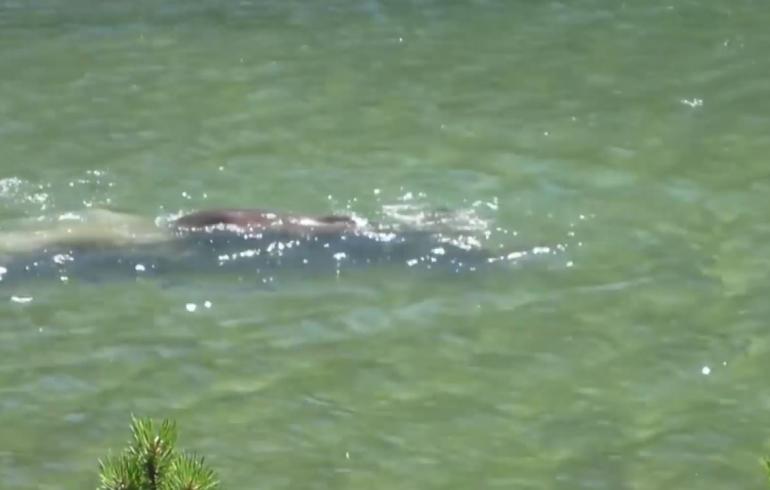 Is glacial lake sediment the perfect moose snack? The sediment in glacial lakes comes from something called "rock flour," which can turn into "glacial milk." It's all very fascinating, and you can read all about it below. Sorry for the digression - let's get back to our diving moose!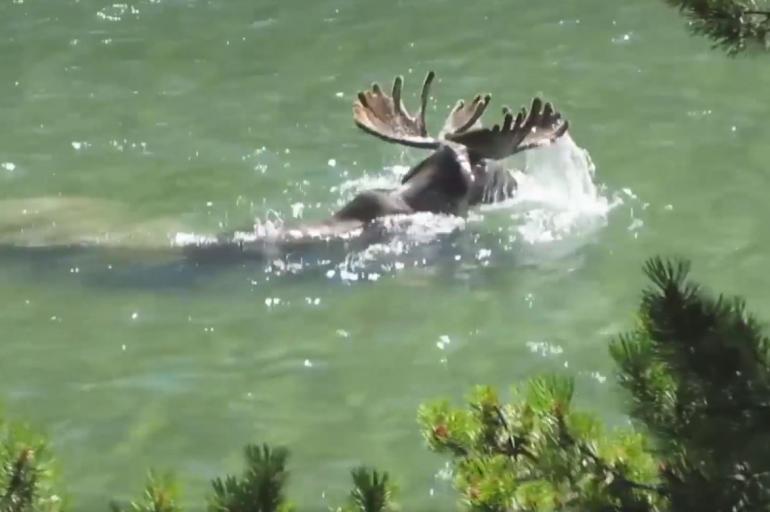 What's really happening here is that the moose is eating aquatic plants growing on the floor of the lake. Aquatic plants are crucial to the moose's diet: they're high in protein and sodium, which means that if he wants to munch some delicious underwater treats, a moose must take the plunge. 
We hope you enjoy this genuine Montana moment! 
Rock Flour
Rock flour, or glacial flour, consists of fine-grained, silt-sized particles of rock, generated by mechanical grinding of bedrock by glacial erosion or by artificial grinding to a similar size. Because the material is very small, it becomes suspended in meltwater making the water appear cloudy, which is sometimes known as glacial milk.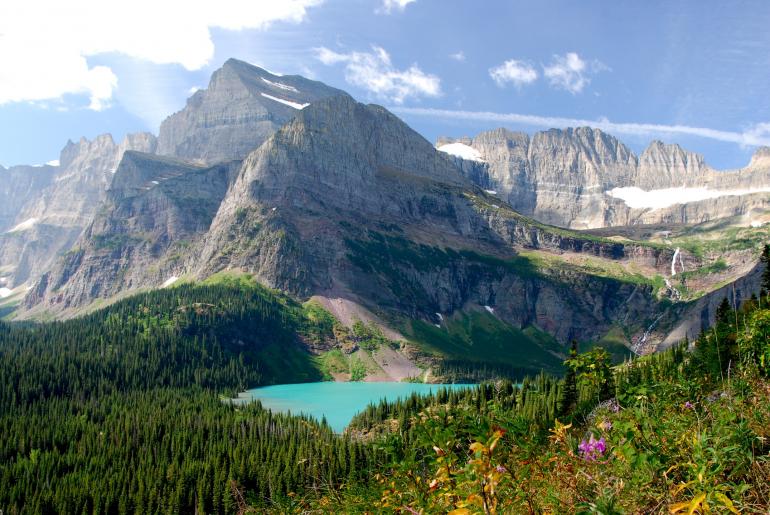 When the sediments enter a river, they turn the river's colour grey, light brown, iridescent blue-green, or milky white. If the river flows into a glacial lake, the lake may appear turquoise in colour as a result. When flows of the flour are extensive, a distinct layer of a different colour flows into the lake and begins to dissipate and settle as the flow extends from the increase in water flow from the glacier during snow melts and heavy rain periods. Examples of this phenomenon may be seen at Lake Pukaki and Lake Tekapo in New Zealand, Lake Louise, Moraine Lake, Emerald Lake, and Peyto Lake in Canada, Gjende lake in Norway, and several lakes (among others, Nordenskjöld and Pehoé) in Chile's Torres del Paine National Park.