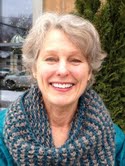 Kathleen Clary Miller has written 300+ columns and stories for periodicals both local and national, and has authored three books (www.amazon.com/author/millerkathleenclary). She lives in the woods of the Ninemile Valley, thirty miles west of Missoula.
********
       When I was a small child, what my father wanted was for me to dance with him. My mother was no dancer and so he would put a nickel in our very own Wurlitzer jukebox and ask me to "step out" with him to "Moonlight Serenade." I was shy, awkward, and unable to keep track of his feet. By the time I reached six or seven, I declined his request in order to save myself from the uncomfortable moment.
       What my father wanted was to eat fruit while he stood at the kitchen sink without comment from my mother. He liked to lean over the drain with grapefruit juice dripping from his chin. "You're making such a mess, Bill," Mama would grumble. "Can't you get a plate and eat it with a fork?"
"All I want is to save you having to do any dishes!" he would tease.
        For as long as I can remember, what my father wanted was for his children and grandchildren never to have to worry about the future. He set aside money for everyone's education—preschool through college. It wasn't until much later in adulthood that I learned from my mother of his coming home late in the evening, after we were safely tucked under the covers, to inform her of near bankruptcy disasters. Whatever part of financial and emotional security he could control he labored at so that we in every branch of this extensive, Irish-American family tree could grow up calm and unafraid in the face of life's unwelcome windstorms.
            What my father wanted, and what he got, was to make my mother happy. He bought her the sofa we still have, shoes, and station wagons. He made sure she had seats at every Dodger game in Chavez Ravine. He gave her more love than I've ever seen a man shower on a woman. All he ever asked of her was forgiveness for some sin that he would never confess to me—not even after we had been living together as adults for twelve years after her death, and sat long hours at the dinner table talking about old times, old friends, and old foibles. All he would reveal, with a catch in his throat, is that she had forgiven him for something and consequently he had wanted for nothing.
            What my father wanted was his own woodshop so he wouldn't have to pursue his passion for building furniture from the usual cluttered two-car garage. This dream he finally realized when he moved into the house with me and my daughters—a trade-off, however, for having been left a widower. What he'd wanted more than anything was for his true love to have lived forever. Her illness had been the first thing he could not fix.
            What my father wanted was for us all to have whatever furniture we needed for our homes. He would put out the word, "I'm ready for a project," and the phone lines would buzz with requests for coffee tables, bed frames, lamps, or dining room sets. In record time, he would measure, hammer, and fashion stunning pieces he considered flawed. "Don't look too closely," he would always admonish as we gaped in awe at his artistry. Most of us in his family have never known the cost of a chair or a bedside table.
          What my father wanted was to understand why I had not confided in him about my fourteen years of unhappy marriage, another thing he could not mend. "I could have helped you," he pleaded. He always wanted to repair the hopelessly broken, to epoxy what otherwise lay in pieces.
            What my father wanted was for his friends to live as long as he has. One by one, they all had passed away, the last one having been his childhood best one. When they were ten they terrorized West Hollywood. When they were twenty, they both fell in love with my mother. They celebrated my father's twenty-first birthday in Paris, having bicycled across Europe—two lanky kids with bony knees. Zock took his own life last year, after telling my father that his dementia would drive him to do so. My father wanted him to do whatever it was he needed, even though that meant never seeing him again.
            What my father wanted was to take care of all of us. What he wanted more than anything was to be useful, always. Once he turned eighty-nine and began to realize he could no longer stand in his shop, instead he sat with medical experts, estate attorneys, and financial consultants. What he wanted was always to have the answers, or "at least the questions," as he would say. Instead, the doctors told him that he had Alzheimer's, took away his car keys, and prescribed more medications. What my father wanted then was for all those pills to obliterate the emotional pain.
            What my father wanted was never to have to go to "one of those places." Then he was living in one, after I tried everything in my power to keep him at home with me. When I went to visit him, he thought we were on vacation and that I was down the hall in my own "accommodations." A fleeting look of agony washed over his eyes and betrayed confusion—he was back!
            But no; all my father wanted to tell me was that he didn't have enough money in his pocket to tip the help. One week later, he forgot who I was. I had, in a sense, offered him what he had once given me: a life, albeit one in a new world not of his choosing, but of his diseased mind's making. It was a world in which he was sometimes relaxed, not agitated like he had been in this one. It was a world in which I could not join him.
             Before we left to drive there, as he struggled so painfully to stay rooted in this life that was growing less and less familiar with each passing moment, what my father wanted was to know that I would be the same without him. It was the only thing he had ever asked of me, and yet I could not give my father what he wanted.