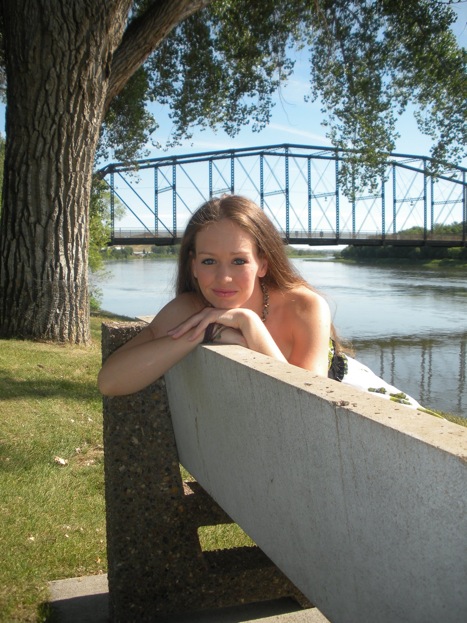 Lacey Middlestead is a Montana native and freelance writer currently living in Helena, Mont. She loves meeting new people and helping share their stories. When she's not busy writing articles for newspapers like the Independent Record and Helena Vigilante, she can usually be found indulging in her second greatest passion–playing in the Montana wilderness. She loves skiing and snowmobiling in the winter and four wheeling, hiking, boating, and riding dirt bikes in the summer.
********
For me, summertime has always been synonymous with camping. The two just go together like warm apple pie and ice cream.  Something about cramming all your necessities into duffle bags and coolers and heading into Montana's untamed wilderness, where cell service is nonexistent and work is a distant memory, is simply invigorating. I LOVE camping!
Last weekend I went camping at Placid Lake State Park with my boyfriend, Andy, and his family. Andy's family used to own a cabin on Placid so he spent every summer growing up boating there and tinkering away at his ever-expanding tree house out back. Andy first brought me to Placid Lake camping a few years ago and it's been my favorite spot ever since.
Located on the tributary of the Clearwater River and just three miles south of Seeley Lake, Placid is a perfect getaway. That first glimpse of the lake, after rounding the corner near the dock and boat launch, is a stunning one. Bordered by Douglas fir and Ponderosa Pines, Placid is a quaint but beautiful lake. It is quite literally a visual postcard forever framed in my mind.
We spent most of the weekend boating back and forth across the lake with everyone trying their hand at wakeboarding and surfing. Thanks to all my large gulps of water from crashing on the boards, I stayed thoroughly hydrated in the heat. In our down time, we sat around the picnic table telling stories and observing the curious and gluttonous habits of campground squirrels. I also enjoyed meandering down the road that circles the lake and admired the thousands of lily pads that embellish the lake's edge.  When evening descended, I always lingered at the dock to photograph sunsets in hues of orange and red seemingly too vibrant to be real. The spectacles of nature never cease to amaze me.
On our second evening a thunder storm put on a mesmerizing performance over the lake. Every few minutes another grumble echoed down from the sky quickly followed by a flash of lightning. Each bolt looked like a luminescent tree limb branching out across the sky. And despite knowing the dangers of venturing near water when there's lightning, I couldn't help but walk to the end of the dock for a front row seat of the show. At one point, lightning lit up the sky in a shade of violet so brilliant it took my breath away. 
When the final morning of our trip arrived, I stayed in my sleeping bag extra late letting my senses soak up every last bit of nature around me. I listened to the buzz and hums of insects as they bounced off the tent walls. The scent of propane and smoke reminded me that breakfast was in the works, and perhaps a last minute s'more. I pictured the morning lake in my mind, smooth as glass, with small groups of loons drifting along upon on it.
I had loved every minute of camping, but that final minute came too soon. After a quick run into Seeley to grab a chocolate/vanilla swirled ice cream cone from the iconic Ice Cream Place, we reluctantly set our sights toward home. But with dozens of pictures on my camera and the scent of smoke still embedded in my clothes, I knew I was taking a piece of that glorious nature back with me.
 --