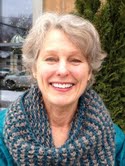 Kathleen Clary Miller has written 300+ columns and stories for periodicals both local and national, and has authored three books (www.amazon.com/author/millerkathleenclary). She lives in the woods of the Ninemile Valley, thirty miles west of Missoula.
********
            I was born with the sting of salt water on my tongue.  A third generation native Southern Californian, whenever I found myself more than thirty miles inland, I felt the need to correct that and point my compass due West to the wide sparkling blue Pacific.
            Now I've come to retire in Montana, and although big sky is indeed spectacular, I miss the sea as if she were my own late mother.  In summertime I feel it most strongly since my entire extended family—aunts, uncles, cousins, grandparents—all escaped the heat and smog of Pasadena and gathered together in a rental beach house every year for the month of August. 
           Sand stuck to my skin from scalp to toenails, and despite a nightly shower, my bed sheets were still dusted with it.  I unbuckled my shoes on August first and didn't lace them up again until the first day of school.  Those were the days, my friend.  And the older I become the more desperately I want them back again.
           Recent studies indicate that nostalgia, rather than being a signal of depression, is actually a positive thing.  It reminds us of where our feet stood strong and steady, long ago.  Warm memories of where we came from are reminders of who we are now, despite current circumstances.  I subscribe to this theory, although my longing grips so strong some days that I have to snap myself back to the present tense or go crazy.
            Yesterday, while enjoying my daily hike, a breeze lifted my sunhat and just like that I was on the familiar Newport Beach, California oceanfront.  I closed my eyes to hear the low wind in my ears—that muffled sort of magic made only by the sea air drifting across wide expanse of sand dunes.  Yet, when I open my eyes, I am in the Western woods of Montana.  Could my childhood summers have traveled this far?
            Then today, as I rounded the first dusty-road corner of my route, I came upon my neighbor Wayne tending the long grass of his field as he does every year about this time.  Three circular blades attached to the side of his tractor cycled, spinning—well, quite literally, amber waves of grain.  The grass spilled from them, undulating just like swells on my very own Pacific Ocean, way out past the shore breakers where I would paddle my raft to rise and fall with the roll, lazily drift and bob.  The pale green tops crested just like shallow shore break.  It was not beyond imagination to behold them lapping in gently with the tide.
            I stood stock-still and watched with wonder at this landlocked agricultural ocean I had not noticed over the past five years although I've passed by this spot on this very same occasion, many times.  The salt was missing, to be sure.  Still there was almost everything in the assault to my senses—a message God had granted me on a day of pining for something I thought I could no longer have? 
           "It is here.  The earth is all the same; you just have to look for what you need." 
           Where I least expected to see surf ripple and billow before my very eyes and to hear its warm wind whisper in my ears, the raw hard soil of Montana had become, in that moment, my sea. 
          Wait a minute:  Was that perspiration or did I just taste salt on my upper lip?
-