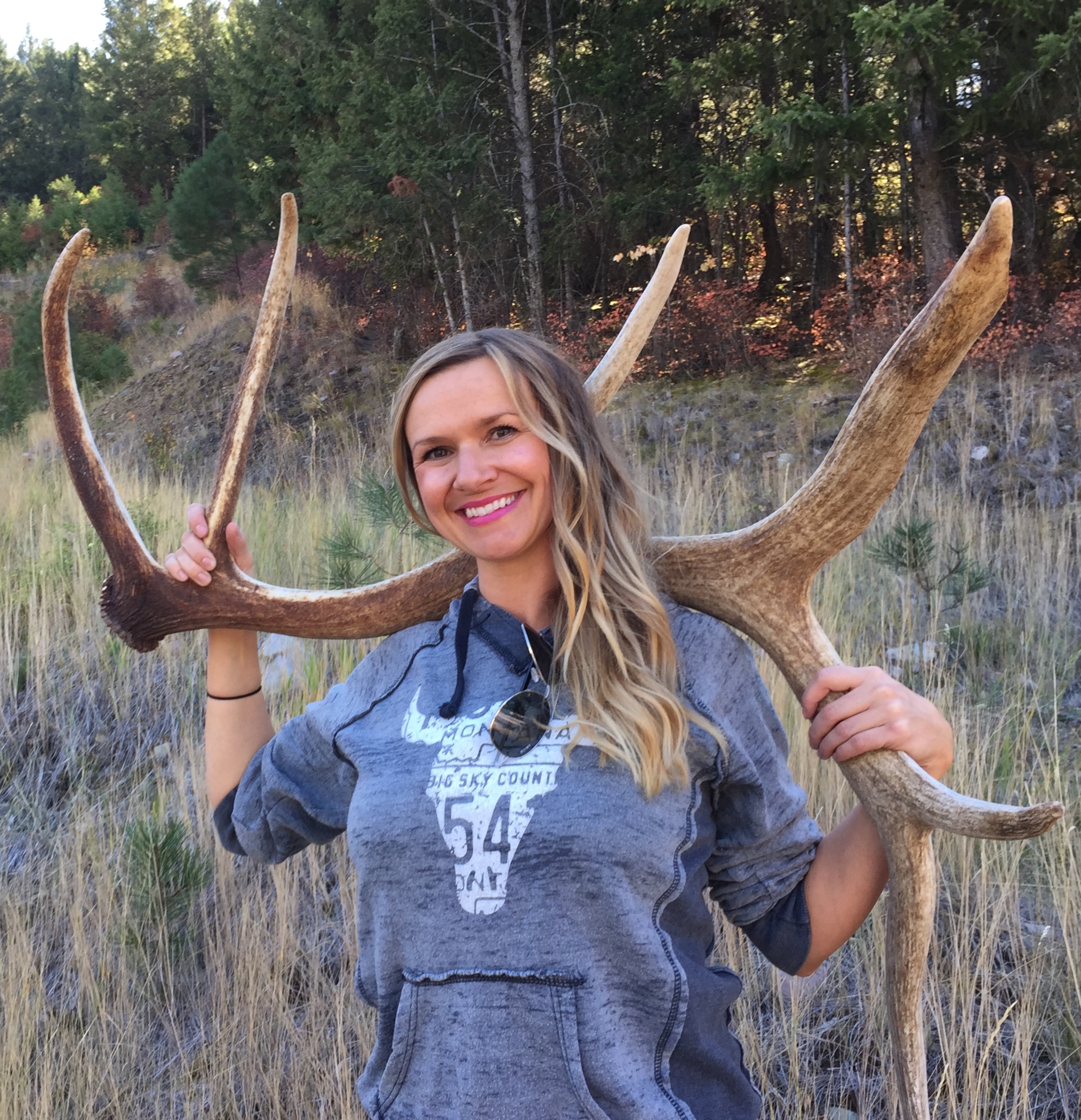 Kristen Berube lives a crazy, laugh-filled life with her outdoorsman husband Remi and their three camo-clad children in Missoula, Montana. A graduate of Montana State University and the Northern Alberta Institute of Technology, she loves being a mom and enjoys hiking, fishing, and camping.
The season of shed antler hunting is soon upon us and I can sense the outdoorsman's impatience. He is starting to get crazy again with his spotting scope strapped to his truck window and just last weekend he saw a buck with one antler and crashed off of the road. Yep, $250 bucks and a tow truck later, his truck was on the road again. Sigh…
The shed antler hunting chant has begun again as well. The outdoorsman has a little ditty that he likes to sing when it comes to antler hunting; it goes a little something like this:
"Over-hill, Over-dale, you can hear this Horn huntin' Hail! Save the horns, save them all! Brown in the spring, white in the fall… Skinny, fat, no matter where they're at! Save em! Save em'! Save em' all! Some of them short, some of them tall! Save em! Save em'! Save em' all! Love to see tines up in the grassy swale! Always lookin' for that giant whale tail! Now you have heard this horn hunter's hail!"
It really is pretty catchy after you have heard it about 500 times!!! In fact, it sticks in your mind for hours. Good luck with that!
After days being cooped up inside the house, the outdoorsman gets a little crazy. I am thankful when February rolls around and the outdoorsman hits the road for a little scouting and hiking. Antler hunting is like a grown man's Easter egg hunt and boy, oh' boy does an outdoorsman love his Easter eggs! As sports fans call it March Madness, so do the outdoorsman crowds, but for an entirely different reason. Shed antler hunting is a passion, an addiction, a fever and you better just look out.
The outdoorsman tells me that I am lucky that he loves to antler hunt because they are worth so much money. Well that is true, BUT, the outdoorsman would never sell his antlers!! Are you crazy? He lovingly strokes each one and actually remembers each and every story about the how and when of each antler he has found. The memory of this is really pretty amazing. They all just look the same to me. You know, some are bigger, some are smaller… Nothing notably different. But the outdoorsman intimately knows each and every one of his antlers. He knows their smells, their sizes, and their story. Mildly creepy. As I have said before, he would definitely snuggle these old bones at night if I would allow them into our bed.
I am always filled with a mixture of excitement and dread when I am invited to tag along on a shed hunting trip. I am really not that excited about getting mauled by a cranky bear that just woke up or at the thought of being covered in blood-sucking ticks. I would really prefer to be getting a pedicure rather than being turned into a bear turd or sucked dry, if ya' know what I mean. At the same time, it really is fun to see a big bull elk antler just waiting for you to come and pick it up after you just hiked up a sheer cliff!
Have you heard of the glorious "opening of the game range"? This is apparently when the game ranges that the elk winter in, are opened and people from and high and low come to go shed hunting. This is like the wild, Wild West when they had races for land ownership. You are not allowed to use motorized vehicles, so people are on horses, bicycles, uni-cycles, hiking and in wagons. People arrive the night before the big opening and camp out in a line so that they can be closest to the gate when it opens. This is fairly dangerous, considering how much money these shed antlers are worth and the general craziness of the outdoorsmen involved. But of course, they love it and cannot wait for the day to come. The opening day is always on a week day and of course, this is a "sick" day from work without fail. As far as the outdoorsman is concerned, it is a national holiday.
Shed hunts can be combined with fishing or camping and can be a strenuous or as easy as you make them. It really is an activity for the young and old alike so I am told. I have yet to see a "leisurely" shed hunt though. Generally, if you look up the steepest part of the mountain, that is where the mature bulls will winter and of course that is where you will be hiking. The hunt might start out as a leisurely hike, but once the outdoorsman has found his first shed, he loses his mind in every sense. He is like bloodhound on the scent of a critter. He will either collapse from exhaustion or hunger before he will stop. You definitely want to eat your Wheaties if you want to keep up. I stay in pretty good shape, but I generally am sucking wind and sweating like there is no tomorrow, but this definitely beats the gym!
The crazy ass outdoorsman goes straight up cliffs to find his "precious", competing with avalanches and grizzly bears. Once he finds an antler, big or small, white or brown, he is in love. He straps it to his pack and cannot wait to get home to stash it in the corner of his man room. Once the antler is in the man room, it will be loved for life, with daily rub downs and loving care. The outdoorsman will always remember the day he found it... Each one is a very special and will never to be sold or bartered for any reason. I often call him Schmiegel off of "The Lord of the Rings", when I walk in on him whispering sweet nothings to his stash of antlers. You know, his "preccccciousssss". I guess I should consider them heirlooms which will probably be passed down to the generations of outdoorsmen in our family and that is pretty interesting. So I give in. I understand. Sigh…
And as I trip over his hiking boots that are now sitting by the front door, my skin gets itchy thinking about ticks, my back gets creepy chills as I think about the hungry bears having me for a snack, but there I go…setting my hiking boots next to his.
Lets go! I bet I can find more "Easter eggs" than you!
"Confessions of a Camo Queen: Living with an Outdoorsman" is her first book.
It is available for purchase at Amazon:
http://www.amazon.com/dp/1560376287/ref=tsm_1_fb_lk