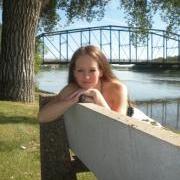 Lacey Middlestead is a Montana native and freelance writer currently living in Helena, Mont. She loves meeting new people and helping share their stories. When she's not busy writing articles for newspapers like the Independent Record and Helena Vigilante, she can usually be found indulging in her second greatest passion–playing in the Montana wilderness. She loves skiing and snowmobiling in the winter and four wheeling, hiking, boating, and riding dirt bikes in the summer.
Between my day job, blogging and writing articles, planning a wedding and all my adventurous shenanigans in the Montana wilderness, I often lose track of the days. But the fact that Thanksgiving is mere days away has not escaped my attention. The signs of it are everywhere.
The grocery store shelves are stocked fuller than normal. Everywhere you look there's bags of cubed bread crumbs, cans of pumpkin, gravy mix packets, and rows of spices. Frozen turkeys crowd the freezers and long checkout lines make customers tilt their heads back---eyes closed---as they sigh and try to steady their blood pressure.
Anxious hunters, still hopeful of filling their tags, strategize as to how they can squeeze in another trip to the woods on Thursday before the turkey hits their family dinner table.
Church members scramble in gathering food items to load into Thanksgiving baskets for families in need.
Newspapers bulge more and more each day with Black Friday ads and coupons. Anxious shoppers gather, cut and clip all of the essentials they deem necessary to go to retail battle on that biggest of all shopping days.
Facebook newsfeeds blow up with people listing off things they are thankful for each day in the month of November.
Thanksgiving, like many of our holidays, is rooted in tradition. Some of those traditions we count down the days for each year. Some we don't even know why we uphold other than it's the social norm or all we've ever known. And some traditions we wish we could do away with all together. On this Thanksgiving, I find myself stuck somewhere in the middle of all those feelings on traditions.
Since getting engaged in May, I have begun daydreaming about the new life and family I am starting to create for myself. I've realized that I have a blank slate to build upon. I grew up with certain traditions and expectations within my family, especially during the holidays. In recent years, however, I have felt the desire to try something new and different during those special days of the year. With wedding bells in the air I think I finally have the opportunity to institute some traditions of my own with my husband-to-be, Andy.  
I imagine the house we may someday build together and the dining room table that may host a Thanksgiving dinner one year between both of our families. I wonder about the type of food we would serve----whether it would be traditional turkey and smashed potatoes or a cheesy lasagna pasta dish like I've been requesting for years. If we have children, would we follow up dinner with a family game of hockey or a trail ride on some snowmobiles? There are just so many beautiful possibilities!
I am grateful for the holiday traditions I grew up with in my family.  I am excited at the prospect of beginning to grow some new traditions as Andy and I develop our own life together. I am thankful that I live in a country where traditions—whether old, new, borrowed, or used are always valued, encouraged, and shared by many.