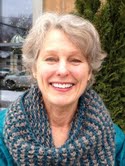 Kathleen Clary Miller has written 300+ columns and stories for periodicals both local and national, and has authored three books (www.amazon.com/author/millerkathleenclary). She lives in the woods of the Ninemile Valley, thirty miles west of Missoula.
********
            Who can resist a summer evening of free music?  On Sunday, my husband and I attended the annual no-cost Missoula Symphony in the Park for the seventh August in a row—ever since we moved here, unpacked, and took seats at it fortuitously to meet the couple who have since become our dear friends.  The occasion is most certainly the making of memories.
            It's a night of pure magic.  There is something about the ambiance of the out of doors that lends itself to orchestra and is preferable to indoor theatre setting, at least for me.  In college I dreaded the required "Music Appreciation" class during which I spent hours in a library lab, headphones strapped to my noggin, nodding off instead of journaling, as I should have been on how the composer spoke to me. 
            Under the setting sun and first twinkling of stars, the music belongs to the people and to the nature that often inspired it.  Lawn chairs and picnic baskets blanket the grassy hillsides on the riverbank of the Clark Fork while Music Director Darko Butorac leads both orchestra and audience through medleys that differ every year and pepper the classical selections —show tunes, movie themes, rock and roll; It's always a surprise that never disappoints.  Even the year the fires produced enough smoke to choke the flautists, when the strings filled the (cough) surroundings with "Smoke Gets in Your Eyes," the disaster assumed an entirely appropriate air.
            Children frolic, barefooted and twirling, dancing in the soft summer breeze, as their parents look on and try desperately to corral them from their unabashed inclination to take their talents center stage.  Ah, innocence!
            This year's first-half medley (sadly for me) was Disco.  I was a 60's teenager.  Give me the Beatles, Rolling Stones—you bet, but not anything danced to under that disco ball, please.  Having said that, "You Can't Always Get What You Want," in the immortal words of Mick Jagger, and I do confess before Michael Jackson usurped his talent to being awed by John Travolta's sexy stepping out to "Stayin' Alive."  Had Darko done a rendition on the Caras Park stage in his white jacket, one arm pointing skyward, one knee raised and toe pointed, I might have reveled in that part of the program, even though the last time I watched Travolta in Saturday Night Fever I couldn't imagine what I'd ever seen in his performance.  As my teenaged daughters viewing it at my behest commented, "Is that all there is?"
            Darko more than redeemed himself for the Bee Gees by conducting several numbers that caused me to reach for my handkerchief:  An incurable romantic, The Way You Look Tonight closes my throat with emotion  ("and the laugh that wrinkles your nose touches my foolish heart") as did the moving America the Beautiful (I am hopelessly patriotic).  As for Les Miserables?  When I saw it on the program before the concert, I texted my daughters, "Oh no!  I will be a blubbering mess!" and they quickly responded, "Strength and courage, Mama!" 
            Every older generation thinks the current music, just like the politics and popular culture, is opening the gate for Armageddon.  As I walked away from another memorable evening the rousing cannon fire of the 1812 Overture still in my ears, and sated with The Big Dipper's signature Bach-O-latte ice cream (fashioned for this occasion only), I remarked to my husband how I can't wait to come again next year.  In the middle of the program, the first violinist had announced it was Darko's birthday and then had asked if anyone in the audience shared the date.  I threw up my hand and pointed to my husband.  How many people can claim to have been serenaded Happy Birthday by a full-piece symphony orchestra? 
           "How wonderfully they redeemed themselves for the Disco portion!" I told him, who was still reveling in recognition and not really listening.  "And since they did Disco, they won't be doing it again!"  How grateful I am that we've moved through that particular musical era, and unscathed (If only everyone would stop reminding me of it).
            Thank God, the beat goes on.
-