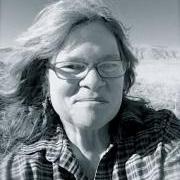 Jenna Caplette migrated from California to Montana in the early 1970s, first living on the Crow Indian reservation. A Healing Arts Practitioner, she owns Bozeman BodyTalk & Integrative Healthcare. She says, " Health is resiliency, a zest for the journey. It's about coming awake to the joy of being alive. As a practitioner, its a privilege to facilitate that healing process, to help weave new patterns of health & well-being. " And by the way, healthier, happier people help create a healthier, happier world.
What is your favorite, most memorable photo from 2015? Which best evokes the year, makes you grin, or brings good moments poignantly alive?
For me, it's the photo of my daughter on the set for Dead 7 in Butte. She has just met Nick Carter of the BackStreet boys, he's bending over her, looking down with his vivid, signature smile, his hands on her shoulders as she sits. The best description of her look is deer-in-the headlights. I had spent the entire drive from Bozeman trying to prep her for not meeting any of the stars and within an hour of arriving Chris from N'Sync came to chat with the Zombie-extras. He called Nick over to meet Rose and — that's the photo.
It's not a particularly great photo of Rose. She's too shell-shocked. But it is a photo of a moment when a dream came true — and I got to be part of that! In fact, I helped to make it happen.
I asked some of the staff at F-11 Photographic Supplies about their photo-of-the-year choices. Briana Bell says hers is "one taken OF me, with my phone. It reminds me of time spent with my nephew, breaking the rules a bit and blowing bubbles in the house. We wanted to see what it looked like when a bubble popped and took turns taking photos of each other, trying to capture that moment."
Briana's other favorite photo instantly "reminds me of a trip to California, time spent with family and the smell, feel, and sounds of the beach. I was also really happy with the progress I made in my workflow. Taking the photo with the Fuji Xt1, importing it to and editing it on my iPad."
Brooke Welch couldn't just choose one either. She captured the moment of her son Desmond's first real smile. She says, "He just looked up at the camera and smiled at me." The other is, well, her cat. " She's getting old so I'm trying to make sure I capture as much of her as I can. Who doesn't love tiny kitty toes?"
Kendall Roth made a long exposure of the ocean off the Oregon coast. The water looks dreamy, ethereal. She used a variable neutral density filter, says she's really happy with how the image turned out; is proud of it. Oh, and going to the Oregon coast for the first time was pretty nifty too. She says the photo reminds her of the sound and smell of the ocean, of how vast and strong it is.
Chris Swaim took some sweet shots at Hyalite at night, capturing some shooting stars and a galaxy.
Ian Bell chose a photo taken at the same spot exactly 6 years apart from when he took his first Bozeman photo before coming at MSU. This year's image "represents my 6 years being in Bozo that I can reflect upon." Apparently that's a good thing.
Maureen Evans celebrated her husband's Shawn's 50th birthday. There's A LOT of candles on his birthday cake. She says, "This photo reminds me of the fun he had that night with his closest friends."
Logan Schaefer shared a photo of his son trying out a tricycle, his face alight with delight. Schaefer used an app called Color Pop to change the photo to black and white and bring the red, white and blue of his shirt and his hat back into the photo. It's an eye-catching, good moment.
The act of looking through the year's images is a good way to linger in memory, to review your year as you embark on this new one.
Do something special with your favorite photos. There's an impressive variety of options available for photo gifts. We made a pendant of the photo of my daughter and Nick Carter. She wears it, shows it off, tells the story ALOT. For now, it's one of her most cherished possessions.
Marsha Phillips, F-11 Photo co-owner, is starting 2016 by heading out on a photo safari. What's your commitment to your photography in 2016? What do you want to learn, how do you want to grow as a photographer? What new equipment do you want? While you mull, you might get going on your best photo for 2016. You don't need a major event, you can start with something as simple as a photo-a-day visual journal.
Want more ideas? Join the Glass House Photography Group, Monday, January 25th at 5:45 PM for 365 photo challenges to keep your creative juices flowing. These tips for daily practice help any level of photographers stay motivated about their photographic skills and put an interesting twist on documenting daily life. The group meets at F-11 Photographic Supplies, 16 East Main in Downtown Bozeman. The evening cost is $5. There's no need to pre-register. Start the new year off with a creative photo project, and the next, and the next. Learn more at f11photo.com.