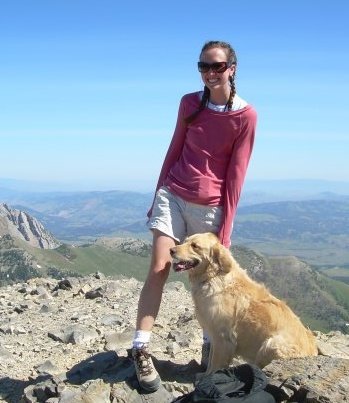 Angela Jamison is a native Montanan and she grew up in beautiful Bozeman. I'm the mother of two girls and write a blog about our life here and taking in the simple pleasures of family and food.
These are a Few of My Favorite Things
The day after Thanksgiving the holiday music begins at my house. It plays at home, in the car, at my office. Right up until December 26th. I thought of titling this based on the all time best song of the season…"chestnuts roasting on an open fire, Jack Frost nipping at your nose." I decided since I have never actually roasted a chestnut the title I chose seemed more appropriate. I warn you, there may be more song lines dropped throughout. My apologies.
My goal each Christmas is to make it a happy season. To keep the true spirit of it alive, spend time with loved ones and avoid the chaos that can make its way in. To fill December with our beloved traditions, slow things down and focus on what's important. My favorite things…
The Bozeman Christmas Stroll
I read the other day that the Christmas Stroll will be celebrating its 35th year. I haven't been to each one, but I have been to a good majority of those 35 years. Watching the downtown lights go on, sipping cocoa and wandering down Main Street running into old friends. Throw in some light snow flakes falling down and tickets to the Nutcracker after the stroll and it truly is the most wonderful time of the year. (Notice how I got another song in? More to come.)
Getting a Christmas Tree
The perfect excuse to get out in the mountains during the winter! We bundle up the kids, head up Hyalite (with everyone else Christmas tree hunting) and search out the perfect tree. By perfect I certainly don't ever expect to find a tree like you can buy at the store. We like to call them perfect-for-a-mountain tree. Once the tree has been loaded on the car we do a little sledding and warm up with hot cocoa. You will notice a cocoa theme throughout our holiday traditions.
Decorating the Tree
This does not occur on the same day as getting the tree. Oh no, I like to spread the joy out. Plus, there simply isn't time to do it all in one day when you have as many Christmas decorations as we do. Decorating is an all day event. Filled appropriately with holiday tunes in the background and little girls exclaiming excitedly over every ornament they take out of the box and then placing it somewhere in the house. I may or may not rearrange some of their "decorating" after they go to bed. It's beginning to look a lot like Christmas.
Christmas Lights around Town
The inside of our house may look like Christmas exploded all over it, however we never put lights up outside. Maybe because it's usually too cold to want to get into a project like that. Maybe because the one year we tried it ended up looking like a very crooked, sad attempt. Whatever the reason it's not my thing, but thank goodness it is for so many others in our community. The week leading up to Christmas we pack into the car with hot cocoa (always with hot cocoa!) and drive around town searching out the best holiday lights. The last couple years our favorites have been the ones that are coordinated with music that you tune into on your radio. Christmas lights dancing along with Christmas music? Yes please!
Holiday Shopping
Christmas can be incredibly consumeristic. It brings out wanting more than we need and spending more than we have. I enjoy buying gifts for loved ones. I wouldn't want to cut this part out of Christmas, I just try to shop responsibly. Heading to a local store rather than the big box store for a majority of my gifts. Making a point of going to all the holiday bazaars to buy handmade gifts from Montana artists.
"As the shoppers run home with their treasures…" make sure they really are treasures.
Making Cookies
Baking and the holidays go together. Sugar cookies topped with too many sprinkles, gingerbread houses, homemade fudge. Each year we get together with all the ladies and kids of our family and spend an afternoon baking and then sharing what we have created. We've upped the holiday cheer the last few years by adding a reindeer food buffet where the kids fill little bags with cocoa powder, raisins, oats and whatever else I can find in the cupboard. They tie them up, take them home and sprinkle them on the driveway for Santa's reindeer on Christmas Eve.
Holiday Movies
Polar Express. Enough said.
Christmas Day
All the traditions lead up to the wonderful day of Christmas. Waking up early and making the kids wait until at least the coffee is ready. Spending all day in our pajamas even when we venture out to grandma's house for Christmas dinner. Knowing this is okay because the whole family still follows this tradition. Coming home exhausted and happy. Feeling a little sad it's all over and a little glad at the same time.
 Have yourself a Merry little Christmas.