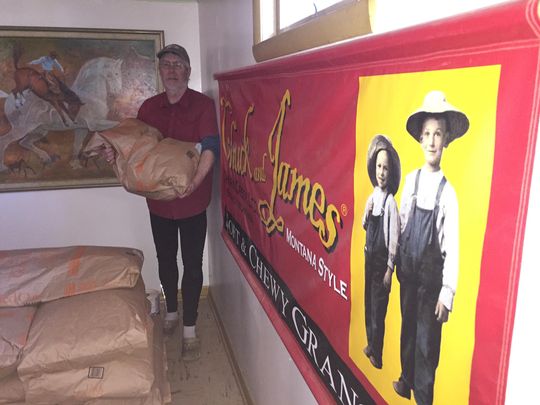 The label hints at the Montana heritage that's part of Chuck and James brand granola.
Chuck and James granola is named for Jody Kappel's grand-uncle Chuck and grandfather James. A 1913 photo of them as farm boys in overalls and straw hats is on every label.
"I remember going into their mother's pantry. It was so beautiful, with dried fruit in jars and the smells," he said. "I liked the photo, and it reminds me of something lasting and good. They were two smart kids who made it. They deserve to be statewide icons."
The pair ranched nine miles west of Sidney, even cowboying with artist C.M. Russell on a ranch outside Terry. Chuck lived long enough to see himself on the label.
"Maybe I would have given up years ago if clip art was on the label, but with their photo I don't give up," he said.
Kappel started selling his granola in 2001, with the Good Earth Market of Billings one of his first accounts.
Kappel has six flavors he sells, with pecan blueberry his most popular. Oddly, the size of the container seems to change which flavor customers are most likely to buy. He has five or six more flavors he'd like to produce, too, but he's found adding flavors is challenging.
MORE>>>Great Falls Tribune