My Five Favorite Camping Spots Around Bozeman
It seems as if spring has officially arrived in our little valley. After the cool, rainy weather last week, Bozeman has blossomed. Everything is green, lush and is it just me or does it seem like there are SO many more flowering trees this year? It has gotten me itching to get up into the mountains. While I know that camping is still a few weeks off I can't help already planning weekends for summer. The snow on the mountains needs to melt off before we venture towards them, however nothing can stop me from thinking about packing up the Subaru, finding the perfect spot, throwing up a tent, building a fire and letting the calm and peace settle over you as you get away from everything. My five favorite camping spots that I can't wait to get to (in no particular order).
Hyalite Canyon. Stick with me here...I know this has become an overly­touristy, crowded area to go to but I still love it and it is literally in Bozeman's backyard. This makes it perfect for a quick camp trip. It holds so many memories for me of early camping. Not my childhood, more when I began to venture on my own. Those care­free days when mybest friend and I would decide Saturday morning to get out of the nonsense of high school drama and head to Hyalite for the night. It's hard to imagine but back in the day you could do this...decide on a weekend to go to Hyalite and actually get your pick of camping spots. Oh, those were the days, the pre­Bozeman­hype days. Before everyone else realized how awesome it was. Last summer I naively thought we could still maybe do this. Two and half hours later, after driving all over Hyalite and then negotiating with a campground host we finally got a spot. I was sad to realize things were different and now you needed to reserve a spot 6 months in advance if you wanted to camp up Hyalite. Even with the chaos there now, I still love camping and playing there. Luckily it is big andspread out for everyone to enjoy.
Frog Lake. This is not what it is actually called, but like a good fishing spot I can't reveal my actual favorite spot to camp...everyone else can have Hyalite we'll keep this gem to ourselves. Basically any secluded mountain lake where you can camp is the best in my book. We take the paddle board, kayak and camping gear and set up on the waters edge. This particular one is in the Tobacco Roots (that's all I'll divulge) and it's a small, crystal clear lake where you can see down to the bottom. There are a couple campsites scattered around and on a weekend most will have happy campers in them. The beauty is the set­up because although you know others are there, you can't see them. Once the noise of the day­time ATV's dies down, a quiet settles over the lake and all you can hear is the crackling fire and the occasional fish jump. The glass­like water with the moon reflecting on it begging for you to take the board out for a midnight paddle. There's nothing quite like camping on a lake, so if you are lucky enough to find a quiet mountain one take advantage and camp there many times throughout the summer.
Pine Creek. It's hard not be in awe of the Paradise Valley. The mountains there get me every time. Now, camping in campgrounds is not my favorite, but I want to keep this well rounded for every type of camper out there. The Pine Creek KOA is fantastic. My best friend grew up in Livingston so her childhood memories are from this place. Each year for the past decade we have celebrated her birthday at this campground. At first I was reluctant...paying to camp at a KOA? No thank you. However, we were pleasantly surprised and with young kids it's hard to beat a place that has a swimming pool, playground and bathrooms. It sits on the beautiful Yellowstone River and is a hop, skip and jump away from the trailhead to hike to Pine Creek Falls. If you're feeling more adventurous head all the way up to Pine Creek Lake...one of the most beautiful spots in Montana.
The Elkhorns. Here is where I fell in love with camping. My memories go way back to my earliest childhood. Running in the woods with my sisters, lost in a world of make believe, roasting marshmallows, snuggled together in tents under the starry night. There are a few primitive campgrounds, however, we go here to get lost. Finding our own perfect spot to call home for a night or two. A place where there is no cell service and while you may see the occasional other person go by, odds are you won't. A place where now our own kids run in the woods, far away from the real world at home. A place to read quietly by the creek, take a hike to nowhere and wake up to the sun rising over the mountains. This is my happy place.
The Bridgers. If Hyalite is in Bozeman's backyard, then the Bridgers are in our front yard. The Bridgers are a wonderful playground for hikers like me. You can join the crowds to Sacajawea Peak or wander on the many less­known trails that meander throughout.
There are several established campgrounds in the Bridgers, but also plenty of forest service land to find your own place. Like Hyalite I like the ease of getting to the Bridgers. Easy for an overnight campout and a perfect place to set up a home base to come back to after playing in the mountains during the day.
Memorial Weekend is the kickoff to camping season in Montana. However, it is notoriously cold and rainy so we usually hold off until June. We are in the first week of May so the countdown is on. Time to dust off the tent, throw the RocketBox on the car and get ready. Happy camping.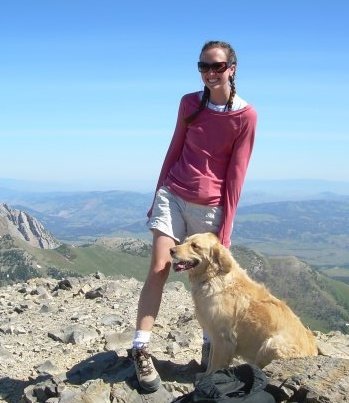 Angela Jamison is a native Montanan and she grew up in beautiful Bozeman. She is the mother of two girls and writes a blog about her life here and taking in the simple pleasures of family and food.