The Ravens of the Rose is a part of a continuing series in which I explored dealing with the death of one of my most profound mentors. I have done art all my life, and I daydreamed about making career out of, but I was never really serious until I was put into Sue Dolan's art class my sophomore year of High School. Mrs. Dolan opened my eyes to the art wold, gave me the tools I needed to start building a solid foundation of skills and she was directly one of my greatest motivators to join an art school after graduating. I considered her a mentor and a friend. Unfortunately, she passed away mere months before I finished my degree at Northwest College of Art. Her influence on my life led me to paint this image. Mrs. Dolan included ravens in many of her paintings while I knew her. While also being a symbol of death, her ravens always seemed hopeful. So a raven in my painting is taking flight. The roses are for the funeral I could not attend, and the ghosty roses behind are for my regrets and unsaid words. But the colors are vibrant and bright, while sad, Mrs. Dolan was the most vibrant and colorful person I have ever known, and I am a better person for having met her.
The originals are still available, two 12x24, framed for $750.
Unmatted 12x12 prints are available for $45. Contact me at [email protected], if you're interested in purchasing a print.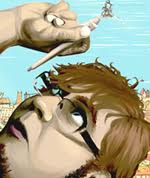 Kyle Ploehn is an artist, illustrator and writer living in Billings Montana. He likes to spend the few hours he isn't painting hiking the mountains of Montana.