Art is freedom to make a choice. Art is making the choice not to satisfy this person or that person, but to be able to make a choice to satisfy your own volition.
 
At 66, Dale Robertson, of Fort Benton, has made the decision to follow his whims as a horseshoe sculptor.
 
"I've always wanted to be an artist," said Robertson. "I could've been doing it 40 years ago." Yet life is certainly what happens as we are making other arrangements, daydreaming about the future, locked in the mental crater of the past. Choice often remains an elusive beast. But it is always the present that dictates – and Robertson's notifies him it is the right time.

Born in Stanford, Montana (population 769, in 2010) Robertson made an effort at agriculture but times were so lean that he nearly went broke; he recalls a time when his finances were so sparse that he sold cribbage boards of elk bone to hold the imp of poverty at bay. Robertson served in the Navy for four years and after apprenticing under a noted cobbler, he tried his luck at shoe repair.
 
"I nearly starved fixing shoes," said Robertson. "It was familiar because years earlier, I nearly starved running 1,100 acres of land, which was half wheat, and the other half cows and pigs. It was just too tiny of an operation."
 
Robertson moved to Fort Benton in 1982 and he eventually took perhaps the most sensible route to solvency, joining the Choteau County Road Department. After retiring in 2015 with 18 years of service to his credit, Robertson revisited the magic space of art and insight.
 
He started sculpting small metal cowboys, and then he experimented with building furniture, and then after that he tried welding animals of metal pipe scraps. Eventually, he found several well-rusted horseshoes lying on the garage floor. It's funny how a seemingly insurmountable issue such as low self-confidence can evaporate when you show up and try.

"I didn't know I could do it; you don't know it until you try. They may not be as pretty or as perfect as a lot of other people's art, but they are not doing horseshoes. You start with the feet and go up, you build one leg, build the other, connect them, and go back and forth. I've gotten better with practice and I'm getting close to the real deal. I'll run my hand over the metal and if it's a horse sculpture, I have to have it feel like a horse."
 
In that same garage, Robertson stands adjacent to small buckets and fatter tubs of horseshoes of every degree of tarnish. In one corner, there are barrels of horseshoes donated from a horseshoer in Fairfield. "They are a godsend," said Robertson. "People are hoarding them now as souvenirs or decorations."
 
Step one is that the majority of the horseshoes need to be stripped of pesky nails. In a crevice below a workbench, they are then sorted into buckets of clean, or nail-free, shoes, which are then tumbled for a couple of hours to shake off the rust. The horseshoes are tossed in a cement mixer with small chunks of gravel; the gravel acts like a polisher.
 
"I spend hours in here," said Robertson. "I listen to music and go do it. I could spend the whole day here. Except in the summer, it gets too hot, it can be miserable. Who wants to be in the garage? My heart's just not in it. But I am a guy who needs to be busy all of the time."

Robertson's tools are minimal: a two burner propane forge, a vice to bend metal, a plasma cutter, a wire welder. Minimal is not to be confused with simple or lethargic, as the forge splatters sparks and emits fire.
"There are times when I can feel my shirt getting warmer and warmer," said Robertson. "When you are working with hot horseshoes, you won't forget to put your gloves on." Robertson's horseshoe sculptures, some of which exceed ten feet in height, require the welding of hundreds of pieces. One moose, darkened with a durable undercoat varnish, required 700 shoes.
 
The delivery of that sculpture to the town of Monarch became, literally, a delicate balancing act. "I had to drive 45 to keep it from flying off the trailer," said Robertson. Robertson has an admiration for the welding process, especially the fact that no situation exists that he can't get his artwork out of. Nothing is unbreakable; everything is subject to re-fix.

"With welding, you think you are doing a good job and then you find a spot where you've messed up. You try to fix it sometimes and it gets worse. The fun part is that you grab a big hammer and it doesn't hurt a thing when you take to it. I had a sculpture that the hind quarter wasn't right, so I took it back. I can cut them up and start over. I took it back and started over – just needed a cutter and acetylene torch."
 
Peering into one of the larger installations, one can see the curves and muscles and the action of the animal. Indeed, Robertson is a skillful synthesizer who has created a small legion of inventory to choose from and enjoy.

"Everyone is an artist," said Robertson. "Though, it's a tough field. I see it this way: if I enjoy it and you enjoy it, well, that makes it better." Robertson generally sticks to the fabrication of bulls and horses, though he talks of expanding into other less conventional forms. "I like cowboy things," said Robertson. "I'm a cowboy. Personally, I'm pretty much an elk and deer kind of guy."
 
There are several words that Robertson uses frequently in this conversation: choice, freedom, happiness. But there's also desire. The artist in Robertson wants it because he wants it. "This will be around a long time after I'm gone," said Robertson. "It'll be nice to leave a legacy instead of nothing."
 
There is something pure, talented, exciting and folksy about Robertson's sculptures; when viewed standing together in the front yard of his home, it's easy to envision the assembly of a folk art park to be enjoyed for generations. Indeed, many cars already travel down the dusty stretch of road to examine the metal-ring stallions, bears and moose.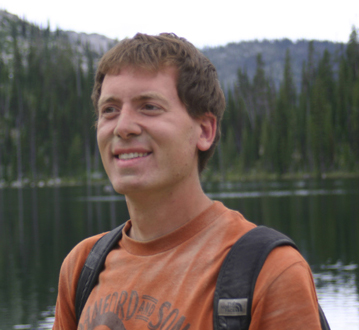 "Now if someone drives by, I just sit in the kitchen and I watch them," said Robertson. "I don't go out there, just let them look. There were a couple of times I might have scared them off when I came out. I thought, 'well, that's too bad,' because I just wanted to tell them about them."