Summer Vacation. A time to make memories, create family rituals and adventure. Because we live someplace that is a vacation destination for many, it's hard to leave during these blissful months however, we work around school schedules so summer vacation it is. This year our adventures took us on a couple road trips around our neighboring states. Driving down the interstate and venturing on two­lane highways, watching the landscape change, cheering as we crossed state lines welcoming us and seeing that in just a days drive we can be someplace so different than our home.
 
Experiencing a new place, noticing the similarities and differences in that city. Taking in moments of gratitude for getting the opportunity to have these experiences, but more often than not saying thanks for the reminder of the beautiful place we get to go back to.
 
The first part of summer vacation began with a drive through mountain passes of Montana and Idaho, into the flat, dry parts of Washington and then onto a lush mountain pass before opening up to the skyline of Seattle. I love getting to visit new places and try to experience it more as a local than a tourist. Don't get me wrong, we all get stuck doing a few tourist things (like an over­priced elevator ride to the top of the Space Needle), but for the most part we try to dig deeper into the heart of where we are. I love the energy that comes from visiting a big city, the people, the diversity, the abundance of things to do. The Pacific Northwest is a great place to visit from Montana because although the cities are bigger, they are still so friendly. Seattle was no exception as we met nice people, but in the hipster "I'm a cool kid still" sort of way. We may have our mountains here, but this city gets its beauty from the water on its edge. All day long ferries go across, sailboats gently floating along, the sun glistens on it and you get that fresh smell in the air that can only be found near water. Now, I understand visiting this fine city during the end of June is much different than the gloom you'd find most of the time...I know it's not always sunshine and roses. However, what all this moisture gives is a lushness that's hard to find elsewhere. Lots of rainy winters equals very lovely summers. I love a city, but I'm still a Montana girl at heart and after a few days it was time for a change of a pace. A ferry ride, and short drive later we found ourselves on the tip of the Olympic Peninsula in the quaint seaside town of Port Townsend. What a charming, Victorian seaport and artsy­hippie community. Set against the backdrop of the wild beauty of the cool ocean, rocky bluffs, sandy beaches and a quaint downtown. The small mountainsides more like a rainforest than the forests we are used to hiking in. This was a time to slow down from the chaos of the city, take in the natural beauty, hang out with the neighborhood deer that roam the quiet streets and relax. The vibe was similar to Bozeman...small and touristy with plenty of unique local joints to visit. The town full of welcoming people, yet leery of out­of­towners. Like Bozeman in the we're happy you are enjoying our little town, but please don't consider moving here.


A few weeks after the family trip, we found ourselves again crossing the MT/ID state line, this time heading towards Boise and this time without children. This part of Idaho, so different than the month before as we passed through the mountainous Coeur d'Alene area, now driving through barren land, dry and smoky from the fires. Taking the more scenic route and ending up driving through the Craters of the Moon State Park with open rift cracks and lava fields. It was so cool to stumble upon this part of the country. To see the landscape turn black and rocky with mountainous volcanos popping up in the horizon and the earth basically split open in parts. On to Boise, a place unlike much the rest of Idaho. A big city compared to the small communities we had driven through. A vibrant downtown that was fun with its restaurants, street music, nightlife and young community. By far the friendliest city of all the places we had been to while on our vacations. Each place we went we were welcomed with a genuine, kind smile, helpful advice and true care if we were having a good time. We didn't encounter one rude person and everyone there seemed truly happy. Most of them were locals who obviously took such pride in their city. 


With any vacation, the end always comes faster than you want. When I wake up on the last day, a heaviness fills my heart. Wanting to continue all that comes with being away. However, as the miles pass I remember what we are going back to. The landscape begins to change, mountains come into view and by the time I see the Welcome to Montana sign things begin to feel better. Once we pull off the exit into Bozeman a contentedness replaces the earlier heaviness. Home. We get to call this amazing place home. A place that brings so much goodness. A place that in the beginning we are excited to leave and get away from, but then thrilled to get to come back to. The saying goes "Don't be sad that it's over, be happy that it happened". While I agree with this I'd have to add "Be happy that you get to come home to Montana".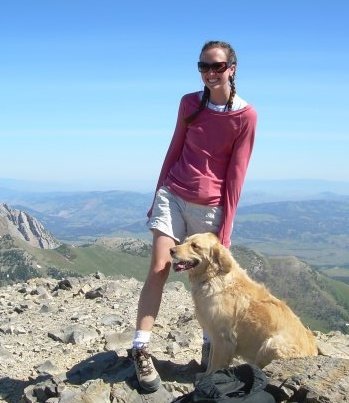 Angela Jamison is a native Montanan and she grew up in beautiful Bozeman. I'm the mother of two girls and write a blog about our life here and taking in the simple pleasures of family and food.
http://www.rdeliciouslife.blogspot.com/







Photo by: Mapped Creative