In my dream, I suddenly realize it's almost the holiday season. Do I have enough jewelry ordered for the store? I remember placing a couple orders — did that product ever arrive? How is the store doing? When was I last there? Who is running it? How are we paying for everything?
It's a dream that has occurred in one form or another for almost twenty years. 
At one point I tried to intervene, to tell myself to let it go. Now, mostly, it's sweet that somewhere in some parallel reality Accents West, the store I birthed and raised in Bozeman's Downtown, is still in business. Sort of.
When I dream, she's always in the same location, the same landlord I had when I closed the doors, though I don't dream of him out of fondness. But it's not the literal Downtown Bozeman, not the same literal location. There's always a huge back room filled with antiques, and file cabinets of paperwork I haven't delved in to for . . . decades. Generally, I don't go in the backroom but there was a series of dreams where that was my primary destination.  Even so, I may have opened a file drawer to check what orders had been placed, wondering if the merchandise had ever arrived, but never checked the paper involving the rest of the intricacies of running a retail business. 
There is no computer.       
The front of the store is both familiar and completely different than when Accents still thrived. Mostly, some of the display cases are the same. I loved those antique cases. 
Funny what stays with you in the long run.
There are still racks of clothing.In some dream of the recent past, I quick zip over to Billings apparel show to try to beef up the collection, but never "re-dreamed" to see if those orders arrived. And I don't actually even know if there is still a Billings apparel show. 
In so many ways Accents West was a daughter, a bit older than my human one, a daughter who died of a terminal illness I could not mitigate or heal. 
I generally think of that illness as a cancer. It doesn't matter. What does matter is that she lives on for me in the dreamtime. I always thank the mysterious former staff-members who work there, keeping her alive. I am not there enough for it to be my effort sustaining her. 
She lives on for me in the physical too. I don't shop very much. Downtown Bozeman is nothing like what it used to be. Those who don't know what that was, don't miss it. But sometimes I am reminded how vibrant and fun it was, before landlords ratcheted rent and the character of the community profoundly changed.
My daughter and I were just in Helena and stayed a couple nights at a motel right on Last Chance Gulch. The experience kicked in my retail mind. I notice the fine details in business. I can't help it. When we checked in, the motel gave us a laundry basket with two dog dishes; a leash with attached doggie-poo pick up bags; dog biscuits and a laminated, Here's the guidelines for staying here with your critter. I was startled and impressed. Yes, we were to return it all when we left but for the duration, we felt welcome in a way so out of the norm with dog-friendly motels where we've stayed in the past. 
There's a large difference between tolerating customers with dogs and welcoming them.
On the Gulch itself, so much remains familiar. I used to sell my Plenty Quill porcupine quill jewelry at General Mercantile. Even then — thirty years back? — General Merc had espresso, one of the few places in Montana that did and that cared how it tasted. My ex- Frank — and I loved coffee so that formed a bond with the place outside of the fact that they also purchased my craftswork. 
The store essentially looks the same inside. Funky as heck and crammed with personality. Long lines of locals waited for their coffee drinks. There's not a better testimonial for where to buy. Two nearby coffee houses were nearly empty. I tried coffee at one and immediately understood why.
A few doors down from General Merc is the No Sweat Cafe. I couldn't believe it's still in business. Thirty years and counting. Familiar menu. Familiar decor. Yum food. A son and daughter have taken over running the place. I took pictures of it for my ex. 
I had good memories of these places and now have additional ones.
There are plenty of bootstrap businesses alive on Last Chance Gulch. Businesses where someone was able to bring their creative vision alive without a huge investment. I am not going to get into the economics of what has happened to Downtown Bozeman. Will just say, that with a couple exceptions, that type of business is excluded, priced out. I am sure there are creative businesses in Bozeman but there's such an advantage to having them grouped where it's simple to find several within a few blocks of each other. 
We had fun. Actually shopped. Bought a few things. 
I rarely think shopping is fun.
On the downside, I browsed a gallery with two salespeople. I looked around for five to ten minutes and neither one ever acknowledged me. One was busy trying to make a sale to the only other customer. The other hovered behind the front counter and never even looked my way. Or, if she did. I didn't notice. 
Retail never could afford to ignore customers. With so much online competition, that is truer now than ever. 
If there is a point to this piece, aside from personal meanderings in the world of retail, both physical and dreamtime, it is this: your local Montana retailers need you this holiday season. What makes a downtown remarkable is the character of its tenants, the diversity of them. And, for that to survive, you have to care, to show up. Yes, some merchants will drop the ball and ignore you. But still, it's a kinesthetic and human experience you can't get online. 
Shop local. 
Or stop by my store in the dreamtime, and thank the person behind the counter whoever they may be for keeping Accents West alive. Maybe I'll see you there!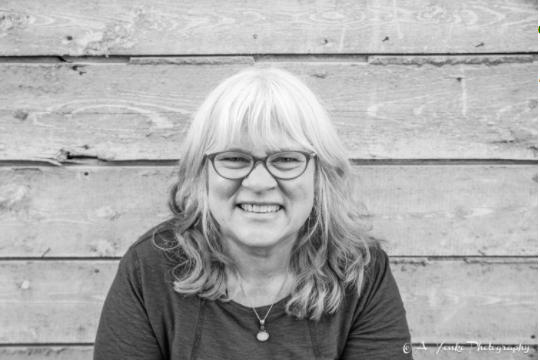 Jenna Caplette migrated from California to Montana in the early 1970s, first living on the Crow Indian reservation. A Healing Arts Practitioner, she owns Bozeman BodyTalk & Integrative Healthcare. For relaxation, she reads novels and walks the trails around Bozeman with her four legged companion. Oh, and sometimes she manages to sit down and write.