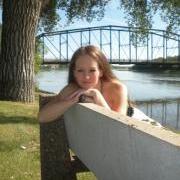 Lacey Middlestead is a Montana native and freelance writer currently living in Helena, Mont. She loves meeting new people and helping share their stories. When she's not busy writing articles for newspapers like the Independent Record and Helena Vigilante, she can usually be found indulging in her second greatest passion–playing in the Montana wilderness. She loves skiing and snowmobiling in the winter and four wheeling, hiking, boating, and riding dirt bikes in the summer.
S'mores may be the unofficial summertime treat, but I for one am a much bigger fan of ice cream during the hotter days of the year. Whether in a cone or dish, covered in syrup or blended in a milkshake, it ice cream is delicious any way it comes. Now I know you can get ice cream all year long, but not necessarily from everywhere. I wait all year for summer to roll around again so I can partake in the smooth soft serve of the iconic Ice Cream Place in Seeley Lake, Mont. Anyone who has drove through Seeley in the summer knows what I'm talking about. And even if you haven't stopped there before you've definitely noticed it because the line to order is always distressingly long.
This past weekend my fiancé and I along with a few of our friends headed to Placid Lake to camp. With Seeley being only a few miles down the road, the ice cream was simply too tempting. No one said it out loud, but there was silent agreement between us that at the end of the weekend we would make a trip into town for some frozen goodness. I guess we figured it would be our reward for "surviving" in the wilderness….a.k.a. the well-established campground equipped with showers and bathroom facilities.
But to tide us over until Sunday afternoon, I prepared a "camping" version of homemade ice cream for us. It was a surprise I'd made especially for our friends Brad and Tara's three-year-old daughter, Camille. It was her very first camping trip and I wanted to make it special for her. And what kid doesn't like ice cream!
On Saturday night, after gorging ourselves on a delicious meal of spaghetti and toasted bread with parmesan cheese, I announced that we would be making homemade ice cream for dessert. Everyone got excited until they realized that it was a bit labor intensive. But I explained that burning off a few extra calories beforehand would help them from feeling guilty later. I'd made this particular ice cream recipe once before at a summer program I helped with a couple of years ago at my job. The kids loved it and I knew that it would work brilliantly for camping.
To start with all you do is make a basic ice cream mixture of half and half, sugar and vanilla. I did this before we left town and then divided the mixture into several quart sized Ziploc bags. I handed each person a bag as well as a larger, gallon sized bag. We put the smaller bag into the big bag and then filled the big bag with ice and rock salt. Then we sealed the bags and started shaking them. This is where things got messy. It takes some time, at least 10 minutes or so of hard shaking, for the mixture to start solidifying into ice cream. And as the ice melts and the bags get shaken up, water ends up splattering out. We quickly realized how cold your hands get too holding the bags so some of us put on gloves or pulled down our sweatshirt sleeves. It took a while, but eventually we all had an individual baggie of ice cream to enjoy while sitting around the campfire. It doesn't get much better than that!
While everyone seemed to enjoy the homemade ice cream we were all still anxious for Sunday to arrive along with our trip into Seeley. Sunday finally came and after taking down our tents, stuffing our sleeping bags back into their sacks and heaving all of the coolers into the truck beds, we were off!
To no one's surprise, we pulled up to the Ice Cream Place to discover a line of a dozen people or so. We quickly jumped on the end and squinted towards the order window where the large menu hung on the outside of the building. They serve everything from chicken strip baskets, burgers and burritos to every ice cream concoction you can imagine. The worst part is trying to decide what you want. My personal favorites are the strawberry-vanilla swirl in a waffle cone, huckleberry sundae complete with whip cream, nuts and a cherry and the Seeley Swirls which are equivalent to a Dairy Queen Blizzard. For this go around I settled on a huckleberry sundae. Once we all got our treats, we sat down at one of the picnic tables in the seating area and dug in.  It was sheer bliss!
Ice cream, no matter what kind or where you have it, always tastes good. But on this last camping weekend, it tasted especially delectable. Something about being out in the woods always makes food taste better to me. I'm not sure whether I'll make it back to the Ice Cream Place again before it closes for the season, but it is always worth the wait for that first bite of summer.