5 Most Common Cancers and Treatment Options
Featuring Benefis Healthcare and Billings Clinic
Cancer incidence and mortality statistics reported by the American Cancer Society and other resources were used to create the list. To qualify as a common cancer for the list, the estimated annual incidence for 2015 had to be 40,000 cases or more.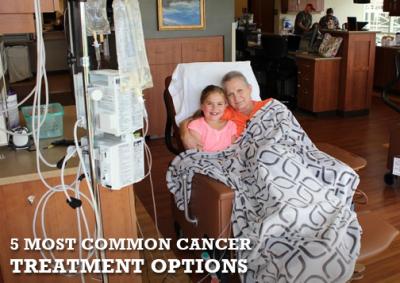 The most common type of cancer on the list is breast cancer, with more than 234,000 new cases expected in the United States in 2015. The next most common cancers are prostate cancer and lung cancer. 
Because colon and rectal cancers are often referred to as "colorectal cancers," these two cancer types are combined for the list. For 2015, the estimated number of new cases of colon cancer and rectal cancer are 93,090 and 39,610, respectively, adding to a total of 132,700 new cases of colorectal cancer.
The following table gives the estimated numbers of new cases and deaths for each common cancer type:
Estimated 2015 New Cases & Estimated 2015 Deaths
1. Breast
Female 
231,840 Estimated New Cases
2,350 Estimated Deaths
Male
40,290 Estimated New Cases
440 Estimated Deaths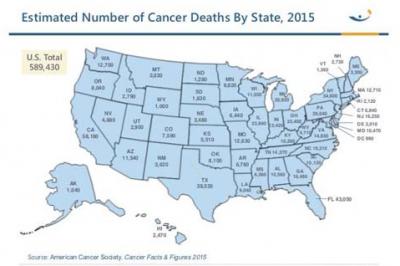 2. Colon and Rectal 
(Combined) 
Male & Female 
132,700 Estimated New Cases
49,700 Estimated Deaths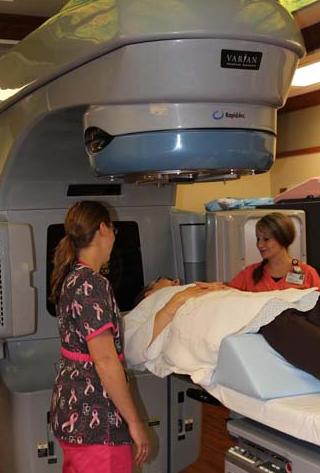 3. Lung (Including Bronchus)
Male & Female 
221,200 Estimated New Cases
158,040 Estimated Deaths
4. Melanoma
Male & Female 
73,870 Estimated New Cases 
9,940 Estimated Deaths
5. Prostate 
220,800 Estimated New Cases 
27,540 Estimated Deaths
Benefis Healthcare: Great Falls 
The Benefis Sletten Cancer Institute (SCI) is a state-of-the-art comprehensive cancer center serving Montana, a 5-state region, and Canadian patients needing the highest quality cancer services available. 
Your Benefis/Sletten Care Team:
A Multi-Disciplinary Team of Specialists Overseeing Your Customized, Comprehensive Care Plan: Medical Oncology, Radiation Oncology, Hematology, Gynecologic Oncology, Surgery, Cardiothoracic Surgery, Plastic Surgery, Neurosurgery, Radiology, Pathology, ENT, Urology, Pulmonology, Dermatology, Gastroenterology, Family Practice, Palliative Care, Integrative Medicine and Complimentary Therapies
Quality is in our DNA
Accredited by the American College of Surgeons Commission on Cancer – Since 1981
National Accreditation Program of Breast Centers – Since 2007
Quality Oncology Practice Initiative Accreditation – Since 2014  
CyberKnife:  The first and most experienced program in a 5 state region and Western Canada to offer Stereotactic Radiosurgery for benign and cancerous tumors. 
Radiology Imaging:  PET / CT, and X-Ray services onsite 
Clinical Trials:  Over 100 available clinical trials
Gift of Life Housing:  The only program in the state to offer their own onsite patient and family housing.
Image and Appearance Center:  Offering cosmetology services, massage therapy, wigs, prosthetics, and skin care.
Meditation and Healing Environments to treat the body, mind, and spirit.
Regional Clinics:  Bringing cancer care closer to home for you and your family.
Telemedicine: Visit with your provider from the convenience of your home town, or participate in education or support group opportunities
Billings Clinic: Billings
Billings Clinic offers a team of cancer experts who provide personalized care and collaboration. 
Specialists offer choices for the latest and most effective treatments exceeding national standards for optimal care:
Dedicated medical and multi-disciplinary teams specialize in breast, prostate, colorectal, gynecologic, head and neck, blood, lung, skin and pediatric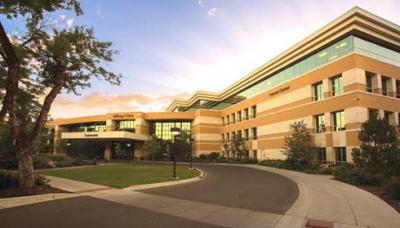 10 patient care navigators coordinate care and answer questions for patients
100+ research trials available for patients 
24 hour new patient appointment  
Symptom-management teams address side effects, including concerns about nutrition, pain or depression
The region's only Gynecologic Oncology program  
The only Gamma Knife Radiosurgery in a 5-state area
Wellness and Support Services include integrative and naturopathic medicine, nutrition, education, and survivor programs that address your emotional and social needs, improve quality of life, encourage sound nutrition, and reduce suffering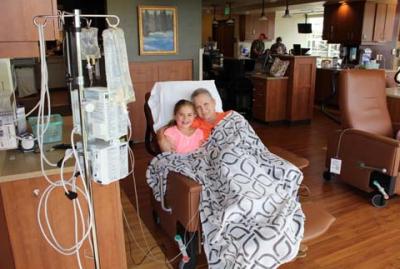 Clinical Research Trials such as vaccine and gene therapy that provide leading-edge treatment
Cancer Risk Assessments that provide options for prevention, genetic counseling, and early detection for people in our community who are at higher risk of developing cancer
Palliative and Supportive Care is available to relieve suffering and improve quality of life for patients with advanced illness and their families