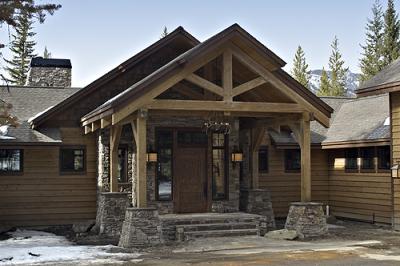 "I bet you will like this one," says an enthusiastic John Seelye, president of Big Sky Woodwork & Design, Inc. We hop in his truck parked in front of the company's office building and head towards Bill and Susie Friedman's vacation home.
Once we park in the back, the house looks majestic and it is: 9400 square feet of imposing solid splendor. But it's by walking to the front that the lofty, refined structure strikes you the most. "The whole idea was to have such a massive house maintain an intimate feeling," says architect Bayliss Ward of Bayliss Architects Company, who worked with Seelye on designing the Friedman's house. 
"We needed tons of glass to provide the majestic views the house has." The Spanish Peaks and Lone Peak are seen through the lodge's large windows. The Friedman's log home was designed with family and friends in mind. A lot of space is dedicated to guests. Two spacious, cozy master bedrooms and adjacent bathrooms stand ready for lucky friends. 
 " Friedman was overwhelmed by how much the results of our work matched his vision," explains Ward. "Certainly working with John and his company facilitated my own work too. There was great communication, often not very common between architect and builder. It was definitely a team-deal."
"This is what I'd call the typical Montana lodge," says Seelye. Our tour began with the vast garage. Following Seelye around feels like an interminable architectural enthrallment. The first steps inside the house promise a classic western, rustic but elegant style. Meandering inside this posh-but-cozy log home instead reveals a mysterious European Gothic allure, accented with earthy, colorful details, such as large paintings from local Native American artists, strings and bows and dream catchers. Miniature Indian teepees enclose lamps down the stairs to the basement, forming curious arrow figures when lit. 
"Follow me and step back for second," instructs Seelye once at the basement. As I curiously let him set whatever is going to be revealed before my eyes, Seelye acts with the eagerness and suspense of a magician about to burst a rabbit out of his hat. "Voila," he says as he gestures a welcome with his arms. I'm invited to step towards dim, flickering orange lights coming from two lanterns placed beside the opened door, I feel transported in time and space, surrounded by a thousand stacked bottles of wine on the surrounding walls of a perfectly recreated 17th century European tavern. The trick was that an attentive Seelye just learned of my interest in wine and history, just as before he learned that the Friedman's priorities in life were good food, wine and quality time with family and friends, before building their Montana lodge.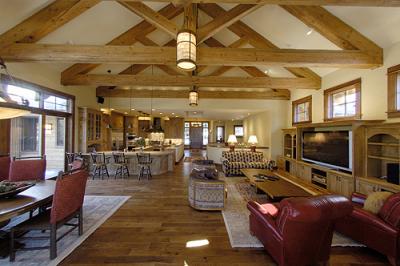 Throughout the years, the team at Big Sky Woodwork & Design has earned the respect of the Big Sky community because, as Seelye is proud to claim, he and his team of 15 people have made a commitment to quality in building Montana homes. The projects of Big Sky Woodwork & Design are exclusive to the Big Sky area where the Company was established in1997. Seelye happily moved to Big Sky from Colorado in 1996. "To create a home, requires communication, organization, teamwork, loyalty, and commitment to quality. And that is why we don't want to work on more than three to six houses at a time." 
"We try to build homes that are the perfect extension of our customers' personality. It takes a lot of work. It takes patience and compromise, but you know what? It's in this process that we become good friends with our clients and that all shows in the end result we achieve. These friendships are fundamental to building exactly what the client expects and desires."
"The word enjoyment doesn't even express it," says Jackie, another Big Sky Woodwork and Design's enthusiastic and satisfied client. "I can't even really say how great of an experience it was working with John and his crew. If I could do it all over again, have another opportunity to work with them, I'd love it even more."
Although Jackie has lived in Montana with her husband for 25 years, their house is not the typical Montana home. The couple is originally from Florida and Georgia and perhaps hasn't left behind those warmer roots. In this couple's unique and distinctive home, colors abound. They are the focus.
 "I was lucky my husband let me go wild with it. I took this house of ours as an art project. This was my real opportunity to go for it and I did. I wanted something that was different. Something that would not remind of winter even when it's winter outside." She declared that her family's color preferences are blue and greens. This second house Seelye guides me through reminds of me of an Italian ice-cream parlor with its sherbets and creams. 
Ascend from the main floor to the couple's bedroom and you see a Buddha statue sitting undisturbed on the veranda. The bedroom is a medley of South beach art deco, accented by the simple harmony of Shoji Japanese-style screens. Thick bamboo sticks surround the TV area in the living room.  The Japanese style is but a memory when you enter a scarlet red kitchen with red counter and stools and a mosaic backsplash. The powder room by the kitchen is done in black and red argyle patterns. The dining room is a pale green.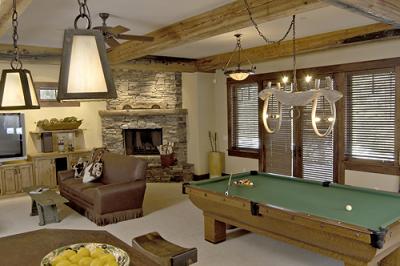 Because of this couple's two young children, much of the space is dedicated to them and their toys, and their probable hide-and-seek games. The contractors figured out a way to delight their clients' kids by building hidden doorways right out of a Gothic novel. The upper part of the house reminds you of a Russian doll, one room inside the other, one child's room secretly connected to the other through charming hidden passageways.
"I think it's difficult to build a house in more than two colors and to have each surface looks different, using so many materials, " says architect Patrick Larum of Comma-Q Architecture Inc. in Bozeman. Larum, who worked in sync with John Seelye and Jackie from the beginning, maintains that what was decided at the beginning is fully revealed in the end. "It could never look like anyone else's house but the owners'. This realization of a person's vision took immense craftsmanship, detailing, and as usual, lots of balance on the contractor's side to meet the wishes weather, budget, and clients' requests. '"See, we can draw anything, but when it comes to building that anything, it is a totally different matter. It can be a real challenge. John and his contractors took this challenge and turned it into the exact result Jackie and her husband had imagined."
John Seelye, who started to work as a carpenter in 1986, has achieved his dream by achieving his clients' dreams. "Because of my carpentry experience I like to think that the end result has a lot to do with my eye for fine details," says well-muscled Seelye. "It's still important to me to go to the jobs and to help with the quality control."
"We don't want to be a huge corporation. We want to just keep it intimate so that we can maintain that quality that's always been there," explains Seelye. "That's the biggest issue for us at Big Sky Woodwork & Design.
~Lara Vaienti is a freelance writer and a student at MSU. She divides her time between Bozeman, MT, and Milan, Italy, where she is from. Her work has appeared in Montana Living, Big Sky Journal, Montana Quarterly, and Outside Bozeman. She's a fan of Wes Anderson and Bob Dylan.