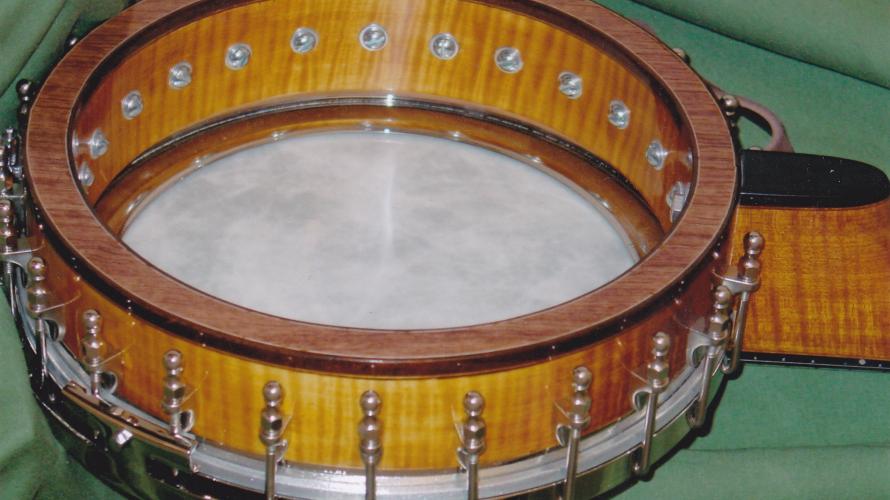 When Michael Bennett extols the banjo for its distinctive assembly method, he above all praises the instrument's simplicity and flexibility.
 
Design modifications to his custom banjos are fairly basic. There are variances between light and dark woods and there is a question of whether to employ a fancy inlay or a much simpler style. Banjo dimensions are determined by the size of their mass-manufactured metal rim exterior, rendering simple options for the wood frame interior: 11 inches for bluegrass-style and either 11 or 12 inches for an instrument echoing more of the old-time banjo sensation.
 
"There is some woodworking that can be done to change the thickness and the depth of the (hand-carved) wooden rim, which then fits into the pre-set diameter of the metal rim," said Michael Bennett, who has resided in Missoula for approximately 25 years and operates a music rental and instruction studio in the city.
 
When people come to Bennett to have a discussion about banjos, he always tells them "to pack a lunch," and indeed one must apportion ample time with Bennett to fully comprehend this peppy-sounding piece of musical equipment.  
 
One of the earliest recorded references to the banjo dates to about 1620, when explorer Richard Jobson mentioned the "gourd with neck and strings" he had seen in Africa. Between the 1830s and the 1850s, German immigrant William Boucher Jr., of Baltimore, sold the first batches of successful commercial "shop-made" banjos in America. It is estimated that between 1878 and 1904, another noted enterprise, SS. Stewart Co. of Philadelphia, "made 25,000 banjos."
 
"In the late 1800s, the early 1900s, that was the time in America that the banjo was really coming into its heyday," said Bennett. "When I say heyday, I mean with the designs and so forth, and to this day, companies are still copying the designs from that time. In the 1920s, (spurred by the popularity of minstrel shows) there were as many banjo companies as they were car companies in the U.S. Each banjo maker had its own idea and had an idea of banjo making of its own. There were drum companies that got into banjo making."
 
The banjo would forever be associated with a song called "Feuding Banjos," recorded in 1955 by Arthur Smith and Don Reno. Its popularity grew exponentially after Atlanta native James Dickey published "Deliverance," the acclaimed novel that was made into the profitable 1972 Southern gothic film.
 
The harrowing movie chronicles an ill-fated canoe trip embarked on by four Atlanta businessmen. The song is central to an unforgettable scene in which Drew (actor Ronny Cox), on guitar, plays a duet with a local boy named Lonnie, on banjo.  "Dueling Banjos" won a Grammy in 1973 for best country and western instrumental performance.  (Arthur Smith, however, was not credited, and he sued Warner Brothers. The jurors compensated Smith past and future royalties, as well as songwriting credit.)
In addition to "Deliverance," Bennett said that there are other "benchmarks" that have boosted the popularity of the banjo in American music: the movie "Bonnie and Clyde," the television show "The Beverly Hillbillies," and, more recently, the traveling banjo performances of comedian Steve Martin.
 
"I recall seeing Steve Martin when he was unknown in the 1970s, in southern California comedy clubs," said Bennett, age 70. "This was before he was famous, and he would tell jokes and then play the banjo. It was a part of who he was – and who he still is. He's really been an influence as far as getting the banjo out in front of people who might want to play. He is one of the reasons that the banjo is becoming more and more accepted with mainstream music."

In the past four decades, there has been a significant progression of banjo playing techniques, from three-finger banjo picker Earl Scruggs (1924-2012) to more recent innovators like five-string banjoist Bill Keith (1939-2015), all of which have contributed to the fruition and development of the banjo's very own sub-genres, such as Bach fugue, ragtime, and jazz.

"Earl Scruggs made melodies out of chord positions and Bill Keith made melodies out of chord positions and scales," described Bennett, laying out a set of experimental fingerboards on a workshop table.  "The banjo has an infectious, nice sound to it, and it's difficult to play a sad song on the banjo. I can try to do plaintive songs on the banjo. But even those seem like happy songs, nice, and sparkly, because of the banjo's nature."

For an instrument with such a large history, perhaps it's a bit surprising that the arsenal of tools necessary to create a banjo is small: a band saw; router; joiner; hand planes; drill press; compressor, to spray finishes; oscillating spindle sander.
 
"With banjo making, you don't have to be good at anything, but you do have to just put it all together," said Bennett. "To me, actually, the most important thing in the shop is the sound system to play music as I work. Classical guitar, mandolin, bluegrass, whatever."
 
Typically, he constructs a banjo out of one of four primary hard woods, most commonly flattened maple, walnut, cherry, or mahogany. Occasionally, something more exotic will be used by Bennett, such as rose wood or fiddleback maple. Each of the four wood varieties has a particular sound profile. Maple produces the brightest jingle; whereas the ever-stable mahogany provides the mellowest sound.  
 
"The banjo has been very much put together relatively easy as to be able to change the sound," said Bennett. "The banjo is different than a guitar or a violin, because you can tailor the sound of a good banjo to precisely what a customer wants, and you can change the sound without having to drastically change the instrument. The head, the bridge, the strings, and the tail piece – the different configurations of each will affect the sound significantly. Like a stereo, you can turn up the base or treble and make it louder or softer to achieve either an old-time or bluegrass sound. But overall the sound is based on the playing style of the person holding the instrument."
 
In addition to teaching music and building banjos, Bennett occasionally performs in a local ensemble called Shenanigans.
 
"We've been together for so long that there is a disagreement as to just how long we've been together," said Bennett. "I say that it has been 13 years."
 
While pretty and precious, the style and sound of the banjo are ultimately secondary to the uniquely human behaviors of listening deeply and learning perpetually.   
 
"It's hardly ever too late to start playing a musical instrument, no matter what it is, banjo included." said Bennett. "I say go find a teacher, interview the teacher, get comfortable, and start with a playable instrument. Then, jump in and go do it. You may also get bitten by the banjo bug."
 
Brian D'Ambrosio is the author of  "Shot in Montana: A History of Big Sky Cinema." Always on the search for vivid, interesting story ideas and subjects, he may be reached at [email protected]