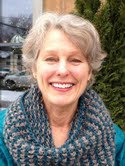 Kathleen Clary Miller has written 300+ columns and stories for periodicals both local and national, and has authored three books (www.amazon.com/author/millerkathleenclary). She lives in the woods of the Ninemile Valley, thirty miles west of Missoula.
********
       For the past three days, I've watched the lightning storms blow across the Ninemile Valley and onto my front porch where I like to sit and feel the thunder.  In my limited meteorology experience (I hail from Southern California where weather isn't a vocabulary word) such drama is played out in films or on news reports.  Here, I get it live—and up to the minute.
            One never knows when turning off the lights and pulling up the bed covers what weather patterns may emerge come morning.  There are forecasts, to be sure, but at best they can predict the basics—the usual snow, sleet or sunshine.  Variables are best prepared for on your property as well as on your person.  Cover, cover, cover.  Layer, layer, layer.  No wonder Montana weather forecasts are detailed by the hour.  This sky is full of surprise.
            Hence, after three days of everything under the sun (rain, hail, sleet, lightning, thunder) but alas, not the sun itself, when I awoke this morning to the proverbial "big sky," it felt like Christmas morning (without the snow, thank God). 
            I dashed and danced through breakfast and mandatory exercise routine in order to get out in it.  My walk is dessert, the reward for the predictable stretches and bends I have to but don't want to do to stay flexible and avert back pain.  Fresh air is calisthenics for the soul.
            Montana's sky really is bigger than any other I've laid eyes on.  I suppose it's a combination of the clean air, the spacious landscape, and the mountains in the distance?  I've spent an entire lifetime living at the seashore, yet even though the expansive Pacific Ocean ends in a straight line of horizon, this sky is bigger.  How can that be?
            Today I sinfully broke my dermatologist's rules and raised the brim of my UVA/UVB protective sunhat to revel in it.  The white clouds puffed in sharp definition, utterly three-dimensional, their etched edges sharply contrasted against a backdrop of deep blue that goes on and on for, well, ever.  It was all I could do to keep from lying on my back in my neighbor's field of tall green grass so I could fashion farm animals in the sky.
            After several more steps I stopped to watch them glide, ever so slowly, their edges shifting and shaping until finally, I surrendered and climbed the corral fence.  Once over it, I spread out flat and tipped back my hat to create my sky story.  There's a lobster claw!  A sea monster emerging from the frothy white seawater foam!  
            No doubt I could have scripted an entire cast of cloud characters, were it not for the fact that they closed in and darkened before my very eyes.  In that same instant, the wind howled and gusted through the pine trees.  By the time I was back over the fence, the first raindrop fell. 
            I'd best scurry back to my front porch and see what sky tomorrow brings.