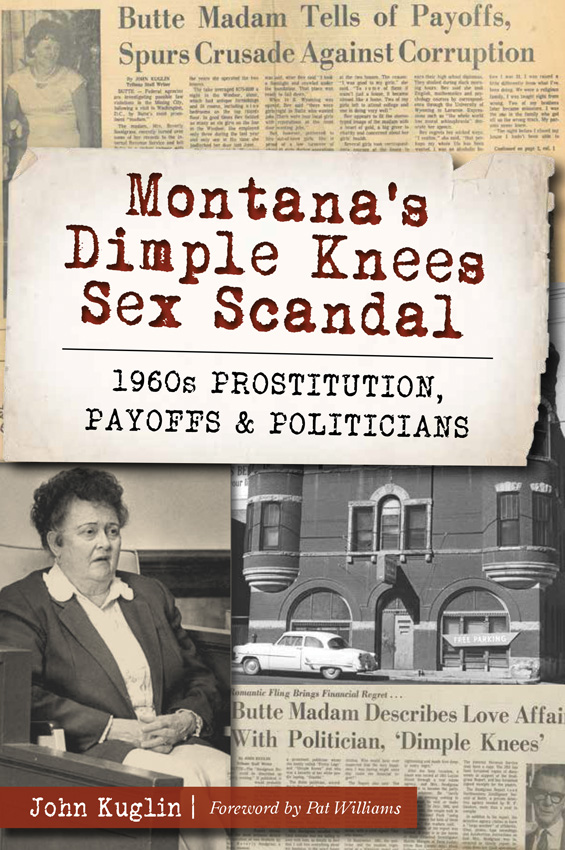 Butte was still a raw, wide-open mining camp when I first saw it in the late 1960s, with illegal gambling, about five thriving whorehouses and bars whose owners regarded the state law mandating a 2:00 a.m. time as something that only applied to the rest of Montana.
Beverly Snodgrass owned two of Butte's leading houses of prostitution. In 1968, the talkative madam, her affections scorned by an official she called "Dimple Knees," who stole her heart and then her money, decided to tell her story to a newspaper reporter. What happened is the subject of this book...
It isn't every day that the madam of a house of prostitution blabs intimate details about her business.
I was a statehouse reporter in Helena for the Great Falls Tribune in 1968 when editor Scotty James assigned me to interview the madam who had operated two brothels in Butte. Beverly Snodgrass said she contacted other newspapers, including The Montana Standard in her hometown. Only the Tribune would touch the story. The Tribune had a reputation for crusading journalism, dating to when The Anaconda Company dominated Montana's economy, politics, and even its newspapers.
I interviewed Snodgrass in the office of the Rev. Joseph Finnegan at Immaculate Conception Catholic Church, where she felt safe. A few minutes into the interview, it was clear that she was a madam who knew too much for her own good. Without prompting from the young priest, she candidly recalled her torrid love affair with the Butte official she called "Dimple Knees."
Snodgrass said that her business thrived for several years. Then payoffs to the police and local politicians, including Dimple Knees, "took every cent I had," even with her houses staying open up to eighteen hours a day.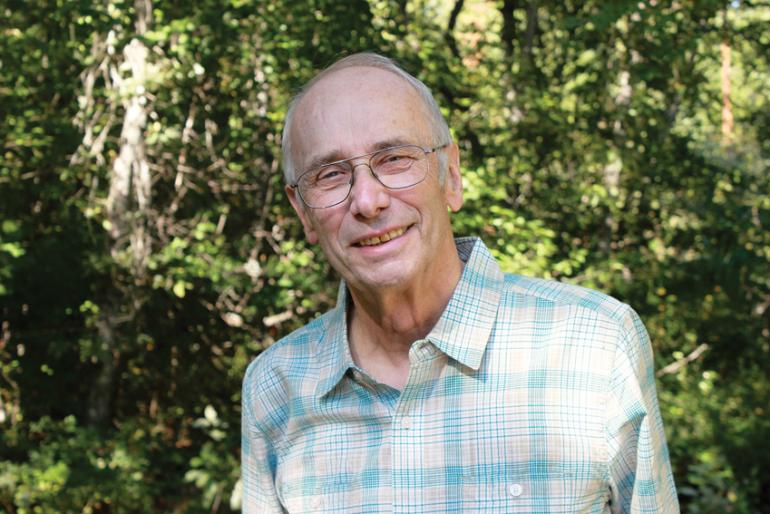 After she objected to paying extortion, the madam said she was severely beaten. An attempt was made in 1964 to use dynamite to knock down a wall of one of her brothels. Her other house was partially gutted by two fires a few days before I interviewed her. The state fire marshal's office called the two fires "suspicious."
At this point Bev ["my friends all call me that"] smiled at Finnegan and said she had embraced religion, Bev decided to tell her story to give a boost to Butte anti-vice crusaders, whose leaders included the priest called "Father Joe" by his parishioners.
As extortion payments increased, the madam hired respected Butte private investigator W.F. Sanders. She gave him copies of affidavits, tape recordings, and files detailing how she operated her houses and made payoffs. From her documents, interviews and his own stakeout for a year, the detective compiled the chilling yet salacious "Snodgrass Report."
"The fatal mistake was my falling in love with him [official, so deeply in love that I told him everything about my business, to the exact figure of money daily that I was taking in, in my business of prostitution," she told the detective...
Bev looked tired as she nervously fingered the lace on her blue-checked dress when I interviewed her in Finnegan's office. She was tall with red hair and appeared to be in her late forties or early fifties. If someone didn't know her former profession they might have thought she was a parishioner meeting with the priest about something like the fall church bazaar.
Who was Beverly Snodgrass? Beulah Maxine Snodgrass was born in West Virginia and moved to Great Falls where she waited on tables at Tracy's, a popular diner. She married Maurice Cameron in 1958. They separated three years later and never divorced.
She moved to Butte and worked again as a waitress before she found a higher-paying job at twenty dollars per trick at 14 South Wyoming Street in the city's notorious tenderloin district. She later bought the bordello.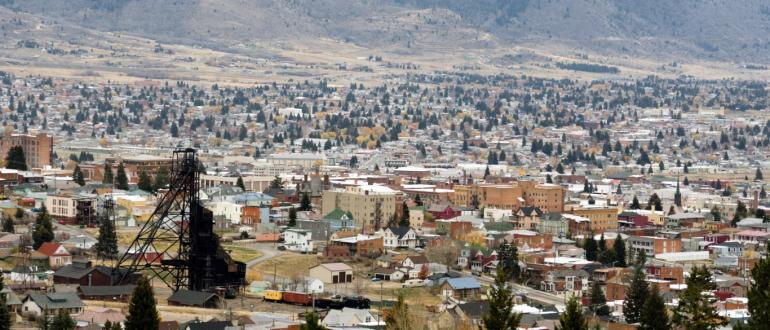 Bev said she was popular with customers and had a lot of repeat business from regulars. "We had only one raid when I worked there," she recalled. "I was the only girl that was caught. I forfeited $300 bond."
Bev purchased 14 South Wyoming from the Andrew Arrigoni estate. Arrigoni had operated the house of prostitution, a few blocks up the street from Butte High School, with his common-law wife, Lee Arrigoni, also known as Ruby Garrett.
The property was sold to Bev at a court-ordered auction two years after Arrigoni, forty, died unexpectedly when Lee, thirty-nine, shot him five times with copper-jacketed bullets, including once in the heart, using a small foreign revolver she had just purchased. Her husband had been seated at a table watching four men play cards at The Board of Trade, a Butte bar. "I didn't plan it, but if he beat me up again I wasn't going to take it anymore," Lee told a prosecutor. Witnesses said her face was so bruised that they could barely recognize her.
After Arrigoni died, it was revealed he was already married. Lee didn't share in the estate. The wronged common-law wife would buy the Dumas, at 45 East Mercury Street, a famous Butte brothel, 12 years after she ventilated Arrigoni...
"I thought that by going into business for myself I could save enough money to be able to go away a couple of years," Bev said.  By 1967, Bev estimated she had paid more than $75,000 in extortion to stay in the prostitution business.
To read much more about how the Snodgrass and "Dimple Knees" affair changed Butte forever, read Montana's Dimple Knees Sex Scandal, published by The History Press, Arcadia Publishing. All royalties will be paid to Butte Citizens for Preservation and Revitalization.