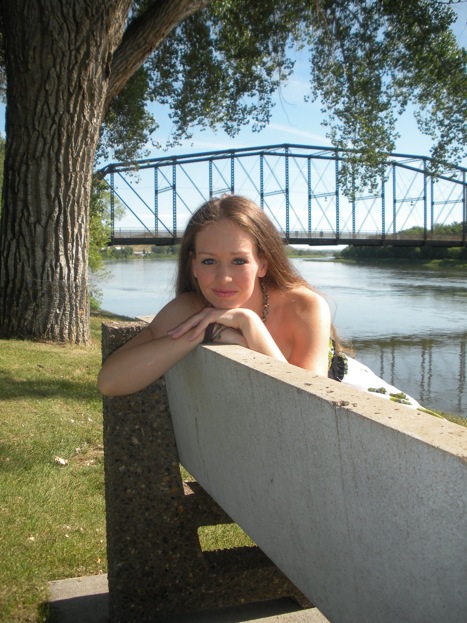 Lacey Middlestead is a Montana native and freelance writer currently living in Helena, Mont. She loves meeting new people and helping share their stories. When she's not busy writing articles for newspapers like the Independent Record and Helena Vigilante, she can usually be found indulging in her second greatest passion–playing in the Montana wilderness. She loves skiing and snowmobiling in the winter and four wheeling, hiking, boating, and riding dirt bikes in the summer.
A few weeks ago my fiancé, Andy, and I attended a wedding at BruMar Estates near Big Fork. It was a gorgeous Montana wedding complete with kettle corn, huckleberry layered cake and glittery mason jars filled with baby's breath. As much as I enjoyed myself, I found myself wanting to flee the wedding early to return to the little bed and breakfast we made reservations to stay at that night.
When Andy and first looked at places to stay for the wedding, we decided we didn't want to make the late-night drive into either Big Fork or Kalispell after the festivities concluded. Then Andy called me one day to say he'd found a cute little bed and breakfast in the Swan Lake area. I was skeptical of the idea at first and worried that it would end up being a bunch of little shacks in the woods with no running water or electricity. I didn't particularly feel like trying to doll myself up for an elegant affair in such conditions. But he was so adamant that it looked like a nice place to stay that I agreed to him booking the reservation.
A few weeks later we found ourselves driving through the Swan River Valley looking for the Laughing Horse Lodge. We pulled up to a two-story log building that was the main lodge. There was a whiteboard leaned up on the front steps that had all of that day's guests listed on it for self-check in. We found our names listed next to our room number and then pulled the car around back to find our room.
We walked through a small garden area to get to our rooms. Tables and chairs were set up throughout for lounging and socializing with other guests during the day. The owner's three golden retrievers lay sprawled out in the sunshine. They were so comfy that even the arrival of new faces to the lodge couldn't rouse them. When we opened the door to our room, we were greeted by two log beds covered in colorful heart embroidered quilts. The wood floors and walls shone with a caramel hue and western themed photos adorned the walls. A narrow bookshelf hung on the wall between the two beds with a selection of books, including the complete works of William Shakespeare, to peruse. It was the perfect cabin abode.
The morning after the wedding, Andy and I headed over to the main lodge building for the complimentary breakfast offered.  We were both shocked and delighted to walk inside and be greeted by a cheerful "good morning" from the owner's cockatoo perched on a limb. We sat down at the table and picked up a menu to see what our options were. There were three tempting delicacies to choose from but Andy and I settled on the peach and huckleberry pancakes that came with your choice of eggs  and either sausage links or bacon. Let's just say I was in sheer heaven!
I can't begin to count how many times in my life I've so carelessly driven past the Laughing Horse Lodge without giving it a second glance. We only spent one night there, but I was truly grateful Andy discovered this little treasure in the Swan. What it lacked in cable television it made up for in furry and feathery roommates, delicious food, and a rustic coziness that warms your soul.