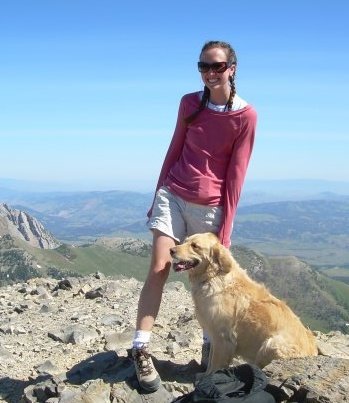 Angela Jamison is a native Montanan and she grew up in beautiful Bozeman. I'm the mother of two girls and write a blog about our life here and taking in the simple pleasures of family and food.
It is 2016, a new year, a time for resolutions and reflection. A time of year when gym memberships are at a record high and everyone plans to make up for all the indulgence of the holiday season. This was very apparent as I walked into my usual yoga class on the Sunday after New Years Day. What is normally a fairly quiet class was packed wall to wall. Most were new faces, a few familiar. It took me a minute to realize why it was so busy this Sunday morning. At first I found myself annoyed as I kept scooting my mat closer and closer to the wall to accommodate the never ending trail of people making their way into the room. I quickly adjusted my mind set to feel happy for all these folks who were perhaps trying this for the first time. I was at yoga after all…a place where your energy is supposed to be positive. I realized the more people finding yoga the better. The Dalai Lama once said if every child learned mediation we could eliminate violence from our world. Now, I don't know if this is true but I do believe yoga can bring something to everyone and a little more peace to the world and compassion to those around you.
I began my yoga journey about 15 years ago. On a whim my sister, a couple friends and I decided to give it a try and see what all the fuss was about. It was just four of us and the instructor, a sweet Russian lady with a thick accent making it hard to understand the already difficult Sanskrit language often used in yoga. We were tucked in the back of a small gym where we could hear the hip-hop music of people working out. This was a perfect first lesson in the yoga world-learning to block out any outside noise and focus in on what's happening on your mat. Although those first few classes felt foreign I knew I was onto something special. By the time we were in savasana (resting pose done at the end of any yoga class) I felt better than I ever had. At that time I was only 23 so feeling good was a common occurrence…now pushing 38 I appreciate it even more. Throughout the years yoga has always been a part of my life. Sometimes with regular, weekly classes, sometimes with long breaks in between before I found it again. Watching the classes fill up this past week I felt happiness seeing the variety of people walking in to discover yoga.
Yoga is for everyone. Of course some think of it as only for hippies or just women or other extremes. This is simply not true. At yoga I see everyone. From young college students checking it out because it seems like the cool thing to do, to skiers popping in to stretch their aching muscles after a day on the slopes, to older folks trying to find a gentler way to take care of their bodies. There are all ages, all abilities and often equal amounts of men and women in the classes. That is the beauty of yoga, you go with what works for you. Just because the person next to you is whipping into headstand doesn't mean you can't settle back into child's pose. It is for you to do what feels best at that moment.
Here in Bozeman we are so fortunate to have so many options when it comes to yoga. We have a couple of hot yoga or Bikram type yoga studios. These are not for the faint of heart. Having dabbled in this briefly I found it wasn't for me. However, there are many who soak up all the healing benefits of practicing yoga in an intensely hot room for 90 minutes. Almost all the gyms in town offer yoga classes and even the Adult Ed program has wonderful intro to yoga classes. This is where I first learned about the world of Kundalini yoga…while sitting with others in what used to be the library of Willson School when I was a kid (that dates me for sure!) There are also several yoga studios making it easy to find a place for you. I have found my yoga home to be at Your Yoga…a laid back studio with a variety of classes offered and a perfect place to try yoga for the first time.
As we get further into this new year I'm sure the yoga classes will continue to ebb and flow. Some will fall in love and continue and some will move onto the next resolution. If you've never tried it, it is worth putting aside any worries of intimidation or fear and going for it. It is good in so many ways. Mentally for clearing your head and staying present. Physically to stretch and strengthen the one body we get in this life. Spiritually…no matter how you feel about this a side effect of yoga is feeling more spiritual. It will bring a sense of peace and calm in all aspects of your life. As you go about doing other things you enjoy….hiking, skiing, fishing, rock climbing…you will find after yoga you will actually enjoy it more. It teaches you to focus on the present moment and that can't help but fall into other parts of your life. The next time you are walking on a trail or floating the river you will notice more, take in more and soak more up. An opportunity to call up the calm you felt in a class in a chaotic moment later in your day. This is powerful.
Whatever resolutions you made, or if you didn't make any at all, think about giving yoga a try in 2016. Taking an hour to clear your mind and simply breath. It is so good. And, if 2016 isn't your year for this maybe the next one will be. Yoga has been around for thousands of years, it's not going anywhere.