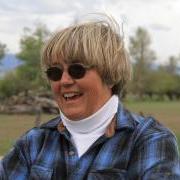 SuzAnne Miller is the owner of Dunrovin Ranch. A fourth-generation Montanan, SuzAnne grew up roaming the mountains and fishing the streams of western Montana. Her love of nature, animals, science, and education prompted her to create the world's first cyber ranch where live web cameras bring Dunrovin's wildlife and ranch life to internet users across the globe.
What an exciting year at the Dunrovin Ranch osprey nest. While Harriet is busy this year finding an acceptable mate, our section of the Bitterroot River is turning out to be a raptor flyway and nesting area. On Monday (May 11, 2015), the Dunrovin staff witnessed two ospreys in the sky in aerial fight with a red tailed hawk. The red tail was very visible and physical contact between the hawk and the ospreys happened twice over about a four minute period. Then today (May 15, 2015), our DaysAtDunrovin members emailed us to inform us of another attack on the nest by a bird of prey. It is unclear to us from the video if the attacker is a Cooper's Hawk or a Merlin Falcon. Both the Cooper's Hawk and the Merlin Falcon have been seen landing on the nest during the winter months to check out the bird feeders below the nest. We have seen a red hawk nest across the river from Dunrovin and clearly within the fishing range of the ospreys; there is a bald eagles' nest about one mile south of us; and we have a golden eagles' nest in the rock spires in the mountains just across the river. It as crowded year for raptors at Dunrovin.
I love sharing my world with you and others. Please Join Us in our Days At Dunrovin community where we can really connect through the miracles of modern chat and web camera technology!