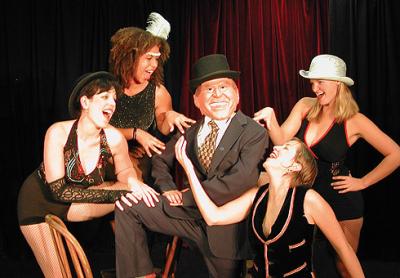 Equinox Theatre is easily the best thing to come out of Bozeman's growth spurt, generating both a host of community programs and whip-smart comedy. Equinox's big-city caliber, hilarious performances leave your smile muscles sore the next day from laughing. "We are the off-beat, way off-Broadway of Bozeman," Artistic Director Katie Goodman says of the group she co-founded with partner and Executive Director Soren Kisiel a decade ago. Associate Artistic Director Kent Davis expounds, "Our goal is to become a top-flight regional theatre destination in the Northwest, and a nationally known touring company based here in our happy, snappy Bozeman. We're sticking around, we're psyched to be here." 
Equinox specializes in 'smart comedy' with complex cultural references that push the bounds of propriety. Davis explains, "It's hard for smart comedy – not just a cheap laugh – to be offensive because it transcends." Goodman says, "We made a conscious decision to do comedy, not because of our personal proclivity, but because people listen more when it's funny." Davis adds, "Laughter breaks down walls. And people are always in the mood for a comedy." And that mood is spreading like wildfire. 
"For so many years we've been Bozemanites' little secret," says Davis, "People have guests in town and they bring them to this cute space on the outskirts of town and blow their socks off with this excellent, big-city quality show. Well finally, after much hard work, we feel like the secret's out!" Equinox artists have had great reviews recently in media as far flung as Helena, Austin and Vancouver. Their infamous all-woman troupe, Broad Comedy, just won the coveted Pick of the Fringe Festival in Canada.  Goodman says of Broad, "We were relieved to see that our material played well outside of Bozeman, to an audience that didn't know what to expect. We had several conversations with agents and other theatre companies around the U.S. and are being invited to perform in several national venues … It's an exciting time." 
As if internationally recognized, pant-wettingly funny comedy isn't gratifying enough for local residents, Equinox is also a relentlessly community-oriented nonprofit,  offering a dozen theatre-related programs. Equinox doesn't just make people laugh; they teach people how to be funny. When asked, 'Can funny be taught?' Davis responds, "We spend most of the time getting people to trust themselves and commit to the process, and then they discover their own sense of humor and style." Goodman adds, "It's getting them to honestly react to ludicrous situations," that creates humor. 
Equinox is the love child of partners Goodman and Kisiel, born in 1995 within days of their arrival in Bozeman. Kent Davis became the intimate third parent in 2001. The three had been collaborating in theatre projects since their University of Pennsylvania days, and while they all pursued academic degrees, their love of theatre kept distracting them from academic careers. After college, Kisiel acted in plays and traveled and studied widely. Goodman ran a women's theatre festival in Philadelphia and started the National Women's Theatre Festival in LA. Davis did the LA scene, acting in plays, doing character parts on television, and appearing in a dozen indie films.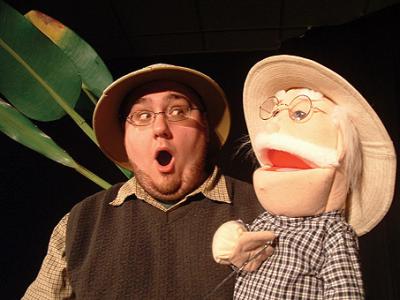 They'd all taught in an after-school theatre program for underprivileged kids in Philadelphia, and were discouraged when the kids would disappear after a few months. "It was dissatisfying not to have smaller community to work with; there was no continuity," Goodman explains. She and Kisiel looked for a smaller community, chose Bozeman, and offered acting classes and a play within months of their arrival. One of the reasons they were able to hit the ground running is because Vigilante Theatre generously had a desk and phone waiting for them upon their arrival. Instead of perpetuating competitive cut-throat theatre norms, Vigilante set an example of expansive community culture. "The more theatre there is in a community, the more people go to see theatre," explains Goodman.
Equinox, a nonprofit from the beginning, has a strong community access philosophy. "We charge $10 a ticket not because we couldn't charge more, but because we are committed to having it accessible and affordable to everyone," Davis explains. "We pride ourselves on having a diverse audience." Equinox members enjoy collaborating together to play to each individual audience. "The magic of theatre is that when you are working with people you respect and responding to the people in the room – everything goes away but the moment," says Davis. Equinox artist Erin Roberg says, "Having audience response is huge and it frees you up to experiment more on stage." She adds, "The laughs we share backstage are equal to the ones onstage." Broad member Cara Wilder says, "I love being a Broad – I get to express myself in so many ways and make people laugh about things worth crying over, like our sad political climate."
While the heart of Equinox is their comedic professional shows, work with kids is an abiding passion for the group. Offerings include Saturday morning and after school classes in which children learn self confidence, creative risk-taking, imagination, cooperation, and, "how to deliver a puhchline like nobody's business," Davis quips. Equinox collaborates with parent and teacher groups to provide arts education residencies in local schools and developed Spontaneous Creation, a manual for teachers on improvisational comedy games and exercises for the classroom that is used around the country. Equinox's Teen Theatre culminates in a Middle School and a High School production. Goodman explains that while the experience gives teens, "quality theatrical tools; the challenge and adventure of the experience gives them life tools as well." Adult acting and improvisation classes were added when parents wanted to get in on the fun their kids were having, and are designed for all levels. 
Another popular offering is Camp Equinox, where kids are taught mime, puppetry, mask making, improvisation, dance, and conflict mediation in an overall effort to create community values among participants. This summer's two sessions serve more than 200 kids which, "works because of the brilliant staff from all over the country culled from MFA programs, who also mentor the teen interns who have graduated from the camp and come back to teach," effuses Goodman. The group is proud to have never turned anyone away from Camp Equinox for need, and gives away about $6,000 in scholarships each summer.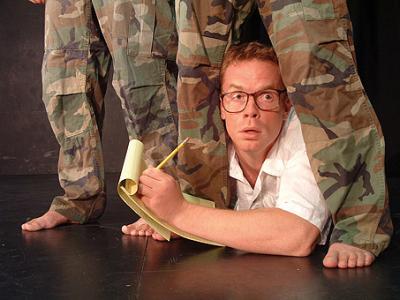 Recently, Equinox launched a Children's Matinee Series with puppet shows, musicals, plays, and "Silly Moose Improv" on Saturdays at 2 pm. Equinox also hosts a monthly Comedy Death Match; an improvisation show with two teams, which Goodman explains as, "Improv Gladiators performing to the death, with bragging rights as the prize." Goodman and Kisiel themselves were inspired to write plays after participating in Billing's Venture Theatre play festival, so began an Original One Act Play Festival with open submission for plays. The 2nd Annual One-Act Festival with five plays by local playwrights produced with actors from the community takes place this January. Equinox also heads the Bozeman division of the International Fringe Theatre Festival, which features hundred of performances in urban areas. but here will begin with several cutting edge performers to start, and grow as the community does. 
Goodman also has created Improvisation for the Spirit workshops, which teach women personal growth and insight through improvisational experiences. "It serves as a tension release; women love it, and they feel better about themselves no matter how they come in," observes Goodman. She tours monthly with the workshops around the country. Participant Valerie Harms recalls, "I would never sing in public, but she (Goodman) had me performing an operatic aria – I felt anything was possible." 
As a nonprofit, fundraising is a constant concern. "We're never short on ideas, just short on people hours; that's the difference that fundraising has made – we can now hire additional people instead of coming to a grinding halt in an insane asylum," Goodman muses. After ten years of hard work, growth this year in private and business support, NEA and Montana Arts Council funding, and more paid performances at far-reaching venues allowed the group to hire four part time troupe members. Equinox's board recently expanded from 5 members to 10, better reflecting their wide-ranging community support. This, Davis says, "positions us for the major upcoming growth spurt we're anticipating."
Equinox shows are often sold out so they are looking for a larger theatre space and will begin a major capital campaign to that end. "We want to grow and continue to develop a deeper relationship with Bozeman and have our growing reputation reflect well on the community," Goodman says.
Equinox Theatre Company is located at 2304 N. 7th, Suite C-1, Bozeman, Montana 59715. For more information on donating, business sponsorship, booking private performances, theatre rental, classes, or for ticket reservations, call 406/587-0737, email [email protected], or visit www.equinoxtheatre.com. 
~ Kris King is a Livingston writer who worships comedians, not saints.