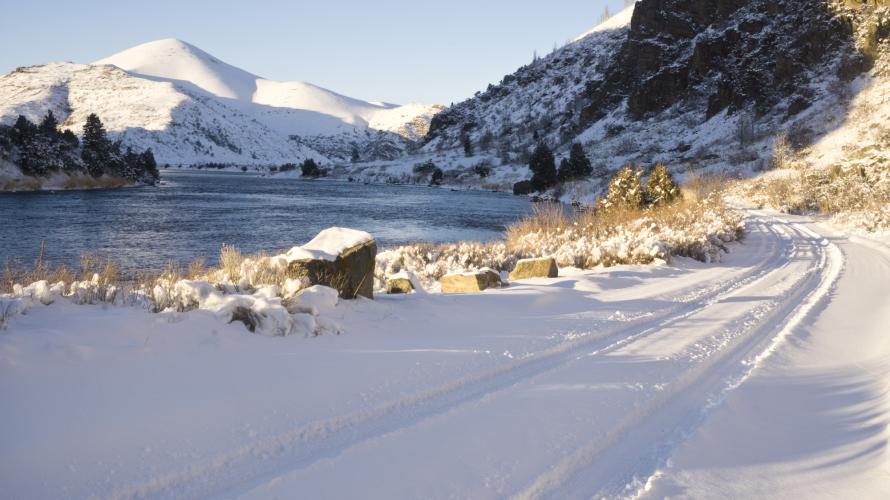 Montana's Top Winter Drives
BY Sean Jansen
Montanans as a whole are an outdoorsy bunch. We are outside given whatever is thrown down from the heavens. Be it rain, shine, or snow. The age-old saying of, "Montana has two seasons, winter and July," doesn't give us a lot of options anyways to be picky about the weather. However, we all have those lazy days. Those days that we woke so comfortably that we want the laziness to last all day. Montana's winters can do that to even the hardiest of individuals. However, work still needs to be done 12 months a year and the snowplow drivers work 24/7 and at times 300 days a year to keep our favorite roads open for our use. We are leaving out some great ones, but for those open year-round, here are our favorite drives to enjoy in winter.
Highway 191-West Yellowstone to Bozeman
Now for those that commute daily from Bozeman to Big Sky and back may disagree fully with the choice as the lines of traffic during a given workweek or fresh powder day at Big Sky may think that the road is a living hell. But if you gaze beyond the taillights of the car in front of you, creating the grip on the steering wheel to tighten and teeth to grind, the road winds its way following one of the most beautiful rivers in Montana. Slithering its way through the Gallatin National Forest and into a section of Yellowstone National Park is one of the only byways that connect us to Idaho and Wyoming. Through some thick forested and wildlife enriched corridors is a winter wonderland drive to be had. (Note: I wasn't joking about the traffic. Enjoy the drive midday or on a weekend for a more pleasurable experience.)
Highway 287- West Yellowstone to Ennis
Cruising next to the giant frozen ice rink of Hebegen Lake, then further carving its way past Quake Lake and ultimately following one of the greatest trout streams on the planet, Highway 287 is a show stopper with scenery from any window of the car. A gaze over to the river or up into the Madison/Gallatin Range and out of the peripheries a moose gallops across the road. In the field, a herd of elk grazes on the grass sticking out of the snow and the town of Ennis beckons the old cowboy life. With another ice-skating rink of a lake at the end to top it all off, this may be one of my personal favorite drives to make in winter.
Highway 86- Livingston to Gardiner and beyond
This highway cruises through a place called Paradise Valley…enough said. A highway adjacent to the mighty Yellowstone River with the magnificent Absaroka-Beartooth Mountains to the east, making for a dangerous highway for the driver to focus on the road. With wide-open vistas and wildlife everywhere, for any Montanan, this place is still as jaw-dropping the first to the thousandth visit. With it being the only highway that gives access to Yellowstone National Park in winter, enjoy the splendors of the Lamar Valley onward from the highway and into Cooke City for those that wish to keep driving.
Highway 93 – Missoula to Sula
Leaving the college town of Missoula and meandering through Lolo, Highway 93 sits nestled along the Selway-Bitterroot Wilderness. With sweeping mountain views, a wildlife refuge, hot springs, and the Bitterroot River, few drives in Montana offer this many attractions and distractions to keep the driver and passengers occupied.
Highway 2 – Whitefish to East Glacier Park Village
Didn't get the chance to explore Glacier National Park this summer? Well, the good news is that it is still open, and it is much quieter than summer. Highway 2 from Whitefish to East Glacier Park Village is a stunning drive offering mountain views with every curve and a good chance at spotting wildlife. Be advised before your drive as road conditions can change rapidly, exposing them to immediate closing. But if they are open, it will surely be an unforgettable road trip.