As the days grow shorter, the weather turns cooler, and all of summer's allure begins to fade, people start to prepare for the winter months ahead in two very different ways. For some, this means sitting in front of the fire and enjoying quiet pursuits until spring arrives. For others, the cold brings snow and so many opportunities to enjoy our area under a blanket of white.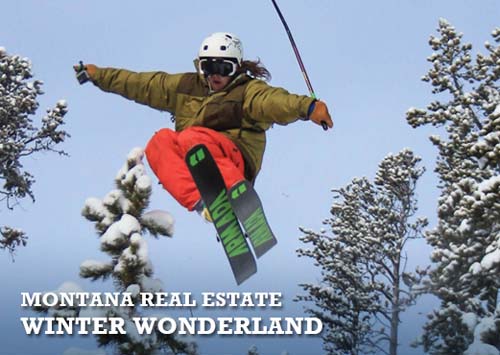 A most incredible phenomenon that should be experienced by any Montana resident or visitor at least once in a lifetime (though I recommend much more often) is the transformation of Yellowstone National Park (YNP) from a swarming tourist destination to a majestic winter wonderland. Snowcoaches, snowmobiles, and cross-country skiing become the predominant modes of transportation, and the solitude that can be found gives the feeling of being in a whole new park. The waterfalls change to magical ice cone sculptures, and the experience of seeing Old Faithful under a full moon in the deafening quiet is second to none. Snowshoes are rented, ice-skating commences, and winter wildlife safaris are booked.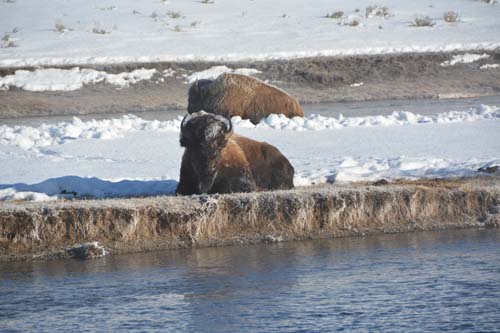 Established in 1872 as our nation's first national park, YNP visitation has grown exponentially over time. When the numbers were roughly tracked in the early years, there were reportedly 300 visitors in the inaugural year of 1872. By 1923, visitation numbers surpassed the 100,000 mark. Move forward to 1948 and the 1 million-visitor benchmark was met. 2010 saw a record setting year with a total of 3,640,205 noted visits. And for 2015, the park recently announced it had exceeded 4,000,000 visitors. Considering that three of the five entrances are located in Montana (West Yellowstone, Gardiner, and Cooke City), that ensures a huge impact on Montana's economy.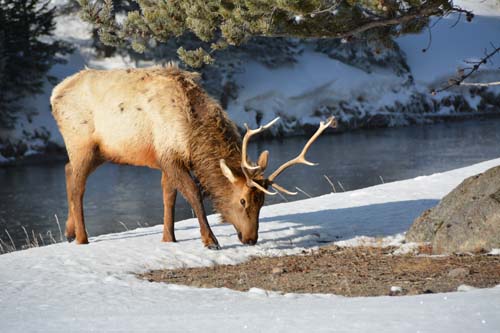 A few facts that fascinate me are the size and complex nature of the park, which is larger than the states of Rhode Island and Delaware combined, at 2,219,789 acres.  During the fires of 1988, approximately 36% of the park burned. Now, a mere 27 years later, one can barely notice the devastation.  YNP is home to one of the world's largest calderas with over 10,000 thermal features and 300 geysers.  Yellowstone Lake is the largest high attitude lake in North American.  With over 1,100 native plant species and 400 thermophiles (an organism that thrives in relatively high water and ground temperatures), 322 types of birds and 77 different mammals, there is plenty of diversity to complement the humans.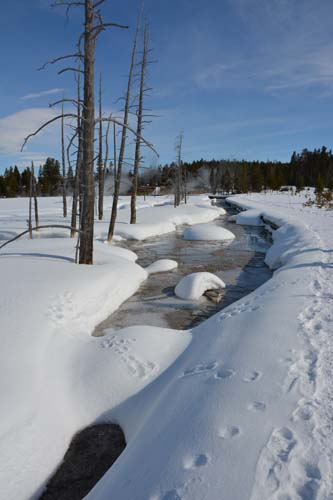 To the north, our other national park, Glacier, also morphs in the winter months to a vivid experience of nature. Glacier National Park was established in 1910 and encompasses more than 1,000,000 acres. 2015 numbers are expected to top the 2014 record of 2,338,528 visitors. Guided snowshoe walks are very popular on the weekends during the first few months of the year. Cross-country skiing is another way to explore the park up close and personal during the snowy season. 
Downhill skiing and snowboarding are part of our many claims to fame. Whitefish Mountain Resort ranked #9 in SKI Magazine's 2016 Best Ski Resort in the West report. This reader's poll placed the resort in the top 10 for value, service, and overall. Whitefish was the only resort that was included in both service and value at that level, which is especially encouraging to find a top notch resort that is affordable. "Big Mountain," as it is locally known, offers 3,000 acres of trails and terrains with 105 marked trails, meaning there is something for every level of skier. 
Big Sky Resort, which now includes Moonlight Basin, lives up to its name. One of the superfluous draws for those from larger metropolitan areas is the remote nature of the location. You are truly away from it all. The pull for the locals is the outright remarkable skiing. With 5,800 acres that includes 300 named runs on four mountains, Big Sky's variety and size are unsurpassed. A total destination-skiing adventure, over 440,000 skier visits were recorded during the 2014-15 season. If you haven't taken in a day of skiing at Big Sky, it is one to put on the schedule for beginners and experts alike.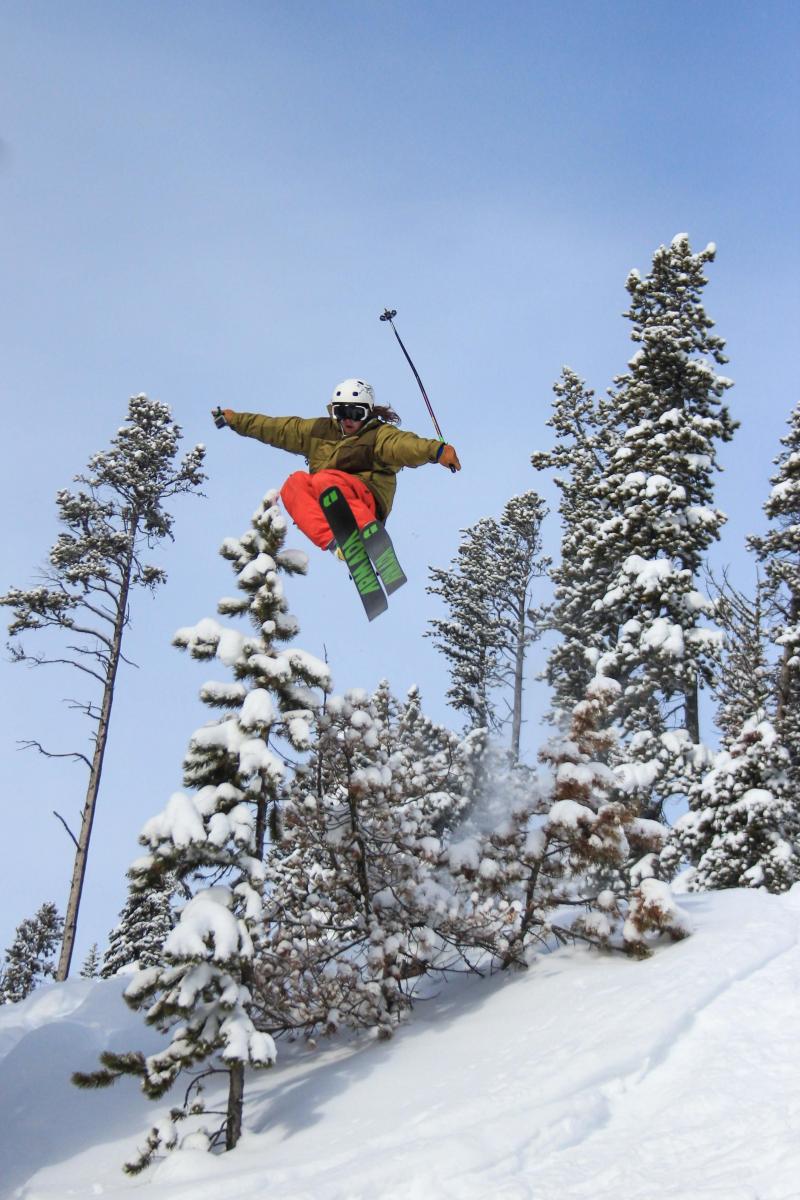 Get stoked for winter! Because we sure are! Big Sky Resort opens for the winter season on November 27, 2014
An additional nod goes to Red Lodge Mountain with their tagline of "Just great snow, great people, and an authentic experience in Montana's Rocky Mountains." Ski and snowboard enthusiasts from the eastern part of our state give kudos to these 1,600 acres on Custer National Forest with 65 trails and groomed slopes. In addition to the 250 inches of average snowfall, the snowmaking system in place is touted as the largest capacity system in the Northern Rockies. 
Bridger Bowl (Bozeman), Discovery Ski Area (Philipsburg), Great Divide (Marysville), Showdown (Neihart), Maverick Mountain (Polaris) and Montana Snowbowl (Missoula) are a few other examples of our Montana mountain ranges providing high quality, downhill entertainment throughout the snowy season. With at least 15 ski areas, the chances of finding one near you are pretty favorable.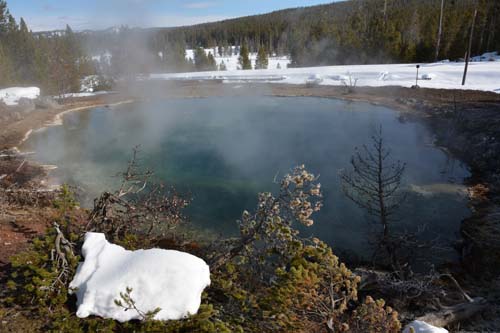 A perhaps lesser known but substantial winter activity comes in the form of ice climbing. The level of participation can be better understood from the upcoming 19th Annual Bozeman Ice Climbing Festival. Events during the festival include clinics (including women's only and kids only) for all skill levels plus the UIAA Bozeman World Cup. Climbers from around the globe who are Olympic caliber will gather in Bozeman to do what they do best. What better way to be exposed to a new outdoor adventure than from the pros?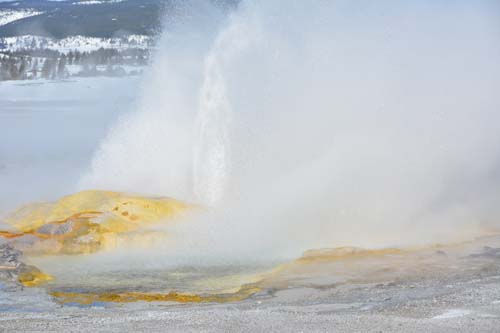 Besides in both of the national parks mentioned above, there is ample opportunity for cross-country skiing throughout our state. Lone Mountain Ranch in Big Sky was voted #1 Nordic Ski Resort in North American by Cross Country Skier Magazine. Lolo Pass, Bohart Ranch near Bozeman, Mt. Haggin Nordic Ski Area by Anaconda, and Red Lodge Area Trails are names that come up often in cross-country circles. It is a fabulous sport that the whole family can enjoy and also happens to provide a great cardio workout during this often more sedentary time of year. 
Though renowned for Blue Ribbon fly fishing in our area, a different version of fishing makes its way to the forefront for the coldest months in Montana. The fish are still biting, albeit under a layer of thick ice. Hot spots across the state include various bays along the shoreline of Flathead Lake, Georgetown Lake near Anaconda, Canyon Ferry Lake between Townsend and Helena, and of course Fort Peck Lake which is most notably the place to go to with your ice fishing supplies. Keep in mind that lakes and reservoirs across our sizable state give ample opportunity to try out this sport.  
Snowmobiling, dogsledding, and sleigh rides also receive their own searchable categories on the www.visitmt.com winter section of activities to try throughout the state. These options all provide a way to enjoy the great outdoors off the beaten track.  
This winter, when the stunning combination of clear, blue skies and a coat of fresh white snow are outside your window, I highly recommend that you don an extra layer of clothes and head outside to experience our incomparable winter glory in any fashion. 
 * * * *
Robyn Erlenbush is a third-generation Montanan who lives in Bozeman. She owns ERA Landmark Real Estate with offices in Bozeman, Big Sky, Livingston, and Ennis along with NAI Landmark Commercial, and Intermountain  Property Management.