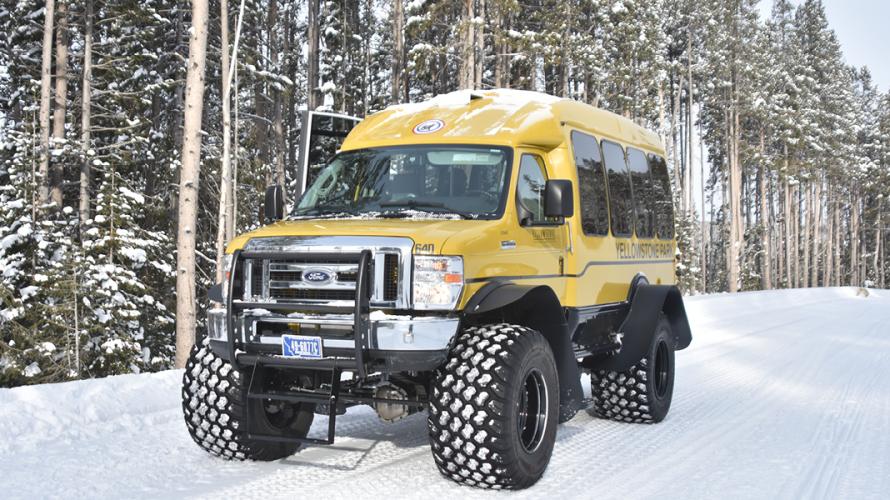 How to Get to Old Faithful in the Winter
   ~Visit Mt
The bad news? The roads to Old Faithful are closed to personal vehicles from mid-November to late April. The good news? The road is open to commercial snowcoaches and snowmobiles as long as you join a snowmobile tour or obtain the proper permit. We'd argue this arrangement makes traveling through the park in the winter a more private, special experience—you'll feel like it's just you and a few other lucky folks who have this winter wonderland all to yourselves. And the best news of all? This trip is more accessible than you might think.
We recently joined a Frosty Fun Package with our friends at Yellowstone National Park Lodges, just one of several ways to access Old Faithful in the winter. The package included transportation, lodging, meals, and activities to make the trip to Old Faithful in the wintertime easy—and nothing short of magical. If traveling to iconic attractions like Old Faithful and the Grand Canyon of the Yellowstone in the wintertime is on your bucket list, read on for a step-by-step itinerary of what to expect on this winter adventure. 
Your snowcoach will depart for Old Faithful bright and early around 7:45 a.m. on Day One of your journey, so you'll want to book lodging in Gardiner, Montana or at Mammoth Hot Springs the night before. Choose from a variety of lodging options and enjoy a cozy dinner and a good night's sleep before your journey begins. Bear in mind your luggage will make the journey to Old Faithful on a separate vehicle, so pack a small carry-on daypack with these essentials to keep with you throughout the day that follows.
Rise early and enjoy a big breakfast in Gardiner before checking in at 7:45 a.m. at the Mammoth Hotel, where your snowcoach driver will greet you. You'll enjoy in-depth interpretation on the first stretch of your snowcoach ride, as well as incredibly snowy scenery and perhaps a wildlife sighting or two. You'll stop at Madison Junction for flush toilets and a snack, steamy Beryl Springs, and spectacular frozen Gibbon Falls.

Expect to arrive at Old Faithful Snow Lodge around lunchtime, between noon and 1p.m. For the remainder of the day, enjoy dining at Obsidian Dining Room (coupons provided!), relaxing at the lodge, or exploring snowy Old Faithful village on skis or snowshoes. Wrap up the day sitting fireside at one of several fireplaces—expect live music on the weekends and plenty of camaraderie with other guests.
On your full day at Snow Lodge, choose your own adventure! Guests can take a snowcoach to the Grand Canyon of the Yellowstone, choose between a variety of ski and snowshoe trails, or take in an eruption at Old Faithful and learn about the park's geology at the Visitor Center. Those wishing to spend the day at the lodge can borrow a book from the Yellowstone lending library, play a game or do a puzzle, or take advantage of free and unlimited ice skating. 

We chose to ski to Lone Star Geyser via the Kepler Cascades and Lone Star Geyser cross-country ski trails. Lone Star erupts roughly every 3 hours, and although we missed the eruption, we were delighted by groomed ski trails, wildlife sightings, and enchanting views of Spring Creek.
Although it's time to say good-bye to Snow Lodge and head back to Mammoth, your final day of this winter adventure won't disappoint. Your journey from Old Faithful to Mammoth includes a stop at Fountain Paint Pots—an incredibly popular geyser basin the summertime that you'll have almost entirely to yourself on this trip. We enjoyed stellar interpretation from our snowcoach driver while exploring this geyser basin, which includes every type of thermal feature in Yellowstone National Park (hot springs, geysers, mud pots, and fumaroles). 
Depending on what time you departed, your snowcoach will arrive back in Gardiner either around lunchtime or in the early evening. Unless you're in relatively close driving distance, we'd recommend booking an additional night in Gardiner at the tail end of your trip so you can rest and relax after your journey.