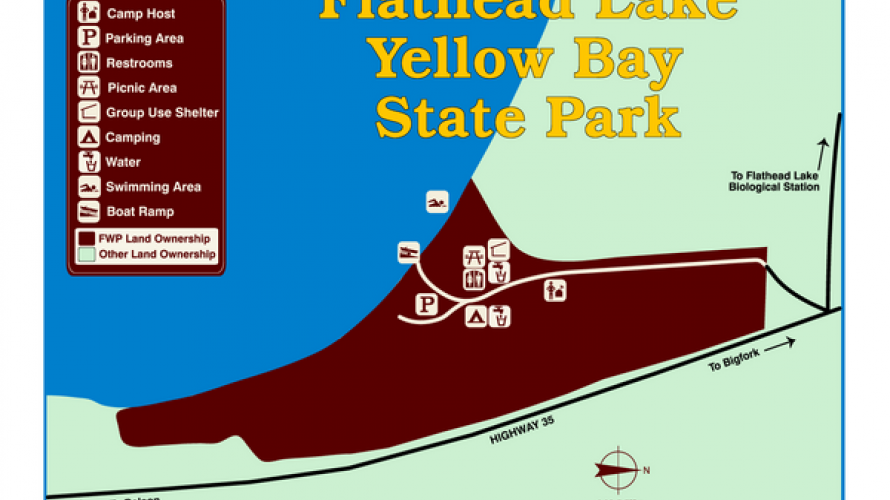 Yellow Bay State Park
Yellow Bay is in the heart of the famous Montana sweet cherry orchards. Cherry blossoms color the hillsides during spring. In the summer, cherries can be purchased at nearby roadside stands or U-Pick orchards. The park includes Yellow Bay Creek, shaded campsites, a boat ramp, a dock, and a wide, gravelly beach for accessing the lake. 
Among its attractions are boating, lake trout fishing, water skiing, bird watching, swimming, camping, and scuba diving. The park is 15 acres in size at an elevation of 2,907 feet. It offers 5 tent sites. 

There are both flush and vault toilets, a group day-use area, pedestal grills, picnic tables, trash cans, and drinking water. No open fires are allowed, only charcoal. There is a 14-day camping limit during a 30 day period. A Boat ramp and a dock are both available.

A joint state/tribal fishing license is required at this site. The campground is open May 1 through September 30. 

There is a golf course nearby in Polson, as well as three museums. 

Fees are charged for camping and day use.
Don't forget to grab fresh fruit from roadside stands or go picking at an orchard!

Looking for activities? You could:

✅ Be on the lookout for birds and plentiful wildlife

✅ Spend a day on the open water boating, canoeing, kayaking or water skiing

✅ A joint tribal/state license will allow you to fish for lake trout

✅ Take a dip in the chilly water 

✅ Take a look at what's under the surface of the water and go scuba diving

✅ Plus so much more!

Regardless of the water level, boaters can typically put their boats in at Yellow Bay due to the steepness of its boat ramp.

There are 5 tent campsites at Yellow Bay, but they are first-come, first-served, so be sure to arrive early to claim your spot! Yellow Bay Creek flows through the park near the campsites, providing a peaceful sound to fall asleep to. 
Let's get outside!