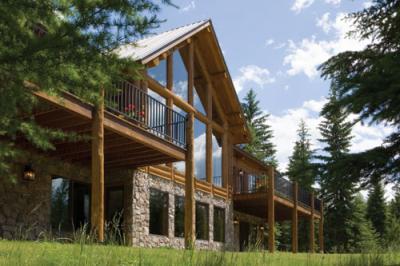 Behold a commodious, breathtaking handcrafted log home in your favorite remote setting. It's snug and warm inside in spite of the icy weather outside. There is a dazzling fire in the floor-to-ceiling fireplace and a convivial meal cooking in the well-equipped kitchen. Faces twinkle with the aftereffects of a day on the slopes or a brisk tread through the woods. Everyone will go to sleep blithe and relaxed, ready to start over refreshed the next day. Log home owners are quite familiar with this scenario. 
Indeed, when you decide to build something as complex as a log home, you'd expect it to age gracefully. But before long, things change. Doors that used to swing freely are suddenly sticking. New cracks in the drywall seem to appear every day. Windows break for no apparent reason. Slabs of the counter rise at the seams.
A typical log home is going to shrink, compress and settle more than a traditional home because of the weight of the logs. With log homes, settlement that is not accommodated for can cause problems in areas such as the kitchen cabinets, doors and windows, gable ends and dormers. Even if the logs are kiln-dried, there will still be a little moisture in them so shrinkage will occur. 
Taking log settlement into account as one of the most important steps in developing a log home plan, Nordique Log Homes, located in Condon, MT., has patented a design that prevents settling while still maintaining a sound structure. 
Using the Nordique System of building, no long-term or heavy maintenance is required to adjust the home as it settles. The exclusive Nordique setup incorporates the use of vertical logs on the corners and spaced along the walls. The process begins with standing dead lodgepole pine logs harvested primarily in the Swan Valley, getting hand-peeled in the company's yard. It's there that the home is constructed into wall sections, which are then shipped to be re-assembled on the customer's foundation.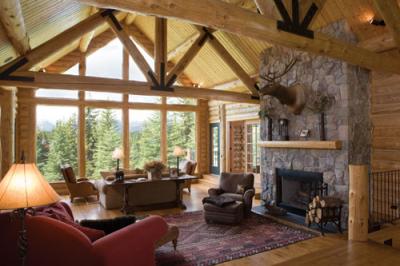 "Nordique Log Homes uses small vertical logs that eliminate shrinkage. Not only are these logs beautiful—many of our homes have logs with "cat faces" which lend appeal to interior logs—but our system eliminates the need for adjustments to accommodate log shrinkage and settlement," says Dan Baker, co-owner of Nordique Log Homes and the inventor of the Nordique Log Home "no settling" system. 
Baker says that all of Nordique Log Homes are built with a definitive no settling system, and that their homes can be completed using the same construction techniques of a traditional frame home. However, he says, Nordique system log packages consistently cost less than your typical log package because the company uses smaller logs; thus, the labor costs are one-third that of a typical log home.
"When you buy short logs, you save on cost. Our log cost is way down compared to other builders. But we still have the talent and expertise to reset a house in five hours as opposed to five days," says Baker. 
Although the company generally works with eight-inch logs, they can get 10-inch logs or longer. Using the Nordique system of vertical uprights that are set at each corner and midway along each wall, there are no exposed log ends at the corners, a customary characteristic of log homes. 
"This way, we've eliminated settlement gaps, which are usually found above windows, exterior doors and the top of interior partition framing that allow the logs to settle down," says Ken Donovan, co-owner of Nordique Log Homes.  
"Logs shrink in circumference but not in length. They can go down as much as five to 12 inches. On a rectangular house things settle unevenly; one side can settle six inches and the other can settle nine inches. It's a nightmare and a horrible mess," says Baker. 
Donovan says that the Nordique System makes 85-90 percent of typical log home problems, including rodent infiltration and burdensome maintenance work, non-existent. 
"We've eliminated the need for screw jacks and there's nothing inside the house's foundation that'll slip. Plus, problems with flies and air quality have been eliminated, too," says Donovan.  
At Nordique Log Homes, the decision to own the perfect log home means much more than just having a roof over your head. That's why the company uses authentic log construction methods derived from historic and well-attested Scandinavian origins. These proven practices duplicate the superiority of hand-hewn Swedish coped log homes, but at a price comparable or often lower than conventional log home construction costs.
Dan Baker and Ken Donovan are both experienced builders and draftsmen—boasting a cumulative tenure of about 50 years in the construction business. Baker and another construction engineer named Bruce Janssen developed the Nordique system of log building 14 years ago, and the company has been in full production of log homes using the Nordique system for more than nine years. More than 80 log homes using the system have gone up in several states, and according to Baker, there have been no calls of grumbling or griping from any of the home owners.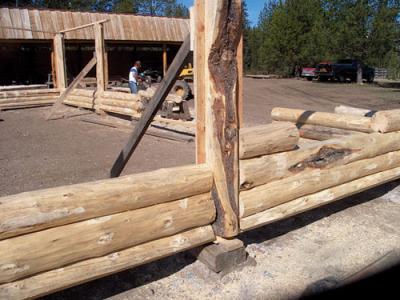 Baker said the inspiration came from an old Norwegian neighbor's suggestion for him to use vertical logs in a log cabin he was building for himself.  A light bulb went off.  He realized he'd invented something seminal in the log home industry after building his cabin and inspecting its foundation and infrastructure one year later. He found that the structure hadn't moved at all – "not even an eighth of an inch. "
"In our method we incorporate vertical dry logs and Swedish-cope them. There are no gaps above our windows, and our homes don't move. They don't come down at all," says Baker.
Furthermore, Nordique Log Homes doesn't use slip joints like most other log home builders, but instead uses a viable log building caulk on its timber products and Swedish copes its logs with a chainsaw so that logs fit tightly above and below one another. Once the insulation is added and the logs are glued and screwed together, the timber cannot, and will not, move. 
Baker says that Nordique Log Homes is flexible in its business approach and can easily accommodate any custom changes requested by their clients. 
"If someone sees features on one plan that they desire and they want us to incorporate them into a different plan, it's not a problem for us to do just that. We custom build all of our homes with special features in order to make the home as unique as possible. Uniqueness is our goal," says Baker.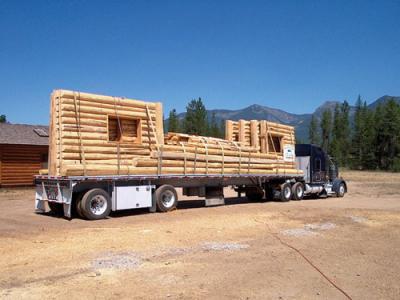 "We've found that when developing the perfect home for our customers, many changes and creative concepts need to be considered and implemented. Our logs are uniquely hand-peeled with a draw knife. We also put the door and window bucks in, too," adds Donovan. 
Moreover, Baker and Donovan both say that the architecture of the graceful log home lends itself to social ambience:  Friends and family gathering around the fire or hovering around the aromatic kitchen; conversations carried on between the kitchen and dining room and into the great room; a loft library overlooking the private study outfitted with cozy leather furniture; recessed lighting shining down over the antique rolltop desk.  
"The log home has everything to offer, including lots of open space and a house that stays warm in the winter and cool in the summer because of thermal mass. It's very quiet living that says a lot about style and décor," says Baker.  
For more information, visit www.nordiqueloghomes.com. 
~ Brian D'Ambrosio is a freelance writer living, working and recreating in Hamilton, MT. Currently, he is the editor of the Clark Fork Journal, a monthly community newspaper based in the Bitterroot. D'Ambrosio is a frequent contributor to Distinctly Montana Magazine.