In the early 80's, I became the marketing director for ERA Landmark Real Estate and was fascinated by why people chose to move to Bozeman and how determined they were to come "Back Home."  I have always said that no one was ever forced to move to Bozeman; although maybe not 100% true, most of us are here truly by choice.  To this day, I am equally amazed by "Why" and love to hear their motivations. Everyone's story is slightly different, but through the years these five reasons seem to keep coming to the top. 
1) The desire for increased "quality of life", small town atmosphere, recreation, schools, and culture.
Bill Muhlenfeld and Anthea George moved to Bozeman more than 16 years ago.  They were living in Lake Forest, Illinois, and were searching for a small town in the West with a high quality of life where they could raise their family.  They were successful business owners of a mortgage company with 200 employees in six states.  They started their search with the help of the book "Best Small Towns to Live In" and visited many places in Washington, Oregon, and Colorado.  But it was a trip to Yellowstone National Park that introduced them to the beauty of Bozeman.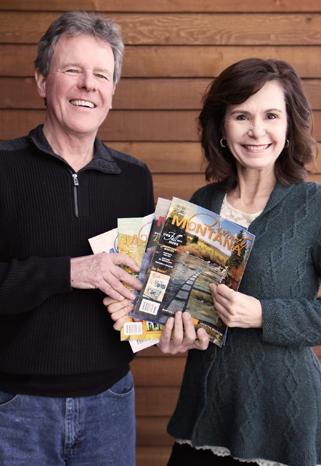 The criteria for relocation included the following:  a college town with vitality and life, cultural activities, and access to outdoor recreations.  They enjoy skiing, hiking, snowshoeing, fishing, and tennis.  What they found when they moved to Bozeman were all pleasant surprises.  The public schools were as good as or better than the private school in Chicago that their children attended.  The airline access and number of direct flights were more than they had anticipated.  They delighted in discovering "a big world in a small town. We had no idea how evolved the cultural scene was, with an Opera, Symphony, Ballet, and the Museum of the Rockies.  Bozeman proved to be everything and more than we were expecting." 
Bill and Anthea are the Publishers of Distinctly Montana magazine and personify the story of so many others who moved to Montana to seek a better life for their family.  
2) The yearning to return home after graduation from a Montana university and leaving the state for high paying jobs or careers.
One such story is Linda Reynolds.  She grew up in Billings and graduated in Chemical Engineering from MSU in 1971.  She was very excited to move after graduation and took a job with Gates Rubber in Denver as a materials engineer.  She later moved to Santa Barbara and was a systems engineer at Raytheon.  She found herself coming back to Montana every chance she had to enjoy her cabin in the Beartooths.  One day it hit her; why not move back to Montana and vacation elsewhere?  She moved to Bozeman in 1980 and planned to start a small manufacturing company.  She also had an established consulting business, and one of her clients was North Western Mutual.  She started as a sales representative and worked her way to managing partner of Montana and Wyoming in 1999.   She retired in 2006 and enjoys many aspects of recreation, including backpacking, skiing, and hiking.  When asked what she missed the most about Montana during her years in Colorado and California…she says, "I missed the Montanans."
3) The telecommuter, who can live anywhere, and chooses Bozeman because of easy and plentiful air access.
After 30 years in the making, this dream is now a viable option and reality for many.  Pulling up roots in the Bay Area and bringing a start-up company to Bozeman, telecommuting to your job in Dallas, or using Bozeman as home base for traveling sales are all feasible.  Our planes are full of working executives and entrepreneurs who could live anywhere, but choose to be here. The stories are too numerous to pick one, but next time you are flying home ask a few travelers around you and one will easily fit this model.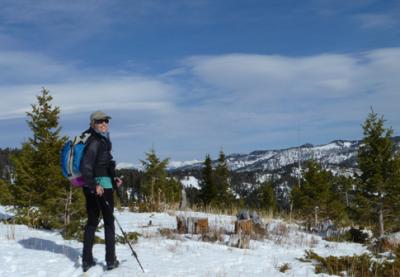 4) The active retiree, whom we all know and envy.
Those who come here to live out their golden years by fishing, hiking, skiing, and recreating often end up serving others.  Many become great contributors back in the work force or volunteer countless hours to our vital nonprofit sector.  One of my favorite all-time "young at heart" retirees was Anna Lee Rousch.  She passed away recently at the active age of 92.  She and her husband, Allan, a Montana State College 1940 grad, returned to Bozeman in 1983 to retire.  I got to know and love her through her many years of volunteer efforts at the Museum of the Rockies.  She enjoyed classical music and live performance.  If there was a cultural event at the Willson Auditorium she was there, usually near the front.  She was so thrilled to live to see the renovation of the Willson, a project near and dear to her heart.  
Another reason we see so many retirees here is the desire to move near family.  A very popular trend today is to move close to the kids and grandkids, especially when they live in a cool, fun place like Western Montana.  More housing is designed to reflect the ability for multiple generations to live together.  Accessory dwelling units, duplexes, main homes with a separate cabin or living quarters are gaining in popularity.  
5) Those who choose to  vacation here in their own home.
This trend occurs mostly in Big Sky in the form of second, third, fourth, or fifth homes.  For those who have multiple homes across the U.S., Big Sky has become a sought-after place for the perfect ski-in, ski-out recreational mecca.  The Yellowstone Club is growing at an unbelievable rate, with upwards of 100 mega homes and condos in some degree of construction.  We also see this phenomenon occur during the summer months in Bozeman, Livingston, Ennis, the Madison Valley, and Paradise Valley.  The trends are extreme, from bigger homes near recreation where multi-generations of family can come to visit for large gatherings, to small get-away cabins offering total privacy, to edgy "flats" above Main Street to take in all the action.  
* * * *
Robyn Erlenbush is a third-generation Montanan who lives in Bozeman. She owns ERA Landmark Real Estate with offices in Bozeman, Big Sky, Livingston, and Ennis along with NAI Landmark Commercial, and Intermountain  Property Management.