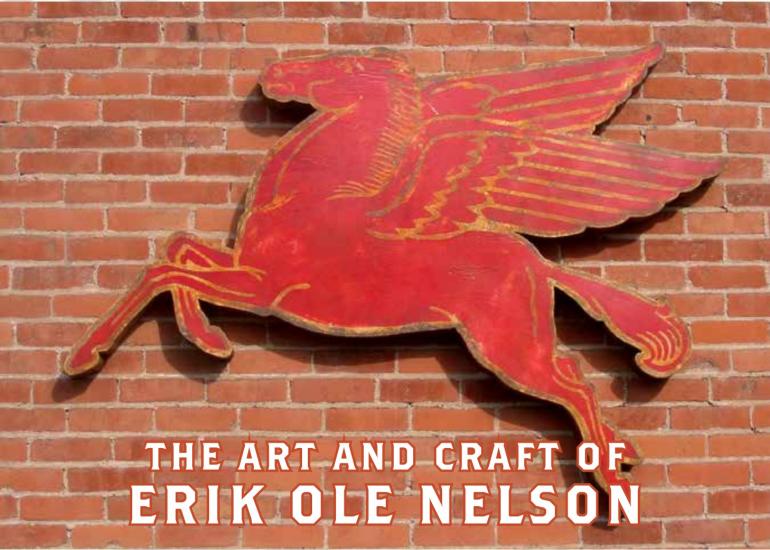 Erik Ole Nelson, Ole to his friends, creates one-of-a-kind sculptures and signs all over Montana. And if you've been to Bozeman or Missoula recently, chances are you've seen and admired his work. 
There's "Daydreamer," the steel sculpture that adorns Bozeman's City Hall, and "Fish Face," in Soroptomist Park. And visitors to Missoula College's River Campus will be awestruck by "Emergence," nearly twice as large as his other sculptures and his first commissioned public art piece. His recreation of the historic Rialto Theater in downtown Bozeman is one of his most ambitious projects, painstakingly reconstructed from old black and white photos, an instantly iconic neon-red beacon over Main Street. He also has a beautiful art nouveau piece in the Kimpton-Armory Hotel entitled Summer Etha. 
But how did it all start? 
"I have always been into the arts, drawing, and building as a kid, doing woodworking and electronics as I got older," he says. "In high school, I was taking classes in computer art, then graphic design, and finally CNC plasma and routing machines that would turn the digital art into cut objects and shapes that would later become signs and sculptures." 
Since then, he's developed his own process for the sculptures. He starts "with a black and white drawing, and then it's converted to a digital version for cutting out of steel sheets."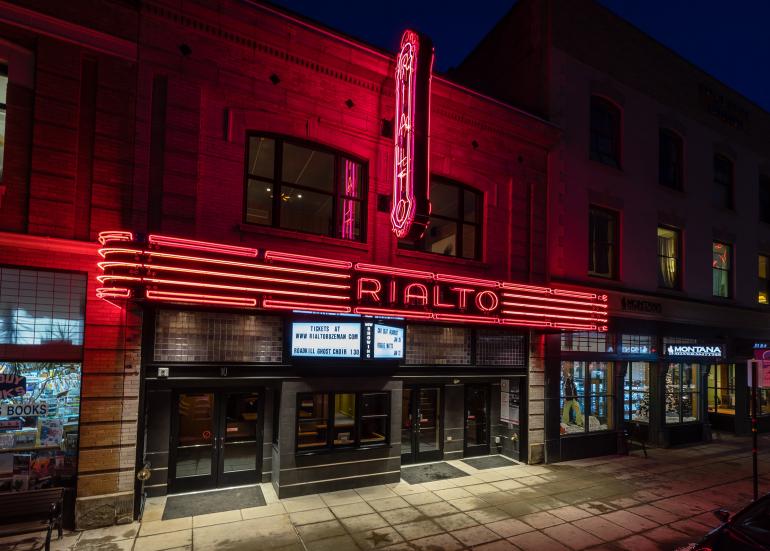 "After that," he tells us, "the steel sheets are welded to a framework of angle iron and attached to a support tube that secures it to the ground. The weight can vary from a few hundred pounds to several thousand, depending on the size." 
Despite being steel, Nelson's sculptures feel organic, evoking nature's gentle forms. He describes them as "abstract expressions of movement and gestures, with human related shapes filled with the energy of motion... The human form and how we interact with nature drives most of the inspiration for my work and its content." 
Well, most of his work. 
"Montana is also endlessly inspiring for my work, from the incredible four seasons, the rugged terrain, and the vastness of the open spaces."
Like all Montanans, he has his own version of the Montana dream, a subvariant of the American dream: "For me, the dream of Montana is to find a way to follow the path that links the skills and passions of making a living while learning and interacting with the abundance of nature that surrounds us, while at the same time making a lasting contribution to the community and highlighting its strengths." 
The community is at the heart of his work. His sculptures and signs are designed for the enjoyment of members of the public, not just for the rarified world of private collectors and museums. They are there to be looked at and shared.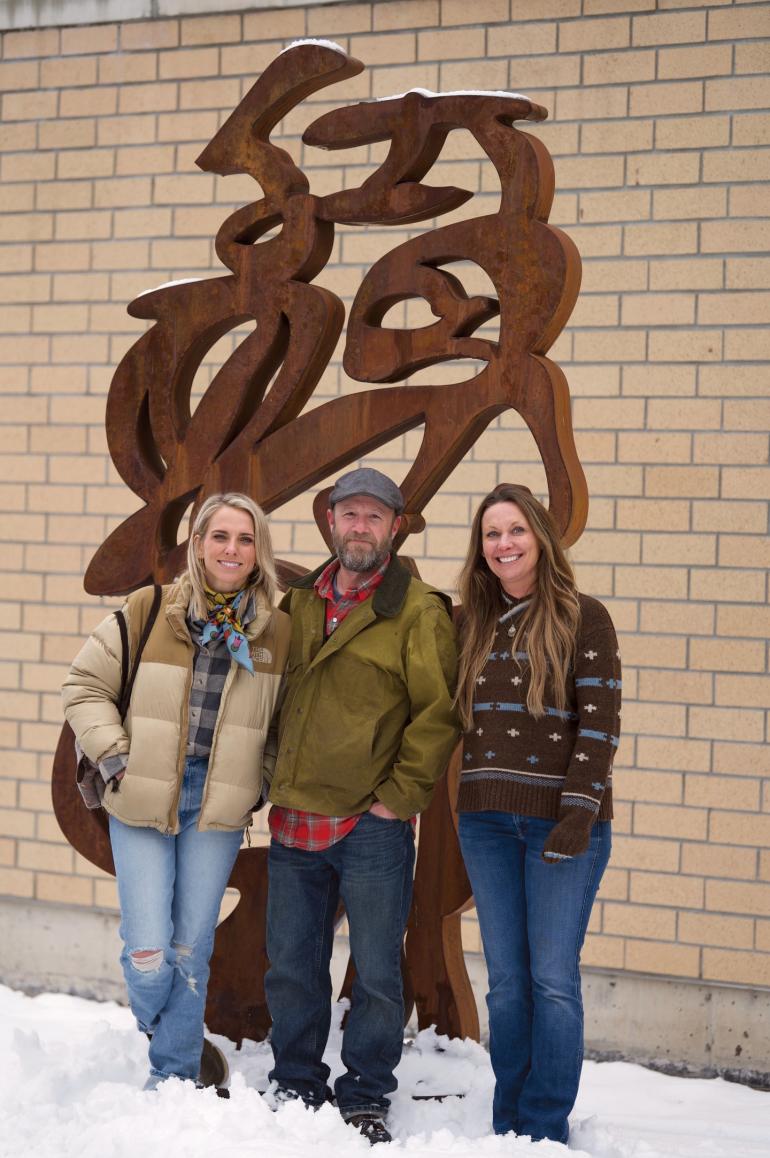 That aspect informs both branches of his work. He enjoys them both, and they offer distinct challenges. 
With signs, he says, there are "an incredible amount of little details, wiring, neon, engineering to mount over the public right of way, painting permitting, navigating the city planning department, accuracy of historical records and photographs, and of course the demands and timeline of the customer. Sculptures have a few of the same demands but are much more focused on the content, form, and execution of my building technique." Both are satisfying, he says, but in either case, what drives him is that the work has "a community and cultural component." 
It's a principle he shares with his friends Trecie Wheat-Hughes and Jackie Wickens of Yellowstone Brokers. They exemplify, he says, being "in tune with the community," not to mention "the ever changing ups and downs of the real estate market... I would say that both Jackie and Trecie have incredible energy, are very devoted to their customers and strive to carry out their transactions in the most professional and honest fashion possible. Both have wonderful people skills, are excellent listeners and overall do a stellar job as real estate brokers." 
And he ought to know, since he's worked with the Yellowstone Brokers to buy and sell two properties recently. But it's not all business; Ole is proud to say he's known Jackie and her husband Jason for over a decade—as a matter of fact, Jason is his business partner in "Live From the Divide," which brings an eclectic variety of songwriters to an intimate and rustic venue with a hundred-year-old stage, and introduces national and local artists to the community. 
There's that word again: community. 
We had to ask about his name as an afterthought. What's the story with "Ole?" How's that pronounced? 
"Ole is pronounced O-Lee, and it relates to Norwegian jokes," he told us. 
Apparently, he was so well known for telling Norwegian jokes while at Montana State University that his friends started calling him Ole after the old Scandinavian "Ole and Lena" jokes. The name has stuck. 
Erik Nelson is Ole to his friends. If you're a member of the Montana community, that makes you a friend. 
So please, call him Ole.
| | |
| --- | --- |
| Trecie Wheat Hughes | Jackie Wickens |
| Broker | Broker |
| (406) 579-5416 | (406) 451-3485 |
| | |