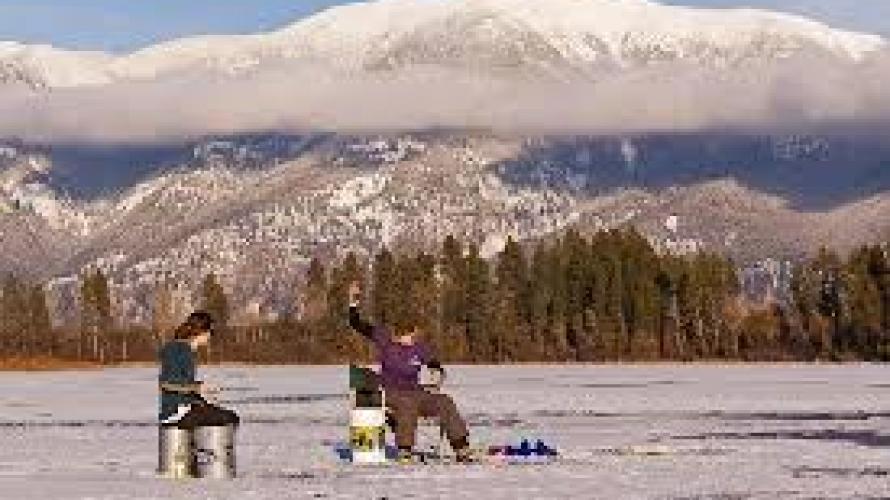 Are you confident about your fishing skills?
Do you plan to take your next fishing trip during winter?
Whether you feel like a pro-angler or a seasoned one, there are very important factors you need to put into consideration beforehand.
•    Your safety 
Be careful to know more about the depth of the water covering the ice before starting out your fishing activity. Doing the contrary is a big threat to your own life.
Find more information regarding the place from the locals.
Involve the services of fishing guides who will have a lot to educate you about fishing in the area. Take your time to understand how long the lake has been under the ice cover.
Check whether the temperature has been at zero degrees. Survey the area and find out whether there have been other anglers around. Try not to go ice fishing alone; get a friend to accompany you. Carry out some ice tests to be aware of the depth of coverage. Keep off if the depth happens to be less than 2 inches. If the depth is 4 inches and above, you are lucky as that can support you while you fish.
•    The fishing gears
Did you just purchase some new fishing gear and you are ready to give it a test while ice fishing?
As much as they may be new just check them out to avoid disappointments. Check whether the reel is in a sound condition and able to function effectively.
How about the lines and the rod?
Do they raise any doubt about their next performance? Have them fixed before you start out your fishing trip.
•    Your fishing outfits
It's definitely going to be very cold experience fishing on the ice. Just how much preparations have you made in terms of clothing. Do you think you have it well thought out? If you already feel cold and haven't even begun your trip, just maybe you are late. Your body may withstand the cold just for some time. Just be careful that you do not freeze out because you might catch a chill. If that happens to you then you will need to warm up by moving to a different zone.
Be careful to keep the warmth in check lest you become dehydrated. It's advisable for you to dress in layers, let you first lay be able to keep you dry other than attract sweat. Lastly, cover it all up with a warm jacket for winter.
•    Keep off from the wind
Keep off from the direction of the wind as much as possible. Position yourself under the cover of a foothill, mountain or even high tree coverage. This will make it easier to construct an ice tent that is effective. Otherwise, you might spend your entire day trying to lay out a tent instead of fishing.
•    Drill holes
Drilling holes will help you to identify the spot where the fish may be hidden. Be sure to reach under the sand coverage because that's where most fish hide. Making the holes in the ice will also help you to know the depth of the ice coverage.
Are you probably asking yourself where to go next for some great ice fishing experience, here are great areas for you to put into consideration?
•    Georgetown Lake
Georgetown Lake is among the most scenic places in Montana you would definitely love to try out ice fishing. The lake is found in the western part of Montana near Anaconda. The lake has a depth of 600 feet and it has the beautiful Sapphire mountains in its vicinity. Another interesting feature surrounding the lake is the Flint Creek and distinct Anaconda.
•    Lake Flathead
Flathead Lake is found in the west of Mississippi river. The lake is one of the biggest water bodies in Montana with fresh water. The lake covers a distance of 197 miles gently flowing past the flathead valley.
In the areas close by is the beautiful Glacier National Park with amazing fauna and flora to marvel about.  However it's important to note that the lake rarely freezes, but despite that, there are several shores along it great for your ice fishing experience.
•    Hyalite reservoir
Water in the reservoir gets frozen mostly towards the close of the year. It will be ideal for you to plan your visit putting in mind its freezing season. Hyalite reservoir is found 12 miles in the southern parts of Bozeman. While fishing at the reservoir, the brook trout, yellow stones, and cutthroat species are your likely catch. The water reservoir covers an area of 206 aces down the valley.
•    Lake Canyon Ferry
Lake Canyon ferry comes 3rd among Montana's largest lakes. While visiting, you can easily access the gorgeous lake from Helena. When here you may be lucky to catch the trout and walleye.
•    Lake Hebgen
Lake Hebgen is found closer to the public lands and therefore very easy for you to locate.  The lake which expands more than 15 miles is found in the western part of the Yellowstone National park. Be sure to visit Lake Hebgen in the month of December to May. This is when the lake gets to freeze, and you can now enjoy ice fishing.
Conclusion
As you plan to go out ice fishing, keep in mind that your safety is your responsibility. Take your time to plan and organize for the best trip ever. You owe it yourself actually for the wonderful time you will have despite the cold. Simply set all you need in place i. e the fishing gear, warm clothes, and company.
Montana with its variety of great places for ice fishing shouldn't miss in your next destination. Make your options open and find out just what you have been missing all this long. Make sure to grab a friend along because of the cold ice, the company of a friend will come in handy.
Jim Watson is a passionate angler. He started fishing at the age of 9, and is a full-time travel and outdoor blogger. He publishes his fishing experience on his blog, https://www.buyfishingguide.com