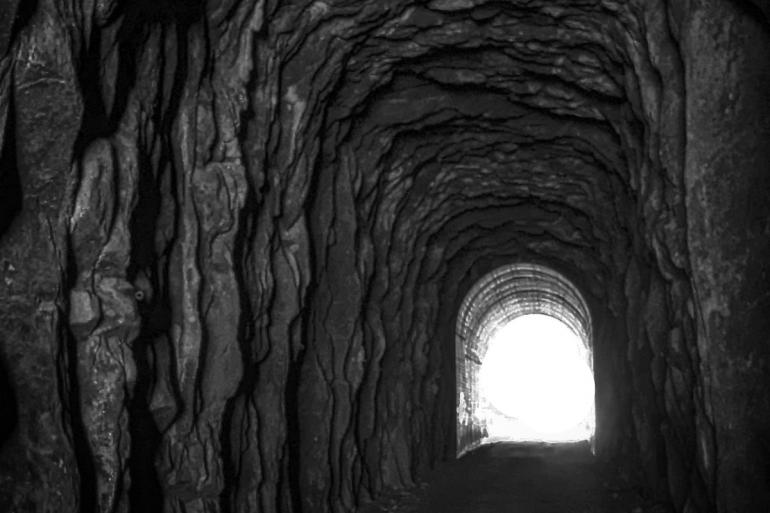 Abandoned railroads are a whole mood: romantic, mysterious, and terrifying, they have inspired no shortage of movies, novels, and waiting room artwork. But it turns out artistic inspiration is not a defunct rail line's only use. Abandoned lines have been having a bit of a renaissance—not as thoroughfares for trains, but as multi-use trails for pedestrians, cyclists, equestrians, and cross-country skiers. 
Per the Montana Department of Transportation, 14 railroad companies have gone defunct over the course of the state's history. The exact mileage of unused or abandoned line appears unclear, but given that Montana retains about 3,300 miles of active rail line, it can be surmised that at least several hundred miles have fallen into disuse over the decades. 
Many local governments have been able to acquire easement rights to unused rail lines with the help of the D.C.-based nonprofit Rails to Trails Conservancy (RTC). RTC sees unused rail corridors as a source of untapped potential for communities. Why spend money on carving out a new bike path when a perfectly serviceable thoroughfare is already there? A rail-trail encourages outdoor recreation for residents and visitors of all abilities, showcases local history, and stimulates the local economy. 
By investing in the development and maintenance of old railroad corridors, communities across Montana are investing in the community-building potential of these unsung historic resources. What's more, their investment is your gain. There are dozens of beautiful rail-trails across the state for you to enjoy year-round. They tend to be flat, wide, and incredibly scenic pretty much by default. Many stay plowed in the winter, so you can enjoy the trails no matter the season.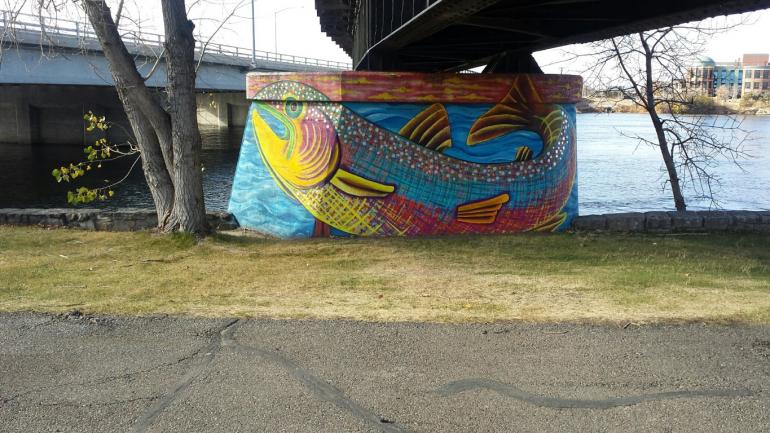 RIVER'S EDGE TRAIL
GREAT FALLS, MONTANA
LENGTH: 55 miles
ADA ACCESSIBLE? Yes, in paved areas (3 miles concrete; 20 miles asphalt)
HIGHLIGHTS: Vivendi Site, Boston and Montana Barn, Tenth Street Bridge
Hugging both sides of the Missouri River, the River's Edge Trail in Great Falls was designated a National Recreation Trail in 2018 for good reason. River's Edge Trail offers unparalleled views of the five spectacular falls, along with pedestrian access to the Lewis & Clark Interpretive Center. The trail even meanders through Giant Springs State Park—Montana's most beloved state park, if you go by visitation numbers. Giant Springs is home to one of the world's biggest freshwater springs, along with the world's shortest river per the Guinness Book of World Records. 
A large section of trail occupies a former section of the Great Northern Railway, which merged in 1970 with three other railroads to form the Burlington Northern Railroad. The line that became the River's Edge Trail had fallen into disuse when Burlington Northern pulled up the tracks in 1991 and split the easement rights with the city and the River's Edge Trail Foundation, a local nonprofit which aimed to build an urban trail that gave all residents easy access to the outdoors. 
The Foundation partnered with the city and Montana State Parks to maintain and develop the trail, and the trail continues to grow thanks to several ongoing projects. Today, the River's Edge Trail is home to 18 vibrant murals, a free-to-use telescope, a 2,500-year-old archaeological site, and several historic sites associated with Great Falls' industrial past. The ruins of the Montana Smelter's smokestack are visible from the trail, as are the retaining walls of the old Anaconda Copper Mining Company complex that processed ore from Butte for 100 years. 
The trail within city limits and along much of the river is paved, while some trail segments further upstream have more varied terrain and are popular among mountain bikers. The River's Edge Trail Foundation maintains an interactive map that gives helpful details about each segment of the trail, including ADA accessibility, amenities, nearby trailheads, and points of scenic or cultural interest.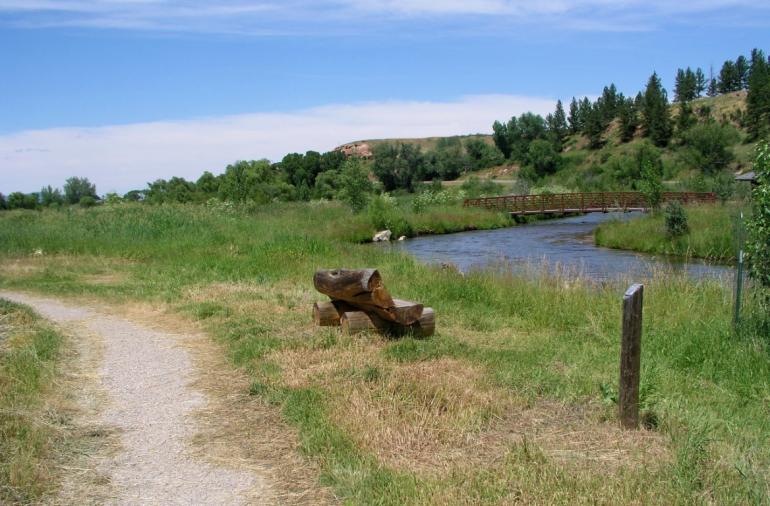 LEWISTOWN TRAIL SYSTEM
LEWISTOWN, MT

LENGTH: 20 miles
ADA ACCESSIBLE: Yes, on paved segments
HIGHLIGHTS: Frog Ponds, Brewery Flats
Lewistown, Montana is famously home to the Yogo Sapphire, but as a community, it has so much more to offer. High on its unsung gem list is the Lewistown City Trail System, a multi-use trail that extends from the historic downtown into the endless prairie sea. The Big Snowies and other ice-blue island ranges are the only interruptions on an otherwise unbroken horizon. 
Twenty miles in length, much of the Lewistown Trail System sits in what used to be a line on the old Burlington Northern Santa Fe Railroad. The city acquired the abandoned railroad bed in 2006. The community advocacy group Friends of the Trails formed around this time, and along with the city continues to maintain and develop the growing trail system. 
The trail is largely paved through town, then turns to crushed gravel once out on the prairie. Brewery Flats Recreation Area is the site of a former brownfield crossed by Big Spring Creek. The city acquired the land, rerouted the previously straightened creek, and replanted riparian species. This all helped to restore vital fish habitat, with the added bonus of the area not looking like a brownfield anymore. Frog Ponds, formerly two ponds built in the mid-twentieth century, were also restored; this peaceful resting area is a favorite for fishing. The city's parks and recreation department have conveniently mapped the graveled and paved sections of trail.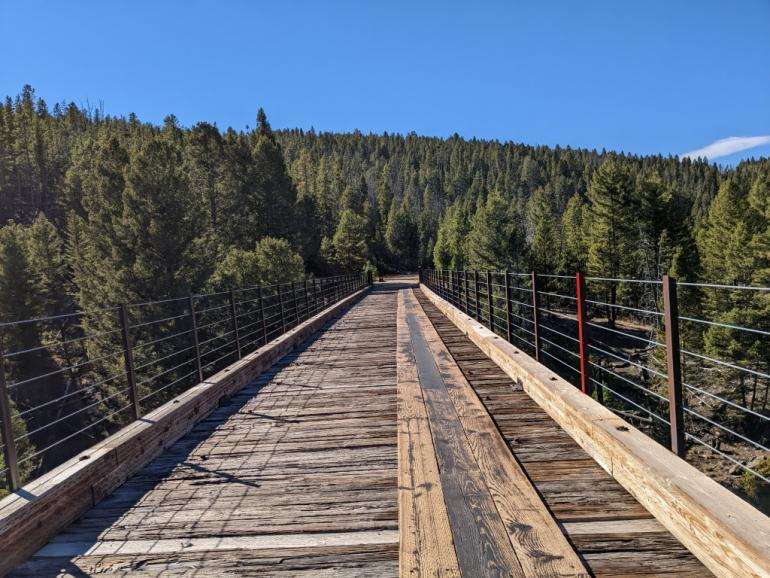 THOMPSON PARK 
PIPESTONE PASS 

LENGTH: 4.5 miles 
ADA ACCESSIBLE: No; gravel surface 
HIGHLIGHTS: 600-foot steel trestle bridge, two railroad tunnels
When it comes to railroad tunnels, no rail-trail can surpass the Route of the Hiawatha in Idaho. But with its two intensely dark tunnels and 600-feet steel trestle bridge, Thompson Park south of Butte in Pipestone Pass holds its own. In 1915, millionaire engineer William Boyce Thompson gifted 75 acres of former placer mines to Butte for the formation of a city park. In 1922, Thompson's gift was augmented by land in the Deerlodge National Forest, and the site was designated by Congress a "Municipal Recreation Area." In 1935, the Works Progress Administration (WPA) helped build ski jumps, campgrounds, and trails and roads throughout Thompson Park. A section of old Milwaukee Road makes up 4.5 miles of the 25-mile trail system. 
Today Thompson Park is exclusively a day-use area, and especially popular with bikers and cross-country skiers–though walking and horseback riding are also totally acceptable options. Thompson Park is also the only rail-trail in this article that is a segment in the Great American Rail-Trail, a RTC project that aims to build a continuous multi-use recreation trail across the country from Washington State to Washington, D.C. In Montana, this proposed trail would cut southeast from Lookout Pass, crossing Homestake Pass and the Headwaters area before turning at Livingston down the Paradise Valley.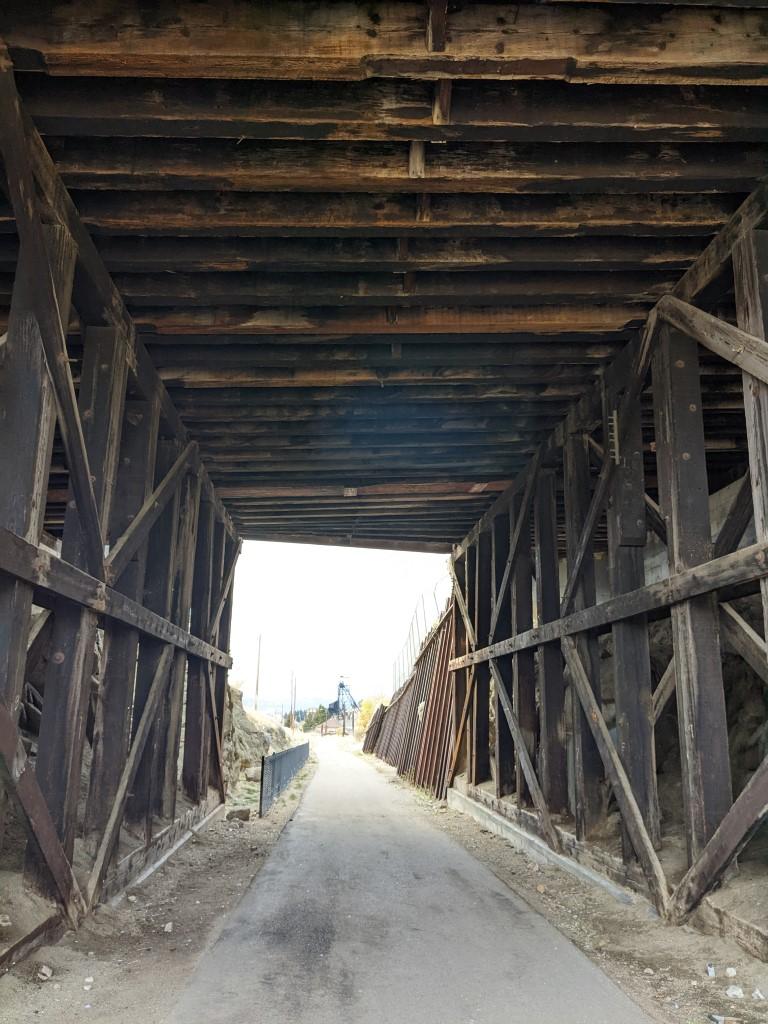 BA&P TRAIL 
BUTTE, MONTANA 
LENGTH: 4.1 miles 
ADA ACCESSIBLE: Yes, on paved segments 
HIGHLIGHTS: Headframes, Big Butte Open Space, World Museum of Mining (April through October)
Film location for the 1985 action thriller Runaway Train with Jon Voight, the Butte Anaconda and Pacific (BA&P) Railroad is a fun and family-friendly way to take in Butte's historic mining landscape. First incorporated in 1891 to carry copper ore from Butte's mineyards to the smelters in Anaconda, the 30-mile short line was the nation's first freight line to electrify. The line closed in 1985 at the same time as the smelters. 
Today, you can walk or bike southwest from the trail's start on Wyoming Street through historic neighborhoods, taking in the headframes at Kelley, Mountain Con, Steward, Original, and Anselmo mines along the way. You can branch off to the Big Butte Open Space, or keep heading southwest to the World Museum of Mining, open April through October (though underground tours have been known to occur in the winter). If you keep going, you can hook up with the Silver Bow Creek Greenway and enjoy a case study in Butte's "phoenix from the ashes" saga following its Superfund designation.