There's nothing like hauling your body up a slab of million-year-old gneiss to get your blood pumping. Come spring, the friction tends to be good and it's sometimes even warm enough to climb in shirtsleeves. Bouldering is a stellar way to spend time outside with friends, explore the outer realms of your comfort zone, and build strength. The trust you build in your mind and body carries over to many aspects of everyday life. And because the cost of entry is low—you don't need much expensive gear other than shoes (and probably a buddy's crash pad), bouldering is a great recreation option for folks on a budget. 
(potential sidebar) The rating system used in the US is the V Scale, named for John "Vermin" Sherman, who was one of the first to democratize a way to rank difficulty with a few friends in the famed Hueco Tanks area in Texas. The scale goes from VB (routes for beginners) to V16. A "+," "-," or "R" can further differentiate the routes as being more difficult for the grade, less difficult, or having a longer fall than typical.
Mountain Project lists nearly 500 bouldering problems in Montana, one-fifth of the all of state's documented climbing routes. Here's a taste of some of the best boulders you'll find in the state.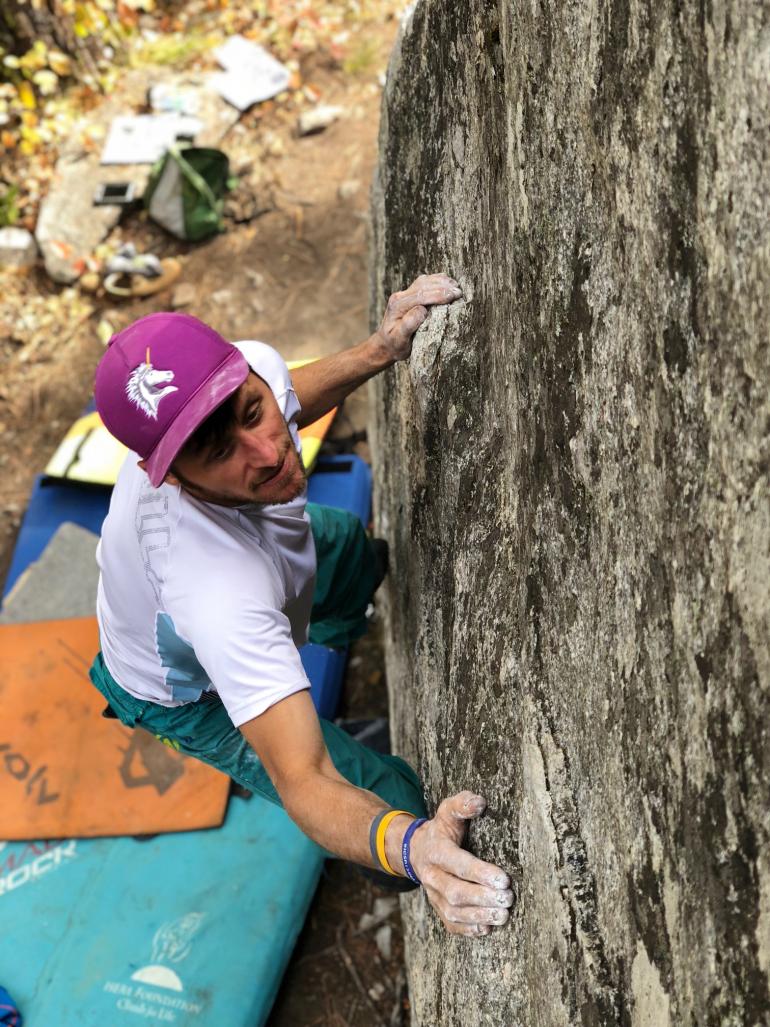 Mild
Memorial Falls
Memorial Falls is a relatively new climbing area with a secluded feel, located about ten minutes from the tiny town of Neihart. Plus, the distinctive, pinkish-red rock, called Neihart quartz, is fascinating and fun to pull on. This is one of three places in the world where you encounter this kind of rock. 
There are currently ten boulder problems here, most of which are in the Upper Falls area, northeast of Highway 89. Try Baby Please! (V0, two stars), Tall and Dirty (V1, three stars), and Excavation Option (V2, four stars).
If you're coming from Great Falls, take Highway 87 and turn onto Highway 89 past Neihart. The drive takes about an hour. Camp alongside Belt Creek in the Forest Service campgrounds. Head to Bob's Bar in Neihart on your way out to knock the foam off a few cold ones.
Whiskey Gulch
Whiskey Gulch has been around since the late 1990s and was developed by Alek Tkach after Mike Mott discovered the place. Before there were a lot of known areas, climbers flocked to this granite for their first bouldering excursion. This is one of the best established bouldering areas in the state. With routes ranging in difficulty from V0 to V12, there's something for everybody in various angles, heights, and styles. You can also camp nearby in the National Forest. Please note that Leave No Trace practices are critical in climbing meccas like these. Also, watch out for rain—moisture does tend to haunt the area.
A few great beginner problems are Grumpy Old Men (VO R, four stars), Wave Rider (V1, three stars), and Beltar (V1, two and a half stars). Visit Matt's Place afterwards for a taste of history: this is one of the first drive-in restaurants in Montana. Look for the white building with blue trim and order the Wimpy, their famed double burger.
Medium
Wolfe Butte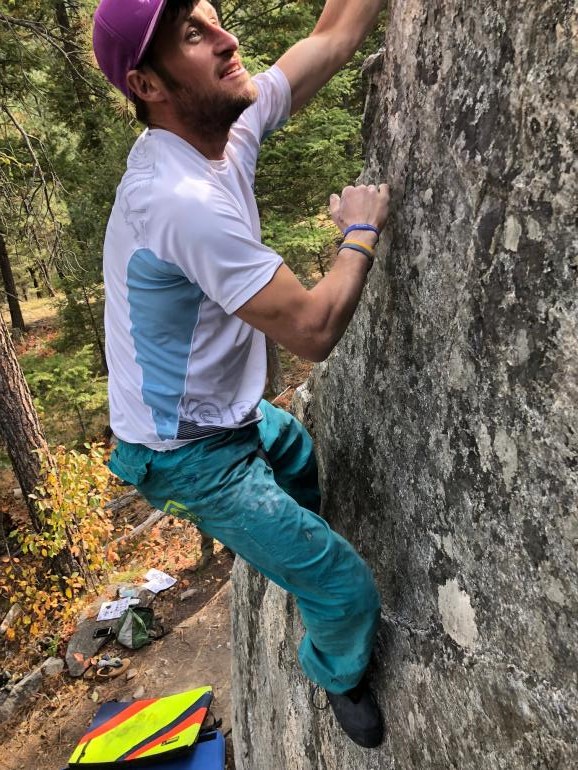 Wolfe Butte is a climbing area in a canyon near Great Falls with a short approach. The relatively new limestone feels like "getting chewed by puppy teeth," according to Mountain Project, but the area has massive potential for growth. Anyone is free to develop there, with the caveat that your goal must be to come up with "thoughtful and aesthetic lines." Here, the etiquette is to leave the first ascent blank to avoid ego-driven development.
There are two main areas: the Atrium—the first rocks you'll spot from the parking lot—and the Graveyard—located about 500 yards up the canyon. We recommend checking out the Atrium first. Warm up on Just a Little Prick (V3, three stars), and enjoy traversing on crimps toward the boulder's tip. Head to Power Plant next (V4, three stars), a sweet fifteen-footer on the Power Plant Boulder, which is the furthest one up the hill. The route begins from a sit-start on a ledge. You'll heel-hook and crimp your way left, toward an arete, where the going gets easier.
Another good route is a shorty—November Rain (V4, four stars), which you'll find on the south-facing bit of the Cherts Til It Hurts Boulder. Again, head leftwards, via small crimps, slapping, and heel hooks, and one convenient big pocket. Careful—those puppy teeth are sharp! Cabin Creek Bar in Geyser is a great place to stop for sustenance on the way home.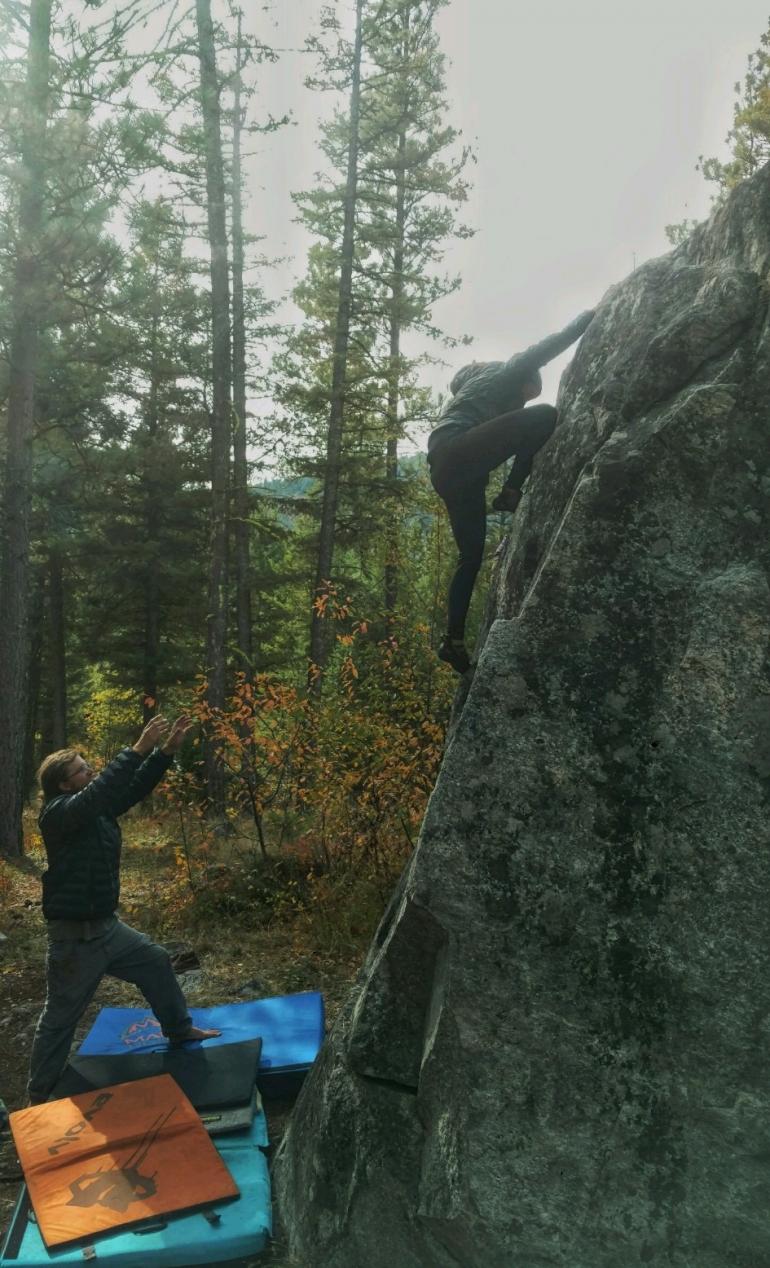 Another good route is a shorty—November Rain (V4, four stars), which you'll find on the south-facing bit of the Cherts Til It Hurts Boulder. Again, head leftwards, via small crimps, slapping, and heel hooks, and one convenient big pocket. Careful—those puppy teeth are sharp! Cabin Creek Bar in Geyser is a great place to stop for sustenance on the way home.
Lost Horse
Lost Horse Canyon in the Bitterroot Valley contains a bounty of boulders, and generations of boulderers have helped develop the problems in this area. There are five main areas, all of which are within walking distance, though some may choose to drive to the Clearcut Area. This is a great place to build strength.
Head to the Pull Out boulders to warm up on easy climbs like Crack (V1) and the slopey Bug Eyes (V4) on Egyptian Magician and try out Montana Meathook (V6) on the Gladiator Boulder. Once you're feeling good, truck over to a well-known Lost Horse tradition: the nearby Midnight Light Bulb. Here you can put your extra pads to use on climbs like The Dark Side (V6) and Cradle and All (V8). There's another boulder nearby called John Wayne, a big, highly-starred boulder in the Loho Batholith. Here you can do the Duke Traverse (V6) and the South Face (V6). If you're feeling like going hell for leather, Motherlode has a few tough beauties as well, Bitterroot Travers (V8), Corn Fed (V7), and Spread 'Em (V9/10, depending on who you talk to).
Nap's Grill is a famous burger bar nearby that offers hefty portions. Order at the counter and enjoy this neighborhood staple.
Spicy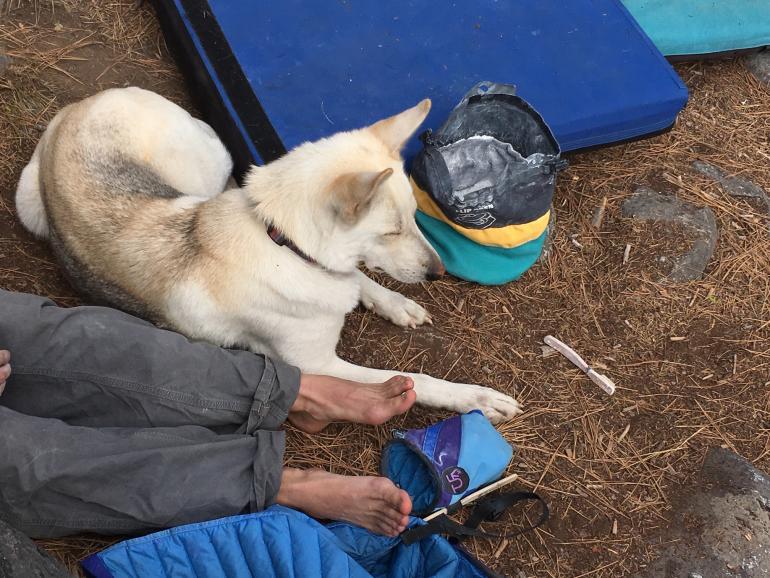 Yankee Jim
Yankee Jim is a bouldering area next to a highway near Gardiner. Jeff Ho and Jeff Webber wrote a great guide that you can check out online. Before its namesake built and maintained a toll road there for folks heading to Yellowstone National Park, Native Americans used the canyon on their journey upriver to look for obsidian. The rock here is high-grade Archean Gneiss, and is unique to the country because this kind of rock is often underground. This rock was exposed by natural forces, undergoing recrystallization that makes for gorgeous folds and bands. 
Head along the Yellowstone River on Old Yellowstone Road to find Gigarete Boulder, where you can warm up before challenging yourself on the crimpy Gigarete (V7, three stars). The crux is at the top, where you rock up on bad feet and reach left for the sloper. There's also the brief Baby Joe (V7, one star), where you'll use two bad holds to reach the difficult move to the lip. Head to the Way Out Boulder for Way Out (V8, three stars), where you'll start low with a couple of side pulls. The Anderson Cave is another good boulder, with Hang Like a Monkey (V7, two stars), where you'll begin with two slopey side pulls and make your way toward the lip.
If you're heading south, the Iron Horse Bar and Grill is quick and easy, and you can sit outside. As you make your way north, the Emigrant Outpost is a fun spot to play pool and grab a bite.
Whiskey Gulch
So nice it's listed twice. If you're looking for tough boulders, head to Decapitated (V11, three stars), where you'll have to lay finger on heinous crimps (hence the name). This route was first climbed by a Swedish chef named David Sjöquist. Super Loose Tuna is another V10 (two stars) on the CCC Boulder and combines two nearby routes. Stay clear of the arete. For other tough routes, ask around—many of these are undocumented and range into the double digits.