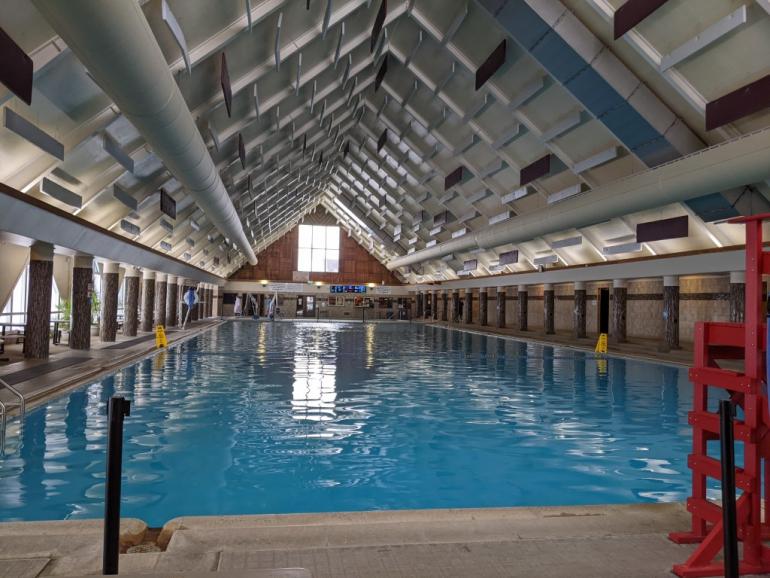 When I moved to Montana and started my journalism career, I met a stunning woman in Lewistown who didn't wait long to share her passion for hot springs with me. I remember that first time seeing her slowly step into the pools of Spa Hot Springs in White Sulphur Springs: a feeling of euphoria swept over her entire body. I could see it just standing beside her, and, once I also entered the water, I understood. The magical mineral water of Montana's hot springs is far more healing than any hot tub. Growing up in the Midwest I'd never experienced anything like it. 
That stunning woman is now my wife, and, for the past 10 years we've been traveling around the state (and beyond), embracing the enchantment of hot springs. It's easy to become addicted to the soul-livening sensations that come with each soak, and it's no surprise there are so many who share the craving, both today and in bygone eras. It was the Native Americans who started this fad, declaring the springs a neutral zone warring tribes would share to recharge. Once more and more immigrants started traveling out West—largely to prospect for gold or work in a mine— opportunists like Charles Broadwater, James A. Murray and others found ways to commercialize the springs, making them a spectacle that enhanced the Montana experience for travelers. Clearly they were on to something. 
My wife and I live in Southwest Montana now, where hot springs are prevalent, each one with its own rich history. Join me for a look back at the magnificent—and, at times, tragic— history of these spellbinding locations.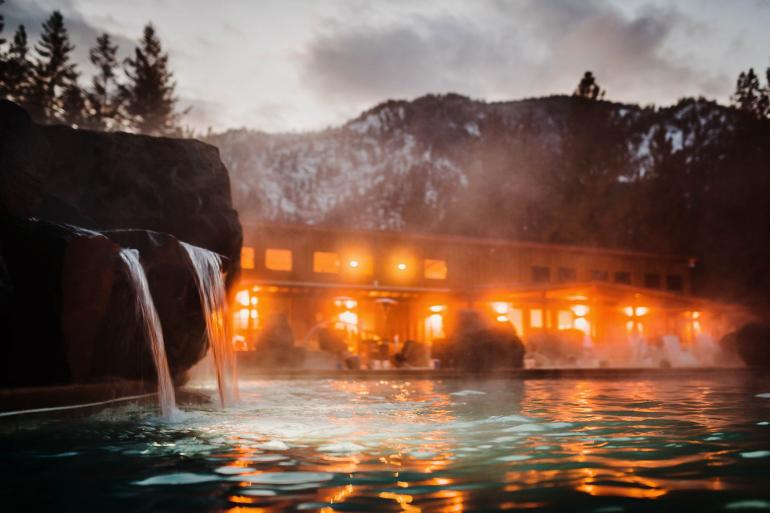 QUINN'S HOT SPRINGS RESORT
Set on the banks of the Clark Fork River, Quinn's Hot Springs Resort was founded in the 1880s by Irish immigrant Martin Quinn, a foreman for the Pardee Mountain Mine. According to legend, Quinn witnessed Native Americans basking in the majestic waters. Not long after, he filed a homestead and developed a small hotel and a soaking pool. News spread fast, as the Weekly Plainsman wrote in 1896 that Quinn's hot springs weren't just relaxing, but healing, effecting "surprising cures in rheumatic and kidney diseases." 
Quinn's Hot Springs started much more rustic than the aforementioned sites. Originally people had to hike over the mountain ridge to get to the springs. In 1909 railroad tracks were built, which helped, but they still had to cross the swinging bridge Quinn made himself to get there. 
These were some challenging times for travel in Montana, but in the 1930s, when Lolo National Forest West was established, a dirt track was constructed to the resort from Highway 200. Better days were ahead for Martin Quinn's favorite destination, and —through it all—the location stayed in the family name. Fred Harwood, a Northern Pacific Railroad engineer, and Quinn's daughter Maggie would have six children, two of whom—Jack and Dick—would take ownership of the hot springs and are responsible for the Harwood House Restaurant, perhaps best known for its seafood. The Harwoods sold the resort in 1974. 
Today, any vehicle can make the trip to what's become one of the most popular hot springs locations in the region. It is now in its heyday, as most weekends for 2023 are already booked. The resort has seven pools, five of which have a 100% natural flow ranging from 100 to 106 degrees. They also have a cold plunge set to 55 degrees and two salt-treated pools set around 90 degrees for swimmers to enjoy at their leisure. As for lodging, there are close to 75 rooms, including two lodges and more than 25 canyon and riverside cabins. The exquisite location—overlooking ponderosa pines, the Clark Fork River and the Rocky Mountains—is also host to holiday parties and concerts. Their most recent show featured a baroque classical duo.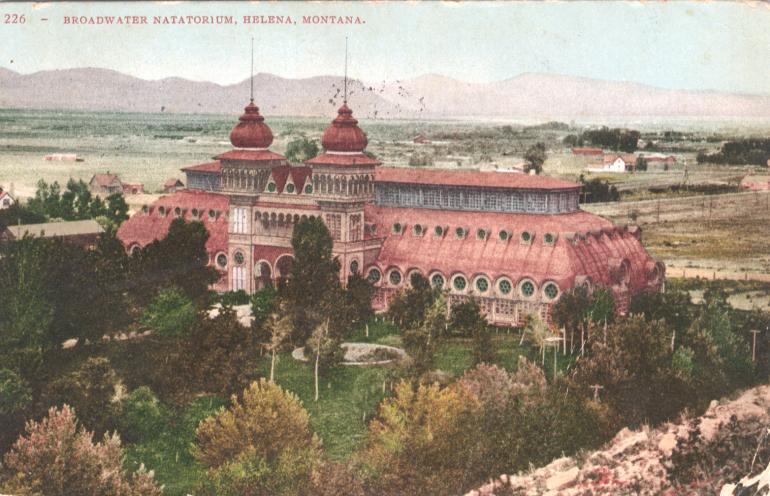 BROADWATER HOT SPRINGS & FITNESS
It was 1889, a rich time for Montana, and a celebratory one at that. It was the year Montana became a state and the year railroad company president Colonel Charles Broadwater unveiled his Broadwater Hotel and Natatorium in Helena, the town in which he'd made his riches with the development of Montana's freight industry. 
As a believer in the medicinal properties of the Ten-Mile hot springs water, it was Broadwater's dream to build a magnificent resort with an emphasis on health and wellness. He did that and more, creating what would be considered the largest natural hot water plunge in the world, a 30,000-square-foot indoor pool. This mind-blowing display of elegance was topped off with a forty-foot-high mass of granite boulders, toboggan slides, observation decks and waterfalls. 
With its masterful Moorish Spanish architecture, Broadwater Hot Springs looked more like a palace than a resort. It was a crown jewel of the state, one that attracted the upper class from all over the United States and the world. According to photographs from the early days of Broadwater, guests dressed more like they were headed to a suite at the Kentucky Derby than for a soak. Another explanation for the fashionable dress is that the Broadwater Hotel and Natatorium also served as a social hub, known for dancing and gambling. 
It sounds too good to be true, doesn't it? Unfortunately, it was. Just three years after the grand opening of the Broadwater Hotel and Natatorium, Colonel Broadwater died of influenza, and his passion palace was rudderless without him. Broadwater was open on and off from the 1890s until 1935, when the facility was ravaged by an earthquake. The building was later demolished in the 1970s. 
Today, in place of what once was a symbol of Helena's splendor, there lies a full-service athletic club. The Broadwater Athletic Club and Hot Springs officially opened its doors in 1979 and has since undergone many renovations. In 2015, new ownership renamed the once-swanky resort Broadwater Hot Springs & Fitness and transformed it to its current state, which features a free-form pool and soaker pool set between 97 and 102 degrees (the latter of which pays tribute to the original waterfall design), a recreation pool set between 89 and 93 degrees and hot tubs averaging between 101 and 104 degrees. The venue also features a taproom and grill, an elaborate exercise room (plus wet and dry saunas) and a stage that hosts acoustic acts on Thursday nights. Broadwater Hot Springs & Fitness may not be exactly what the Colonel had in mind, but the new structure and new look continue in the tradition he started of celebrating the medicinal properties of the magical Ten-Mile waters.

FAIRMONT HOT SPRINGS RESORT
Nestled between Anaconda and Butte sits Fairmont Hot Springs, a site originally discovered by the Flathead, Nez Perce and Shoshone tribes. The 12 hot mineral pools were dubbed "Medicine Waters," a term still used to describe the healing ability of the natural springs. 
In 1869, brothers George and Eli Gregson turned these pools into a resort known as Gregson Hot Springs, which included a hotel, a plunge bath and five individual bathhouses. Although the original structure burned down in 1914, the Gregsons laid the foundation for what would eventually become today's Fairmont Hot Springs.
In the Roaring Twenties, Gregson Hot Springs was a sight to behold. Referenced in the Anaconda Standard as a "the Saratoga of the Northwest" (a historic New York retreat famous for its horse racing), Gregson Hot Springs' appearance was that of a Mission Revival-style hotel with a 65-by-195-foot warm-water plunge, a cold-water pool, slides, chutes, springboards and high-dives. It also featured a maple dance floor and played host to many large community gatherings. 
Like Broadwater Hot Springs, owners past and present have emphasized the healing qualities of the water, praising them for treating rheumatism, arthritis and other ailments. 
The building has gone through many change—and multiple owners—but the community-minded mentality and family-friendly atmosphere has never vanished. In the 1970s the modern image known today as Fairmont Hot Springs started to come into fruition, largely thanks to federal funding during Treasure State Industries' ownership. This funding led to an 18-hole golf course, tennis courts, a picnic area, an outdoor pool and 190 guest rooms. Old buildings were demolished in 1972 to make way for this grandiose expansion. 
At this same time, Lloyd Wilder of Fairmont Hot Springs, British Columbia, purchased the resort. His family-friendly vision has remained at the forefront of the resort, and is present in the additions made since, such as the waterslide and miniature golf, which children love. Adults enjoy the full-service restaurant, the bar and some of the largest natural hot-water pools in the state. It's also become one of Montana's most popular conference locations. There are four pools: two indoor (one averaging between 100 and 104 degrees and one averaging around 88 to 94 degrees) and two outdoor (one hot and one cooler, with temperatures similar to the indoor pools).
BOULDER HOT SPRINGS INN, SPA AND RETREAT CENTER
Boulder Hot Springs opened its doors in the 1890s (June of 1891), as Hotel May, a Victorian-style lodge that gained popularity quickly. At the time, the Northern Pacific Railroad had a depot just 600 feet from the hot springs, and the passenger rate to the location was only 20 cents. 
It didn't take long for Boulder to become a hotspot, as many took advantage of train travel to venture west, and Hotel May was a prime spot on the way to Yellowstone National Park or Lake McDonald (the future Glacier National Park). It is rumored U.S. President Theodore Roosevelt was among these visitors. 
As money poured in, so did interest from capitalists. In 1909, James A. Murray purchased the lodge, giving it a dramatic Mission-style makeover, which remains its exterior today. Murray, an eccentric Butte millionaire who proclaimed he never made an honest dollar in his whole life, didn't have much luck in the hospitality industry. Another resort he owned—Hunters Hot Springs—burned down, and Boulder Hot Springs took a massive hit when the same earthquake that ravaged Broadwater Hot Springs in 1935 destroyed Boulder's Olympic-sized swimming pool. Shifts away from dependence on the railroad for travel out West also posed a challenge for Murray. 
Through the decades, Boulder Hot Springs has seen many changes, switching from a high-end resort to the Western-themed Diamond S Ranchotel in the 1940s through the 1960s. While operating under owner C.L. "Pappy" Smith, the locale had a Sunday night smorgasbord that attracted all walks of life. 
The good times didn't last, as the hot springs would find themselves again in disrepair. But there would once more be hope for this mystical place. The late Anne Wilson Schaef, a Clancy native, purchased the building with partners in the 1980s, shifting the focus of the resort to wellness and rehabilitation, making it a drug- and alcohol-free environment. Schaef, a former psychotherapist and bestselling author of When Society Becomes an Addict, reopened the resort, where she would regularly host conferences for her "Living in Process" movement. Conferences remain a large part of Boulder Hot Springs' clientele, as the 33-room destination is seeing a new boom in business, both with retreat-goers and soakers. The resort has two indoor pools (one co-ed and one for women, both averaging around 103 and 106 degrees. The women's pool has a cold plunge, which is usually under 70 degrees). An outdoor pool averages around 96 to 100 degrees. 
There are more improvements to come at Boulder Hot Springs, as owners and management are embarking on an exterior surface renovation, thanks largely to a historic preservation grant. 
Despite a lot of bad breaks for the historic hot springs of Montana, a new era of interest has begun, and hot spring enthusiasts keen on physical and psychological fitness make their way to the many hot springs in and around the Treasure State. Fairmont, Broadwater Hot Springs and Boulder Hot Springs are no exception to this fad. In fact, these three only scratch the surface.