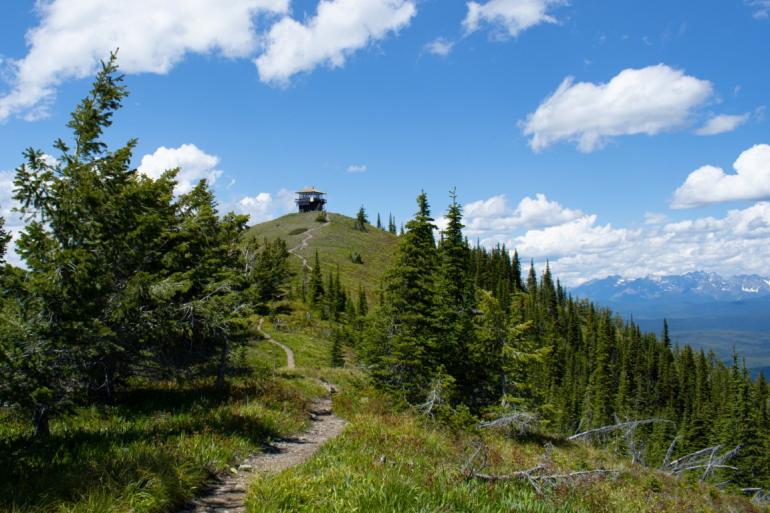 What is it like to be standing on top of the world?  
The answer lies around eight thousand feet above sea level on a mountain summit, with nothing but a bird's eye view of the expansive natural world around you. A number of specially selected mountain summits across the West are home to large wooden buildings called fire lookouts. They were built to spot wildfires from 20 miles away, guaranteeing the best views around. The emotional connection you feel to the backcountry is amplified as you peer out into 360 degrees of space and take in the wonderful views from these lookouts. 
Fire lookouts have been a critical component in spotting, monitoring, and studying wildfires throughout the Western part of the continent since the early 1900s. Their construction commenced throughout the Western United States during the 1910s in response to ravenous fires that scorched roughly 300 million American acres. Glacier National Park, established in 1910, became a leader in fire management among national parks, employing the first professional fire crew and fire experts working to identify, study, and report wildfires, often spotted from the lookouts. Following the creation of a strong fire management plan established by the National Forest Service, Glacier Park has been at the forefront of fighting forest fires, setting the standard for national parks across the U.S. 
The lookouts played a critical part in maintaining and monitoring wildfires in the area while keeping visitors safe. Most of the lookouts in Montana are unmanned today, and many can be reached by hiking to them.
Modern technology, such as 360-degree cameras, infrared imagery, unmanned drone fire detection, and smoke tracking satellites, has reduced the need for manned fire lookouts. However, as technology cannot truly replace the analytical communication and fire tracking expertise provided by an expert "looker," the "lookers" are still an important part in spotting and suppressing fires before they grow out of control, and a few remain manned today. But with the need for occupied lookouts decreasing, backcountry rentals of the lookouts are becoming more available; the Forest Service rents the cabins to overnight campers via Recreation.Gov.
Most contain minimal accommodations for a truly rustic experience that requires packing in and packing out all gear and items (including trash!). A wood stove, matches, bunk beds, and playing cards are among the few items that you are likely to find available in the lookouts. Leave No Trace principles are fundamental when visiting or renting them, meaning that lookouts are expected to be treated with the utmost respect and are to be left in better condition than when visitors first arrive—this means removal of all trash, replacement of firewood, and overall respect for the lookout and its premises. 
Most lookouts around Montana require only a pair of hiking shoes, bear spray, ample water, and a positive attitude to reach their lofty summit high points. With hikes ranging from a short three miles to a full days hike, there's a lookout for everyone. Not all are available for rent, but many are.
Here are my favorites around Montana: located in Glacier National Park is Huckleberry Mountain Lookout. Around Bozeman, Garnet Mountain Lookout is the local favorite. Near Missoula and Kalispell, Stahl Peak Lookout, Meadow Peak Lookout, and Up Up Lookout provide a milder or zero hike option with overnight stay options.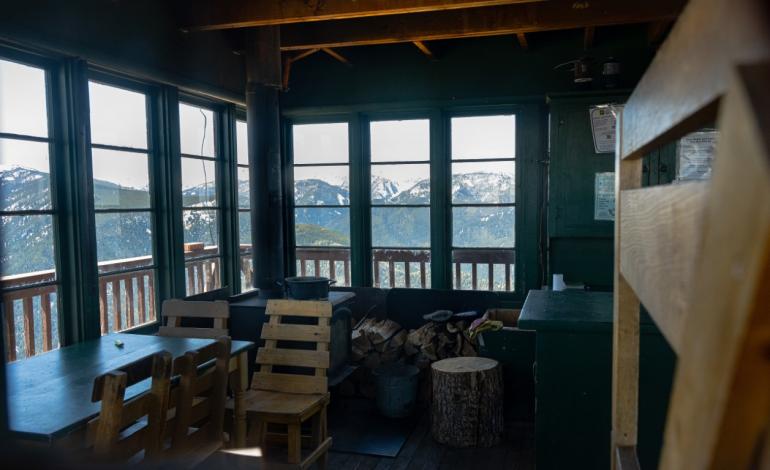 Huckleberry Mountain Lookout 6,593'
Trailhead: Huckleberry Lookout Trailhead
Hike Distance: 6 Miles (One-Way) with 3,400' Elevation Gain
Rental Availability: Not Available for Overnight Rental
Hike Difficulty: Hard
Huckleberry Mountain Lookout holds one of the most spectacular views of Glacier Park's Livingston Range, with towering summits, large active glaciers, and one of Montana's finest lookout towers. To get to the lookout, head north 5.8 miles on Camas Road from Apgar in Glacier Park until you reach a small shoulder on your left with a trailhead sign marking the start to Huckleberry Mountain Lookout trail. The hike travels through a heavily forested valley and gains the northern end of the ridge. Next, traverse across a hillside with amazing views toward Apgar and Lake McDonald. Winding up and around the beautiful beargrass, you eventually reach a bend in the trail where spectacular summits such as Mount Carter, Rainbow Peak, Kintla Peak, and Glacier Park's northwestern mountain front captivate your view. 
Continuing on the trail, you finally get sight of the wooden lookout atop the summit of Huckleberry Mountain. 
A beautiful winding trail takes you from the final ridgeline to its base, with unlimited views along the way. The views from the lookout are genuinely breathtaking, as you can see from Kalispell and Flathead Lake all the way north into Canada.
Stahl Peak Lookout 7,453'
Trailhead: Located at the end of Forest Service Road 7022
Hike Distance: 4.7 Miles (One-Way) with 2,100' Elevation Gain
Rental Availability: Yes, $35 Per Night
Hike Difficulty: Hard
To reach the Stahl Peak trailhead, travel from Whitefish north toward Eureka, taking a right on Grave Creek Road Northwest until it changes to Forest Service Road 7022. Follow the road to a ten-car parking area marking the start of the Stahl Peak Lookout trail. As the trail winds up the heavily treed canyon, you gain a hillside that offers spectacular views of the Ten Lakes Scenic Area and its alpine valleys. Heading up the trail, you'll reach a number of trail crossroads where signed directions point you toward Stahl Peak Lookout. Nearing the top you will cross a small valley via a ridgeline that provides an expansive view of Glacier Park, with a beautiful alpine lake sitting below. Once reaching the summit lookout, you are greeted with a diverse view of nature, varying from treed hills to the Rocky Mountain front shooting skywards toward the north. This lookout is a great hike and a great overnight stay if you choose. The lookout can be reached throughout the year and is a great option for early or late season hikes.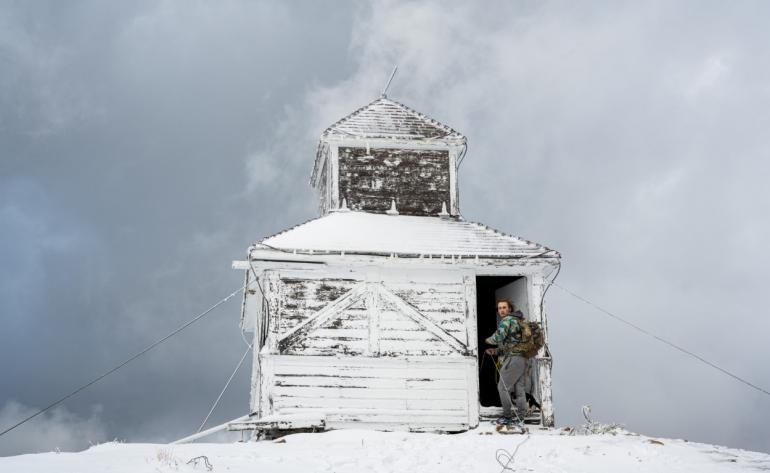 Meadow Peak Lookout 6710'
Trailhead: Meadow Peak Lookout Road No. 511
Distance: Drive up to base of Lookout
Rental Availability: Yes, $45 Per Night
Hike Difficulty: Easy
To reach the Meadow Peak Lookout, travel from Libby east on Highway 2 forty miles until you take a left at Meadow Peak Lookout Road No. 511, continuing for 8.7 miles until you reach the base of Meadow Peak Lookout. The Meadow Peak Lookout provides a spectacular view from its 10' tall structure, entirely encircled by a catwalk that peers out into the heavily-treed Cabinet Mountain wilderness. This lookout offers a great family-friendly option with a minimal approach and maximum amount of time to spend enjoying the great outdoors with your family or loved ones.
Up Up Lookout 5,964'
Trailhead: Forest Service Road 3816 takes you to the base of the Up Up Lookout
Distance: 80 miles west of Missoula then 17 miles to the Lookout
Rental Availability: Yes, $45 Per Night
Hike Difficulty: Easy
To get to the Up Up Lookout, travel 80 miles west of Missoula on I-90 and take Exit 26 to Ward Creek Road. Follow the zig-zagging dirt road until you hang a right on Forest Service Road 3816 and take it 14 miles to the base of the lookout tower. A gate restricting cars stands three miles from the base of the lookout and must be respected if closed. The Up Up Lookout is a spectacular getaway if you're around the Missoula area, with nothing but pristine St. Regis River country and endless alpine air to breathe in. The lookout is a popular destination throughout the summer, so consider making reservations many months in advance. The lookout stands 40 feet tall and is an impressive sight, one of western Montana's great gems!
Garnet Mountain Lookout 8,245'
Trailhead: Garnet Mountain Lookout Trail
Hike Distance: 4.5 Miles (One-Way) 2,800' Elevation Gain *Horseback or Mountain Biking is allowed
Rental Availability: Yes, $30-$60 Per Night (season dependent)
Hike Difficulty: Medium
To reach Garnet Mountain trailhead, leave Bozeman and head toward Big Sky, taking the Storm Castle Road turnoff, traveling eight miles past the Storm Castle trailhead until you reach the trailhead sign for Garnet Mountain Lookout. The trail takes you along a wide ridge toward the lookout with views of the Gallatin Mountain range and the Spanish Peaks along the way. As you near the summit, the broad rolling ridge has a feel of wide-open freedom. Once you reach the summit, your view is dominated by Bozeman, the Spanish Peaks, and the greater Gallatin Range. This lookout is exceptionally versatile, offering overnight rental options, ski touring, mountain biking, horseback riding, and hiking, making the rental a regular stop for southwestern Montana outdoor enthusiasts.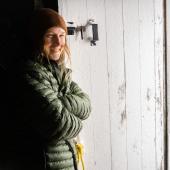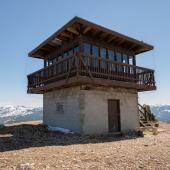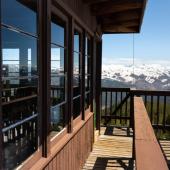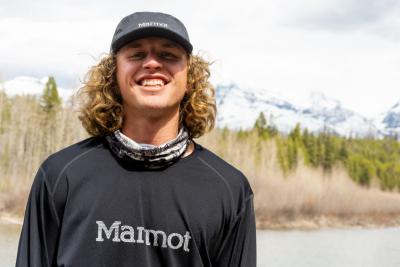 Finding myself constantly inspired by the natural world I recognize the opportunity I have to capture spectacular moments amidst the mountains, and to share them—in hopes of simultaneously inspiring action and a reaction to fight for future conservation of the beautiful places on this planet. Photography and writing have become my main tools to share these beautiful moments.